Alexandra Alaniz- College of Engineering and Computer Science
Dear Friends,
I am a first generation college student and a woman in the competitive field of mechanical engineering. As a child, I dreamed of working for NASA. I still envision myself at NASA, or even SpaceX, sitting in mission control, counting down and leading a launch into space, or designing space vehicles. Your gift will help to transform my dreams into reality.
Engineering inspires me. I have challenged myself to learn and grow every day. Last year, I spent a semester in Huntsville, Alabama working on a deep space habitat that NASA will use for astronauts headed to Mars. Donors made it possible for me to work as a NASA intern, gaining hands-on experience and pushing boundaries. My time at UTRGV has been filled with transformative experiences that have changed how I see the world and my wish is for other students to have these same opportunities.
UTRGV is launching me toward my dream job, with innovative programs, rigorous academics and dedicated faculty. Every gift in support of scholarships, programs, research and student activities in the College of Engineering helps students like me to build a future and a better life for residents of the Rio Grande Valley.
Donors are critical to the success of students just like me. Your gift will increase opportunities for students who aspire to be engineers, architects and computer programmers who will transform the Rio Grande Valley and the world. The gift you make today will power transformative change and real-world opportunities for students in the UTRGV College of Engineering and Computer Science. You can visit us online at give.utrgv.edu/donatenow to put your gift to work immediately.
Will you join UTRGV in changing lives and giving students like me the opportunity to reach for the stars?
Sincerely,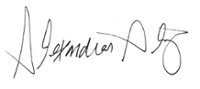 Alexandra Alaniz
UTRGV Class of 2017