UTRGV Giving Societies

UTRGV President's Circle
The power to change our community. The passion to give. A purpose greater than their own. These values are at the core of what it means to be a member of the UTRGV President's Circle. This distinguished network of supporters invests in the promise of UTRGV and its students, faculty and staff. Donations to the President's Circle impact our colleges, our Research Centers of Excellence, athletics, scholarship programs and so much more. This is inspired giving with a vision. Become a member of the UTRGV President's Circle today!
Annual Membership
Membership may be held by an individual, jointly by a couple, or by a foundation or corporation. Corporate matching gift programs may be used to qualify for membership. The membership period is from January 1st to December 31st each year. President's Circle Members make an annual unrestricted gift of $1,000 or more.
Membership Levels
President's Platinum Circle $10,000
President's Gold Circle $5,000
President's Silver Circle $2,500
President's Bronze Circle $1,000
Benefits
President's Circle benefits include:
Invitations to signature events
Opportunities to engage with the President and University leadership
Special communications about the University's progress, new initiatives, and the impact your gift is making.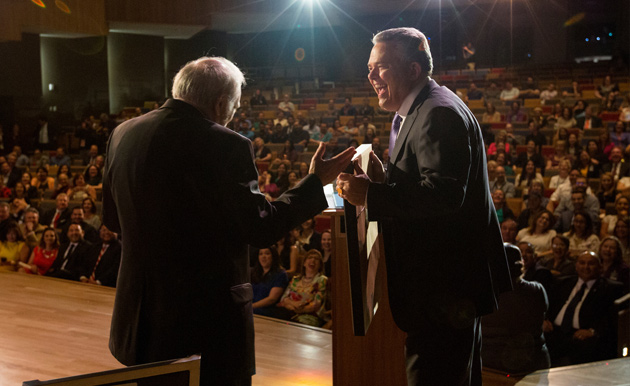 UTRGV Legacy Society
The UTRGV Legacy Society honors and celebrates visionary individuals who make a commitment to support UTRGV by directing assets to the University. Our Legacy Society members contribute to the success of the University by benefiting future generations of UTRGV students and faculty.
To qualify for membership to the Legacy Society, simply let us know that you have included a provision in your estate and financial plans for a future gift to The University of Texas Rio Grande Valley.
Here are some ways to create a planned gift to UTRGV:
Include a gift provision for UTRGV in your will or trust
Name UTRGV as one of the beneficiaries on your life insurance policy or retirement plan
Establish a life income plan – a gift that gives twice
If you are considering a gift through your will or trust, here is the language that you will need for your attorney.

We will ensure that your future gift is used exactly as you intend. For more information on the Legacy Society, how to plan your future gift, or to inform us of your planned gift contact:
The University of Texas Rio Grande Valley
Division of Institutional Advancement
Attn: Serena Putegnat
1201 West University Drive, ITT 1.210
Edinburg, TX 78539
Serena Putegnat, Director of Planned Giving
(956) 882-4326
serena.putegnat@utrgv.edu