Uncovered Spaces Participating Artist Melissa Potter
Associate Professor of Art at Columbia College, Chicago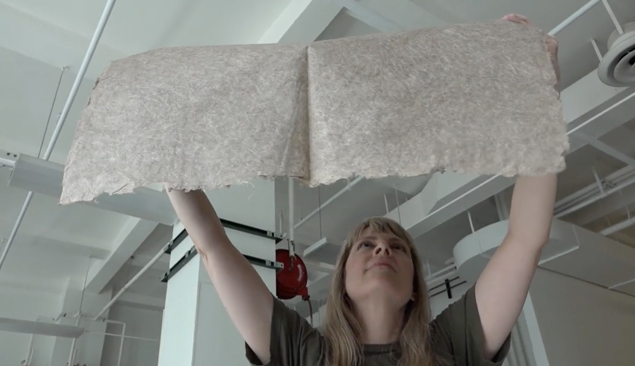 Baba Yaga's Plant Protection/Paper Protection, handspun flax thread made from handmade paper with archive of papermaking samples: Lichen, potato vine, abaca, switchgrass, okra, and other fibers, 2020
Artist Statement
Marilyn's Paper is part of a decade-long, multi-media project exploring the ecofeminist history of hand papermaking. Marilyn Sward co-founded The Columbia College Chicago Center for Book & Paper, a singular institution in the world. Sward died from breast cancer in 2008, the year Melissa Potter began teaching at her Center. When Potter found a disposed portfolio of her unmarked handmade papers during the closure of the Center in 2019, she was determined to secure a place for her legacy. Marilyn's Paper is a 15-minute film, an "out of time" dialogue between the late Marilyn and Potter questioning the purpose of this ancient craft and legacy in our world of hyperproduction.
Biography
Melissa Hilliard Potter is a feminist interdisciplinary artist, writer, and curator whose work has been exhibited in numerous venues, including White Columns, Bronx Museum of the Arts, and Museum of Contemporary Art Chicago, to name a few. Her films have been screened at international film festivals, such as the Cinneffable and the Reeling International LGBT Film Festival.
Potter has been the recipient of three Fulbright Scholar grants, as well as funding from CEC ArtsLink, Trust for Mutual Understanding, and Soros Fund for Arts and Culture, all of which enabled her to build two papermaking studios at university art departments in Serbia and Bosnia & Hercegovina. In addition, she collaborated with women felt artisans and activists from Georgia through her project, "Craft Power," with Miriam Schaer.
As a curator, Potter's exhibitions include "Social Paper: Hand Papermaking in the Context of Socially Engaged Art" with Jessica Cochran and "Revolution at Point Zero: Feminist Social Practice" with Neysa Page Lieberman. Her curatorial and recent hand papermaking projects, including "Seeds InService" with Maggie Puckett, have been funded by the Crafts Research Fund, Clinton Hill Foundation, The Nathan Cummings Foundation & Jane M. Saks, and the MAKER Grant.
A prolific writer, her critical essays have been printed in BOMB, Art Papers, Flash Art, Metropolis M, Hand Papermaking, and AfterImage, among others.
For more information: