Uncovered Spaces Participating Artist Melissa Potter
Associate Professor of Art at Columbia College, Chicago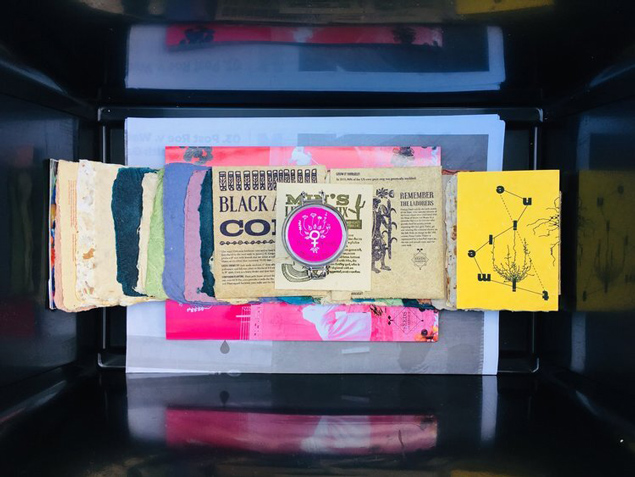 Seeds InService's deposit in the Global Seed Vault mountain art collection, Svalbard, Norway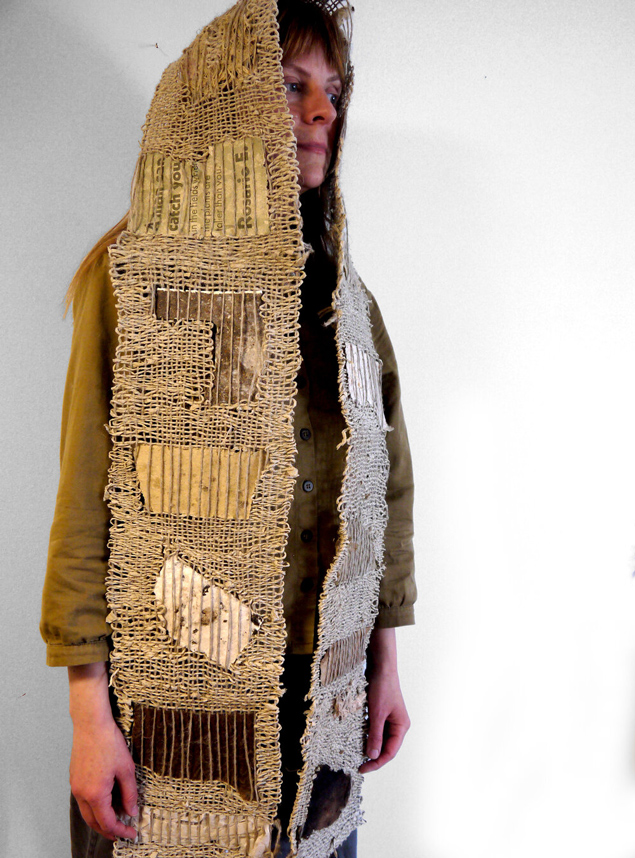 Baba Yaga's Plant Protection/Paper Protection, handspun flax thread made from handmade paper with archive of papermaking samples: Lichen, potato vine, abaca, switchgrass, okra, and other fibers, 2020
Artist Statement
"Raised among multiple generations of crafters, artists and feminists, my interdisciplinary research and art practice considers women's culture through their handicraft, social customs, and gender rituals. I believe these practices are a distinct language and history, and I often focus on traditions that are endangered, underpaid and under-recognized due to industrialization, war, gender bias, and globalization. Through interdisciplinary collaborations with ethnographers, teachers, and artists, my multi-media projects range from felt crafts in the Tusheti region of Republic of Georgia, to a film about the dying Montenegrin tradition in which a girl child becomes a man to preserve her family's legacy.
For decades, hand papermaking has intrigued me as a feminist and socially engaged practice, and I work to position this marginalized form in a broader art context. My family history led me to more than two decades in the Former Yugoslavia, where I taught a generation of young artists hand papermaking and built two studios — one in Sarajevo, Bosnia, and one in Belgrade, Serbia. My latest work in hand papermaking is Seeds InService, an ecofeminist project with Maggie Puckett propagating endangered plants for use as papermaking fiber to record the untold history of women in agriculture."
Biography
Melissa Hilliard Potter is a feminist interdisciplinary artist, writer, and curator based in Chicago, Illinois. Potter holds an MFA from Rutgers University (in New Brunswick, NJ) and a BFA from Virginia Commonwealth University. Potter's research and artistic practice considers women's culture in handicraft, social customs, and gender rituals with a focus on handmade papermaking through a feminist and socially engaged lens. Her work has been exhibited in numerous venues including White Columns, Bronx Museum of the Arts, and Museum of Contemporary Art Chicago. Her films have been screened at international film festivals, such as the Cinneffable and the Reeling International LGBTQUIA+ Film Festival. In addition, she is the recipient of three Fulbright Scholar grants, as well as funding from CEC ArtsLink, Trust for Mutual Understanding, and Soros Fund for Arts and Culture, all of which enabled her to build two papermaking studios at university art departments in Serbia and Bosnia & Hercegovina. Potter is currently an Associate Professor at Columbia College Chicago and collaborates with artists in the medium of hand papermaking. She travels throughout the country teaching, lecturing, and conducting interviews.
For more information: