Uncovered Spaces exhibition participating artist María Magdalena Campos-Pons
Professor of Fine Arts
Cornelius Vanderbilt Endowed Chair of Fine Arts
Drawing, Performance, Installation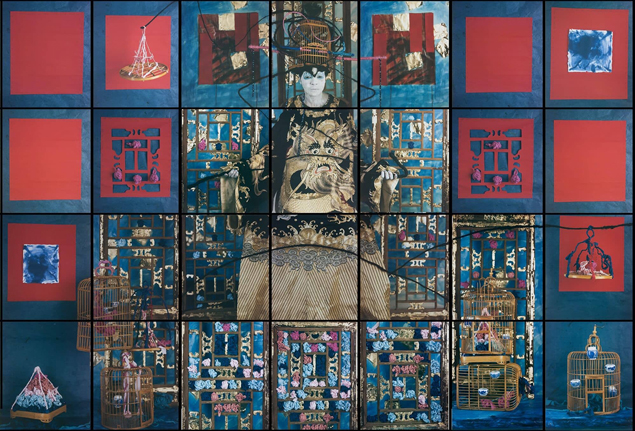 Finding Balance, 2015, Composition of 28 Polaroid Polacolor Pro photographs 116" H x 161" W overall. Photo courtesy of the Bernice Steinbaum Gallery and María Magdalena Campos-Pons
Artist Statement
I claim space for women's issues, collecting and telling stories of forgotten people, in order to foster a dialogue to better understand and propose a poetic, compassionate reading of our time. My work over the past 40 years addresses Postcoloniality and the complexities that entangle the narratives, connections, and mutual dependency of the North and the South.
My work speaks to an ancestral knowledge and tradition to give a voice to the darkest narratives with grace and aesthetic elegance. Fragility, ephemerality, and a transient quality of time and place are visible components in my vocabulary, which I explore through video, film, sculpture, photography, installation, painting, and performance. I am compelled by the democratic process of art-making that challenges the participation, presence, and bodily immersion of the viewer. Art and sociability are core topics in my curatorial and academic practice.
María Magdalena Campos-Pons
Nashville 2022
Biography
CV
PDF Download
María Magdalena Campos-Pons combines and crosses diverse artistic practices, including photography, painting, sculpture, film, video, and performance. Her work addresses issues of history, memory, gender, and religion; it investigates how each one of these themes informs identity formation.
Born in 1959 in the city of Matanzas, her early years were in La Vega town in the province of Matanzas, Cuba. Campos-Pons is a descendant of Nigerians that were brought to the Island in the 19th century. She grew up learning firsthand about the legacy of slavery along with the beliefs of Santería, a Yoruba-derived religion. Directly informed by the traditions, rituals, and practices of her ancestors, her work is deeply autobiographical. Often using herself and her Afro-Cuban relatives as subjects, she creates historical narratives that illuminate the spirit of people and places, past and present.
Campos-Pons has from the beginning of her career created multi-media installations, drawings, paintings and performances. In the 1990s she began making large format polaroid photography as a means to elaborate the relationships among photography, painting, performance and sculpture. In spite of the diversity of her practice, the sea as a repository of memory and site of identity formation has remained a major facet of her work, allowing her to address issues that range from the Middle Passage to contemporary migrant crises.
Campos-Pons' performance works tend to unfold as processionals, ritualistic spectacles that physically and spiritually embody the spaces in which they take place while asserting themselves outward and beyond the boundaries of those spaces.
Campos-Pons has had solo exhibitions at the Museum of Modern Art in New York, the Indianapolis Museum of Art, and the National Gallery of Canada, among other distinguished institutions. She has presented over thirty solo performances commissioned by institutions that include the Guggenheim Museum and the Smithsonian's National Portrait Gallery (both in collaboration with sound artist and composer Neil Leonard. She has participated in the Dakar Biennale, the Johannesburg Biennial, the Guangzhou Triennial, the Pacific Standard Time: LA/LA and Prospect.4 Triennial, and (in also collaboration Leonard) the Venice Biennale, Documenta14, and the Havana Biennial. Her works are held in more than thirty museum collections, including the Whitney Museum of American Art, New York; the Art Institute of Chicago; the Victoria and Albert Museum, London; the Museum of Modern Art, New York; the Museum of Fine Arts, Boston; the Perez Art Museum, Miami; and the Fogg Art Museum, Harvard University.
In 1980, Campos-Pons graduated from the National School of Art, La Havana, Cuba. She went on to study painting at La Havana's Higher Institute of Art and then attended an MFA in Media Arts from the Massachusetts College of Art in Boston in 1988. In the late 1980s, Campos-Pons taught at the prestigious Instituto Superior de Arte in Havana and gained an international reputation as an exponent of the New Cuban Art movement that arose in opposition to Communist repression on the island. In 1991, she immigrated to Boston and taught at the School of the Museum of Fine Arts at Tufts University, where she received numerous prizes and honors for both her teaching and her artistic practice. In 2017, she was awarded the Cornelius Vanderbilt Endowed Chair Professor of Fine Arts at Vanderbilt University and moved to Nashville, TN, where she currently resides.
Campos-Pons has founded or co-founded several non-profit arts organizations including Gasp Brookline MA, the Intermittent Rivers, a Biennial Project in Matanzas, Cuba; EADJ the Engine for Art Democracy and Justice at Vanderbilt with Vanderbilt and Frist University; and When We Gather, a multi-faceted art project celebrating the elemental role women have played in the United States. Campos Pons is the consulting Curator for the Tennessee Triennial Re-Pair 2023.
For more information:
Brooklyn Museum
Gallery Wendi Norris
Bernice Steinbaum Gallery