Uncovered Spaces Participating Artist Erika Diamond (she/her/hers)
Instructor at the Visual Arts Center of Richmond, Virginia,
the Penland School of Crafts (Spring 2022, North Carolina),
the Appalachian Center for Craft, Tennessee,
the Art Students League of Denver, Colorado,
and Assistant Director of Galleries at the Chautauqua Institution, New York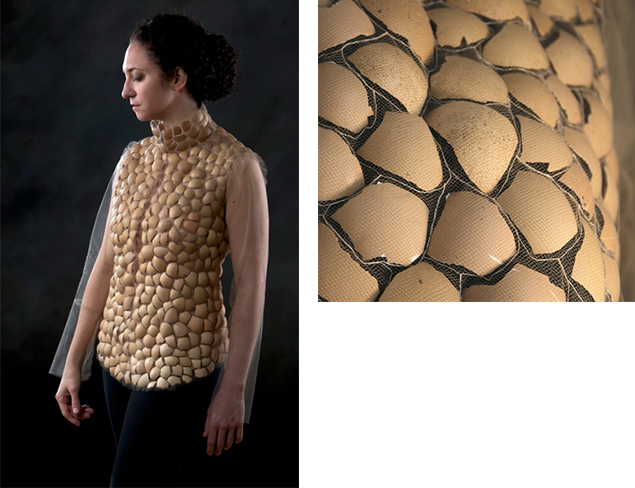 Eggshell Garment for Hugging II, eggshells stitched between layers of tulle; hugs; 2015. Garment worn to record imprint of hugs; Performance pending Photo: Zaire Kacz Photography.
Artist Statement
My work addresses the vital and fleeting qualities of human contact. It investigates the possibility of immortality, the commemoration of touch, and the thresholds between others and myself. It explores the potential for textiles to record and preserve our connection to others.
Like our own skin, textiles absorb our experiences and bear the scars of our encounters. My Eggshell Garments register the impact of other people's hugs and handshakes against my body. Through these recollection objects, people keep each other alive and cloth tells a story. These works question both our need and discomfort around closeness; the need for defense mechanisms and the pain they cause. How strong are the seams that bind us together? How close can we really get to each other? How do we wear and shape one another? The garment becomes a shared skin, a way to hold onto each other forever.
Textiles are meant to offer protection, but often those with the most protection are not the most vulnerable. In an effort to preserve the lives of those within my queer community, Imminent Peril - Queer Collection is an ongoing series of fashionable safety vests made from bullet-proof Kevlar material. Created in response to the 2016 Pulse nightclub shooting, they are specifically tailored and designed to protect my queer-identifying friends, lovers, mentors, and artists I admire, reflecting their individual ideas around personal safety and style. This new work it is rooted in a desire to promote awareness about the safety of LGBTQIA+ people, and it recognizes the need for all people to feel safe while expressing their individuality.
These garments are part of an ongoing catalog of the people in my life and my persistent efforts to hold on to those tenuous connections. They address the vulnerability and self-preservation negotiated during human interaction.
Biography
German-born and the daughter of two ballet dancers, Erika Diamond is a textile-focused visual artist, curator, and educator. She holds a BFA in Sculpture from Rhode Island School of Design and an MFA in Fiber from Virginia Commonwealth University. She has exhibited nationally and internationally, and her costumes have been commissioned by Charlotte Ballet. Residencies include McColl Center for Visual Art (NC); STARworks Center for Creative Enterprise (NC); Black Iris Gallery (VA); ABK Weaving Center (WI); Platte Forum (CO); and STEAM studio at UNC Asheville (NC). She received a Regional Artist Project Grant in 2015 from the Arts & Science Council of NC and an Adjunct Faculty Grant from VCU Arts to create new work using bulletproof Kevlar fabric. Diamond has taught at Virginia Commonwealth University (VA) in the Craft/Material Studies Department and Rocky Mountain College of Art & Design (CO). She is currently an instructor at the Visual Arts Center of Richmond (VA), the Penland School of Crafts (Spring 2022 in NC), Appalachian Center for Craft (TN), Art Students League of Denver (CO), and is the Assistant Director of Galleries at Chautauqua Institution (NY).
For more information: