Virtual Exhibitions 2021
CLAA Artists' and Writers' Summit and Workshop: Cultivating Compassion for Migrants through Fine Arts and Prose
Visit "CLAA Artists' and Writers' Summit and Workshop: Cultivating Compassion for Migrants through Fine Arts and Prose"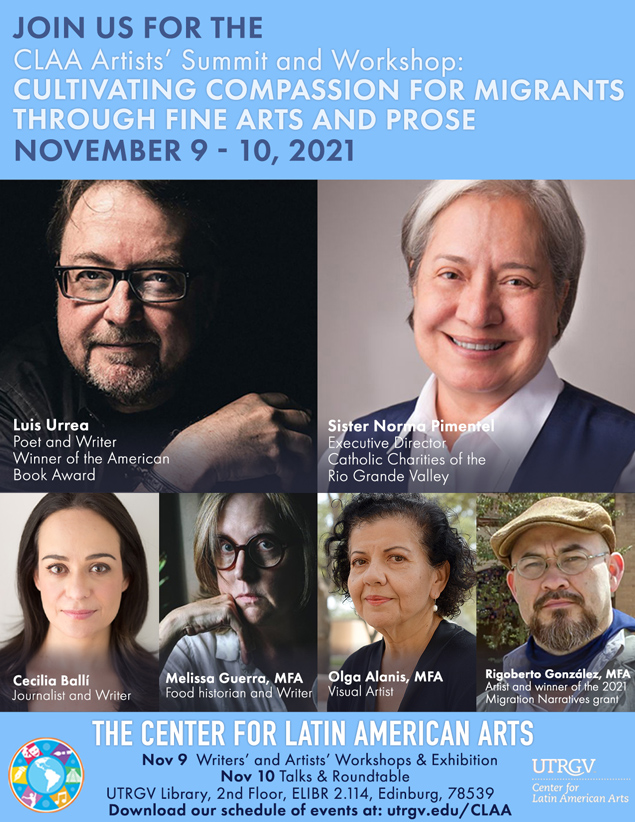 ---
Stillness
By Carlos Limas
Virtual Art Exhibition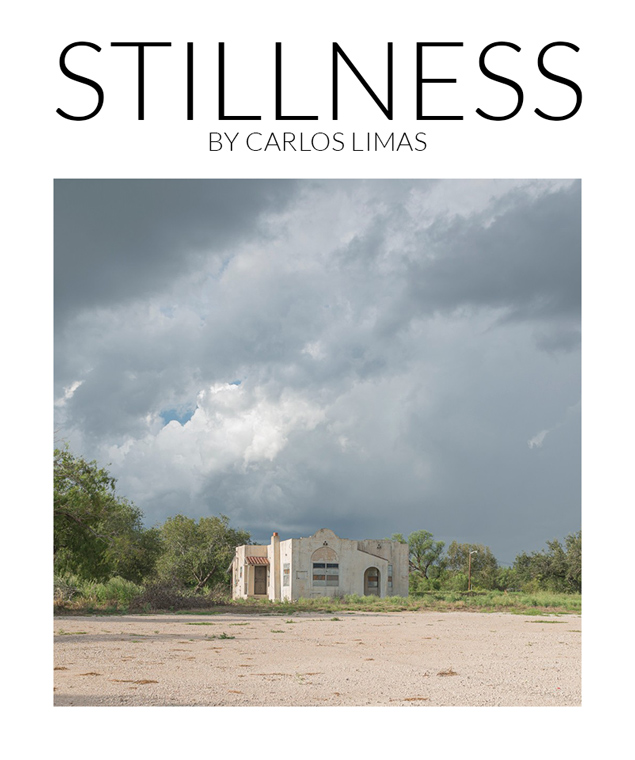 "This photographic series documents the frequently unnoticed urban and rural architecture in the Rio Grande Valley. Through these images, I reflect on the motifs and attributes of many abandoned houses and commercial buildings and their own unique esthetic, as well as what they represent to me as a visual artist while I contemplate their stoic presence. In my work, I follow a traditional Deadpan style, which is very popular in medium format film photography and is emulated in this series by a full-frame digital camera. Careful attention is given to perspective, symmetry, and negative space, and I look for compositional possibilities through the attributes of light and color. My intention is to create a collection of large format images where the viewer feels compelled to step into each image, giving him or her a chance to visually explore a more personal and intimate experience by the stillness of space and time. Stillness is the act of contemplation, and contemplation transcends into visual silence."
---
The Virgin Mary: Art, Materiality, and Piety
Curated by Daniel Ymbong
Virtual Art Exhibition in Collaboration with the IMAS
Visit The Virgin Mary: Art, Materiality, and Piety
Visit The Virgin Mary: Art, Materiality, and Piety at the IMAS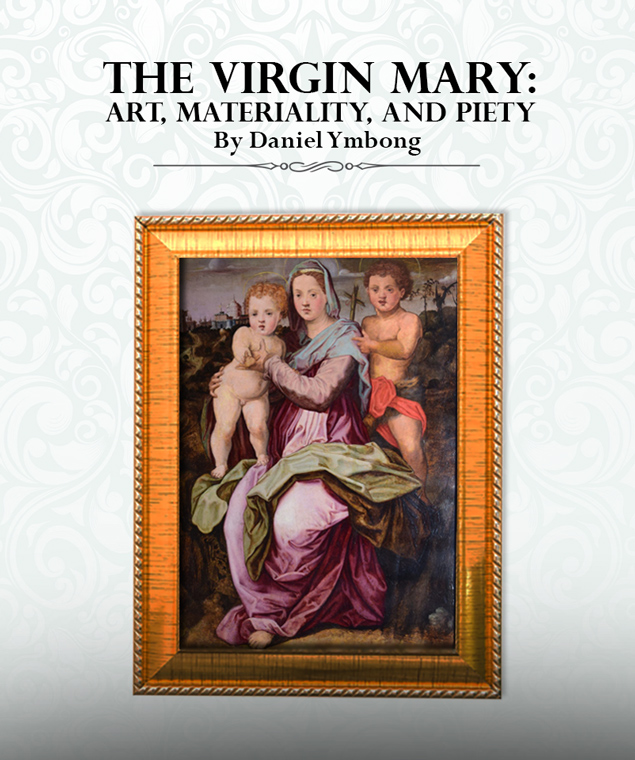 The establishment of the Spanish viceroyalties ushered new popular devotions and art production depicting the Virgin Mary in the Americas in the Early Modern period. The great demand for Marian images beginning in the sixteenth century led to the establishment of artists' guilds, workshops, and schools, which produced artworks to adorn public and private spaces. Marian art and devotion became part of many visual cultures in Latin America, informing the daily lives of diverse populations in the viceroyalty, so much so that the devotion to Mary would inspire revolution and continue to permeate in present-day spirituality and identity in Latin America. This miniature exhibition explores the origins, diaspora, and transformation of Marian iconography and devotions from the IMAS Permanent Collection that are available to be experienced here in the Rio Grande Valley.
---
Pedazos de Ayer
By Angela V. Scardigno
Virtual Art Exhibition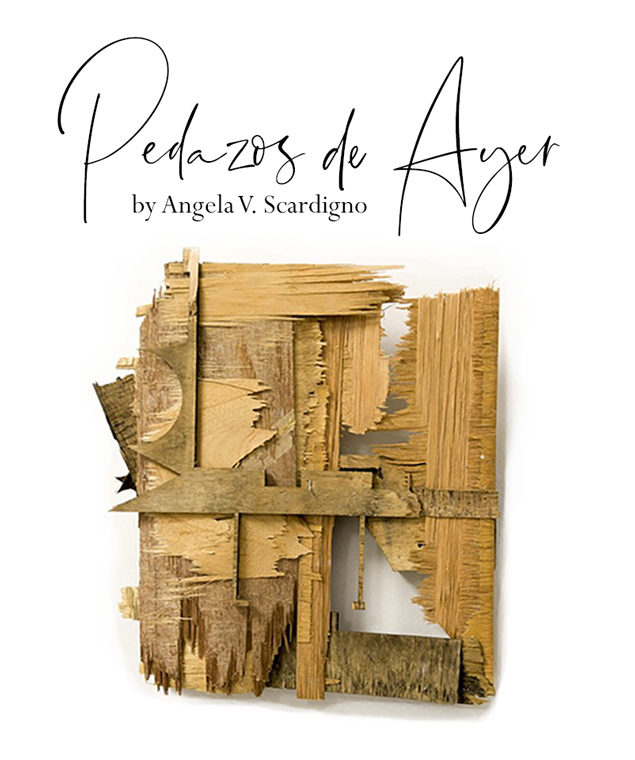 "Pedazos de Ayer, is inspired by the landscapes of the Rio Grande Valley. In south Texas, it is not uncommon to find large abandoned and forgotten properties in our immediate vicinity, these spaces randomly appear or are part of a temporal past that linger like ghost towns. Pedazos de Ayer is a series of wooden collages that represent a condensed summary of my vision of the Rio Grande Valley. They are pieces of physical places, mixed with memories and unknown stories. I believe that my work somehow challenges oblivion by making these objects that seem to be forgotten and dying out important for our visual memory. These works bring us face to face with the unique beauty of aged matter, worn objects, and colors altered by the vagaries of the weather. They challenge us to contemplate the state of forgetting by elevating found objects as works of art to preserve ideas that might have otherwise passed into oblivion."
---
Santas: The Feminine Divine
Curated by Carol Lopez
Virtual Art Exhibition in Collaboration with the IMAS
Visit Santas: The Feminine Divine
Visit Santas: The Feminine Divine at the IMAS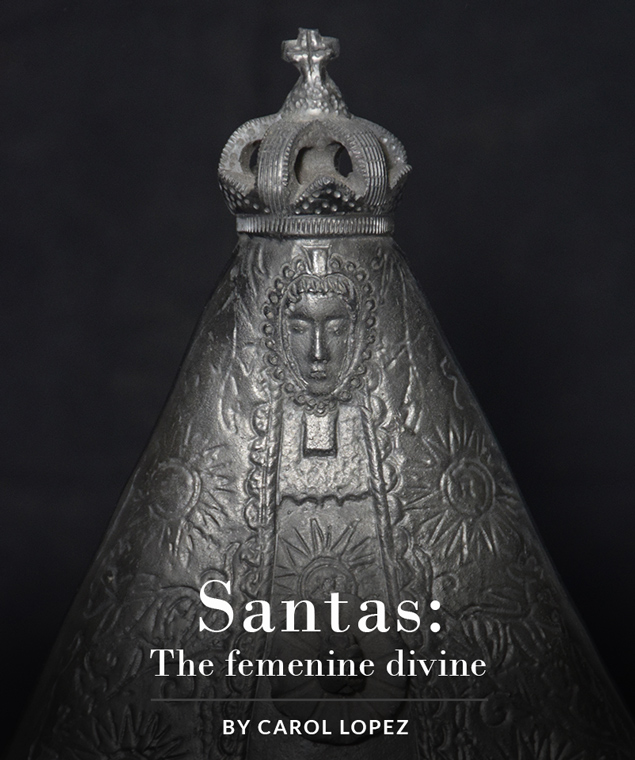 The Christian faith's importance expanded due to the Spanish and Portuguese Viceroyalty. Much of the art was influenced by Spanish, Italian, and Flemish Renaissance and Baroque paintings, prints, and sculptures. Throughout Christianity, female saints became models of holiness, emotional and spiritual solidarity. Saints such as St.Theresa, St. Katherine, St.Barbra, St. Lucy, St. Anne, and St. Veronica were popular during the colonial times, which produced varying hybrid and new artworks and devotions throughout the colonies. Latin American's first female saint was St. Rosa de Lima, a Creole (European born in the viceroyalty), is remembered for her piety, chastity, and iconography of crowned thorn roses. This devotion to female saints and Catholicism as a whole greatly impacted the daily lives and art production of all the inhabitants in the Spanish and Portuguese viceroyalties, up to revolution to the modern-day. This virtual exhibition explores the cultural, political, social, material, and artistic significance and female sainthood in Latin America from the permanent collection of the International Museum of Science.