Uncovered Spaces Participating Artist Vesna Pavlovic
Interim Chair and Associate Professor of Studio Art at Vanderbilt University College of Arts and Science, Tennessee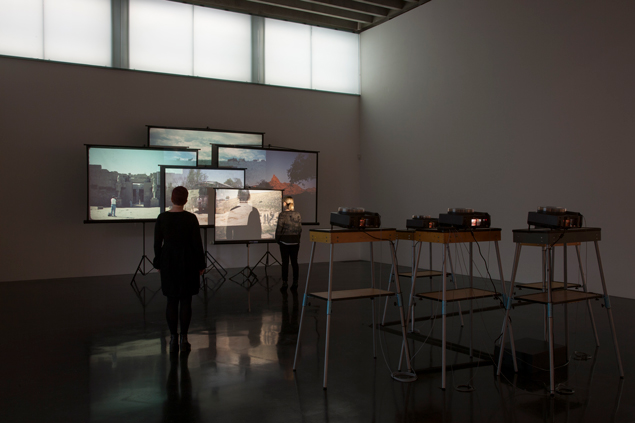 Search for Landscapes, 2011, Photographic installation with five 35 mm slide projectors, 80 slides each, five portable vintage projection screens, and five projector stands. Variable size. Photo courtesy of Jonathan Shaw
Search for Landscapes, 2011
Originally commissioned for the Untitled, 12th Istanbul Biennial, Search for Landscapes develops around a group of found vintage slides, depicting one family's travel around the world in the 1960s. Slides were a popular mode of recording travel from the 1960s-1980s. This coincided with a period of American freedom of mobility and travel to the world's exotic locations and well-known pilgrimage sites. The slide technology itself was a product of the American consumer economy, and it came at a time of projection of American power.  The American tourist with camera is itself an iconic image, one whose era may have passed. She is both a consumer of places and a producer of images. As a tourist, she has both framed a multitude of places, as well as been framed by them. What were left in the end are images, which are fading, along with those framed experiences.
Biography
Vesna Pavlović (Serbia/USА) obtained her MFA degree in Visual Arts from Columbia University in New York in 2007. She is an Associate Professor of Art at Vanderbilt University, Nashville. Pavlović has exhibited widely, including solo shows at the Phillips Collection, Washington DC; the Frist Center for the Visual Arts, Nashville; Museum of History of Yugoslavia, Belgrade; and the Crocker Art Museum, Sacramento. She participated in a number of group shows, including the Rios Intermitentes Project of the 13th Havana Biennial, Matanzas, Cuba; Museum of Modern Art, Ljubljana, Slovenia; Museum of Yugoslavia, Belgrade, Serbia; The Untitled, 12th Istanbul Biennial, Turkey; MAC – Metropolitan Arts Center, Belfast, Northern Ireland; Württembergischen Kunstverein, Düsseldorf, Germany; KUMU Art Museum, Tallinn, Estonia; Zachęta, National Gallery of Art, Warsaw, Poland; City Art Gallery, Ljubljana, Slovenia; the New Art Gallery, Walsall, UK; the Bucharest Biennale 5, Bucharest, Romania; Museum of Contemporary Photography, Chicago, USA; Le Quartier Center for Contemporary Art, Quimper, France; NGBK, Berlin, Germany; Photographers' Gallery, London; Kettle's Yard, Cambridge, UK; and FRAC Center for Contemporary Art, Dunkirk, France.
In the 1990s in Belgrade, Pavlović worked closely with the feminist pacifist group Women in Black. She provided artistic witness to the disintegration of her native Yugoslavia through her documentary work. Vesna Pavlović is the recipient of the Smithsonian Artist Research Fellowship (2020), George A. and Eliza Gardner Howard Foundation (2017), the City of Copenhagen Artist-in-Residence grant (2011), and Contemporary Foundation for the Arts Emergency Grants (2011, 2014). She received a 2012 Art Matters Foundation grant. She is the recipient of the 2018 Fulbright Scholar Award. In 2018, she received a Southern Prize Tennessee Fellowship. Recent residency programs include BoxoPROJECTS, Joshua Tree, CA (2020), and MacDowell, Peterborough, NH (2016). Her work is included in major private and public art collections, including the Phillips Collection, the Hirshhorn Museum and Sculpture Garden, Museum of Women in the Art, Art in Embassies Program, Washington DC, Museum of Contemporary Art, Belgrade, Princeton University Art Gallery, and the Center for Creative Photography, University of Arizona, Tucson, AZ, among others. Recent publications include Vesna Pavlović, Stagecraft (Vanderbilt University Press, 2021) and Vesna Pavlović's Lost Art: Photography, Display, and the Archive (Hanes Art Gallery, Wake Forest University, 2018). The latter received the SECAC Award for Outstanding Exhibition and Catalogue of Contemporary Materials in 2018.
Vesna Pavlović's work has been reviewed in Art in America, Art Forum, Washington Post, Art Papers, Hyperallergic, Artillery, Daily Serving, Burnaway, and other magazines for contemporary art.
For more information:
Vesna Pavlovic Website
Vesna Pavlovic Photographs
Phillips Museum
White Space
Zeitgeist
@studio_vesnapavlovic