Uncovered Spaces Participating Artist Linda Behar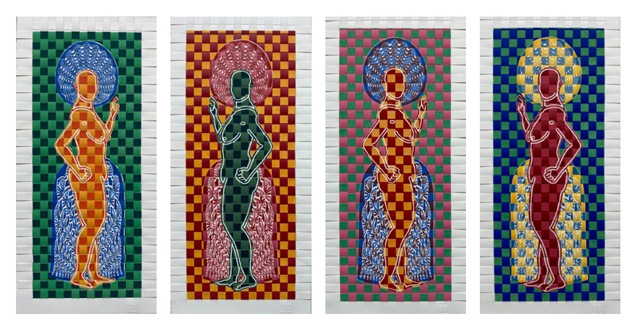 Maccabees, paper dolls woodcut print and mixed media, 14"x10"x3"
Artist Statement
385-miles. I'm an artist whose interest in how female form manifests itself through a variety of media. I seek to bring forward the contradictions between the expectations of society and an individual's sense of self. I research body language because to understand human behavior, it is imperative to see it at a whole. Body language gives a visual form to identity and enhance the visual aesthetics of communication.
The title of this work is 385-miles. On the first day of 2019, five million Indian women decided to make a powerful statement; they lined the streets to form a 385-mile human chain calling for gender equality and women's rights. The idea behind this work is to honor millions of women that fought for their rights to produce changes in our society. My goal is to create images that echo the past while embracing the future.
Biography
Born in Venezuela and established in the United States since 2000, Linda Behar is an artist originally trained as a Civil Engineer. Always interested in the arts, she attended the "Academia Taller Arte y Fuego" in Caracas between 1994 and 1998. She became a specialist in Glass Casting and Pate de Verre through studies and workshops in Italy and the USA.
Interested in learning new materials and methods for her work, Behar decided to begin a Master of Fine Arts degree with an emphasis in printmaking at the Florida Atlantic University, from which she graduated in 2014.
Behar has actively participated in biennales in Venezuela and the USA with numerous awards and honorable mentions. Her work has been exhibited nationally and Internationally in galleries and art centers. A dedicated teacher, Behar taught in Venezuela as well as at the University of Miami and Florida Atlantic University.
Behar has used a wide variety of techniques and media and is working on combining laser cutting with traditional printmaking techniques, specifically woodblock printing. Her research has centered in the representation of women's bodies and gender identities throughout history, more specifically focused on body language as it relates to gender norms.
For more information: