Uncovered Spaces Participating Artist Linda Behar
See No Evil, Hear No Evil, and Speak No Evil, Woodcut print, 22" x 34" each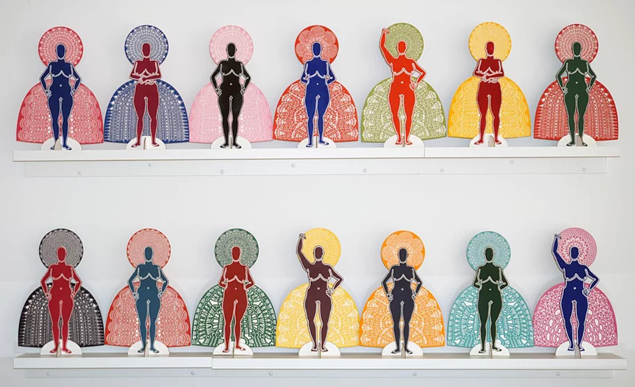 Maccabees, paper dolls woodcut print and mixed media, 14"x10"x3"
Artist Statement
"I am an artist whose interest in shapes manifests itself through a variety of media. I seek to bring forward the contradictions between the expectations of society and an individual's sense of self. My focus is on women and the stark standards that have been established for a woman's appearance. After finding a study made by the U.S. government in 1940 to standardize the women body, I created a geometrical shape using the measurements generated by the study and presented in drawings and in three-dimensional figures. I carry this work forward in an exploration of figural gesture through miniature figures in the round and subtly three-dimensional 3D-printing images.
My exploration of shape goes deeper through my work with the study of the body language. The pose is shapes, and shape is both a noun and a verb, to understand the human behavior is imperative to see it at a whole. The body language gave a visual form to identity and enhanced the visual aesthetics of communication. Through the pose, the body and the strictures of tradition, visual images itself shapes what one says and the way one thinks and preserves them as art. You are what you create, as much as you are what you perform. My goal is to create images that echo the past, confront the present, and embrace the future."
Biography
Linda Behar is a Venezuelan-born artist who has been living in the US for the past two decades. Behar holds a bachelor's in civil engineering, an MFA with an emphasis in printmaking from Florida Atlantic University and is a specialist in glass casting and pâte de verre (molten glass). She had her first solo exhibition at Broward College in 2008 and is an academic whose research mostly concerns feminism and the analysis of messages that the media disseminates through the public.
Behar's main interests lie in the use of shape and the word's function as both a noun and a verb. She wants to make her consumers acutely aware of the differences between the expectations posed on individuals by society and the way these individuals can form their own sense of self, especially when it comes to those placed on women throughout history. By utilizing videogame and photo editing software, Behar can use a laser cutter to create innovative yet traditional woodcut printing plates. The combination of technology as well as traditional printing techniques such as etching, relief, embossing and chine colle allow Behar to use body language to acknowledge and challenge the societal influence of body image. She is self-employed and has taught in Venezuela as well as at the University of Miami and Florida Atlantic University.
For more information: