Uncovered Spaces Participating Artist Lauren Sandler (she/her/hers)
Assistant Professor and Program Head of Ceramics at Temple University School of Art and Architecture, Philadelphia, Pennsylvania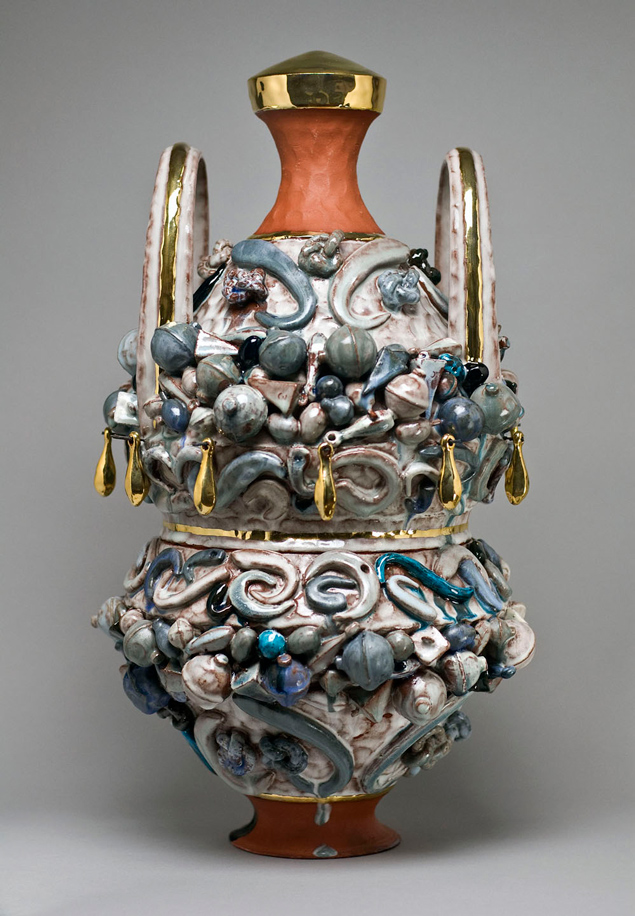 Centuripe Series: Weights and Bobbers, earthenware with glaze and gold luster, 20″T x 11″W x 11″D, 2019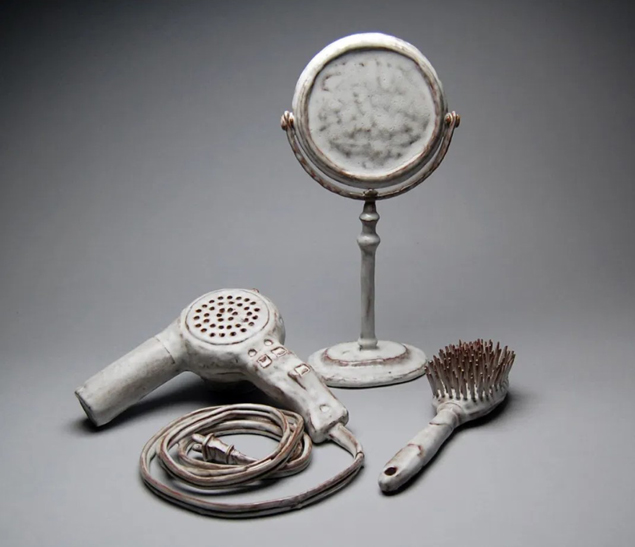 Bathroom Vanity Re-collections, paperclay with glaze, 11"T x 5.5"W x 3"D (mirror), 2014.
Artist Statement
My work resides in the liminal narrative between our literal and figurative, outer and inner spaces. Who occupies the gaze, its control and authority, and who remains subject to it? I redefine our fixed narratives of capacity, and implicate our assumptions of normal, beauty, and worth. The vessel embodies the axis upon which viewpoint and significance turn. A series of windowsills delineate the plane and constraints, as the frame shapes our perceptions. Through classic forms and styles, I hand build tureens, utensils, and still lifes to demythologize the status of these objects. My pieces inscribe substance in detritus. A lost shoe holds floral promise; a recycled egg carton germinates future nourishment.
We construct precious evidence through mundane assemblages to reveal the unique significance of our lives. I hope to dismantle the binary opposition between inside and outside and expose cultural and contextual power ascribed to those with more access and greater means. This unearths a spectrum of possibilities where beauty exudes from everyday moments and overlooked corners.
Biography
Lauren Sandler is a ceramic artist, whose work investigates narratives of power and perspective through the vernacular of the vessel, exploring the mutable topographies of interior, obfuscated terrain, and exterior perspectives. Her fragmented forms, allegoric containers, and mundane assemblages deconstruct mythologies and inscribe substance in detritus. She explores mutable topographies of interior obfuscated terrain and exterior perspectives.
Through functional and sculptural work, she invokes themes of memory, containment, and context. Her practice highlights those of us overlooked, amplifies interdependence, and implicates our assumptions of normal, beauty, and worth. With a background in anthropology, she examines the language of the artifact through narrative, history of use, and fluency of touch.
Originally from New York City, Lauren's felt sense developed through the contrast of the city's prodigious exterior, to the small space of her family's apartment, and later the panorama of the mountains. Her work finds an affinity in the place where visceral and structural meet, a shared intersection of body, culture, and history, with the mundane as monumental.
Lauren exhibits nationally and held residencies at The Clay Studio of Missoula and Watershed Center for the Ceramic Arts, where she received the Kiln God Award. Lauren currently serves on the Board of The National Council on Education for the Ceramic Arts as Director at Large. She holds an MFA in Ceramics from Penn State University, and undergraduate degrees in Anthropology and Ceramics from Ithaca College and SUNY New Paltz. She has taught at SUNY New Paltz and at Skidmore College, and is currently an Assistant Professor and Program Head in Ceramics at Tyler School of Art and Architecture at Temple University in Philadelphia.
For more information: