Uncovered Spaces Participating Artist Margarita Cabrera
Assistant Professor, Arizona State University School of Art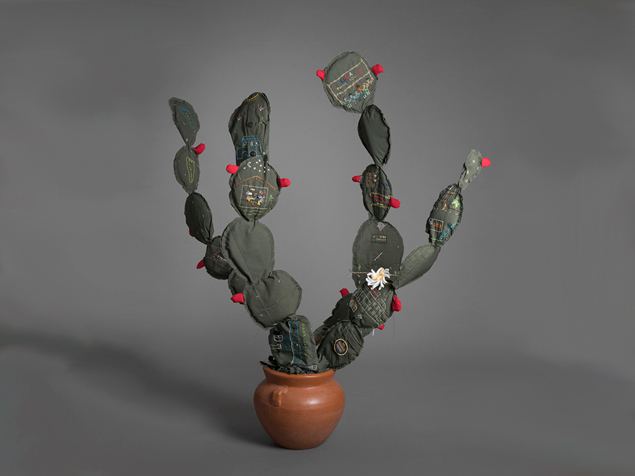 Space in Between – Nopal (Rosa E De Los Santos), 2016, Border patrol uniform fabric, copper wire, thread, terra cotta pot, 61 1/2h x 52w x 50d in
Artist Statement
SPACE IN BETWEEN is a collaborative project in the form of a sewing and embroidery workshop. The title is inspired by the term Nepantla, which in the Nahuatl Aztec language references the "space in the middle" as it refers to marginalized cultures and resistance strategies of survival. Gloria Anzaldua, scholar, activist, and author of Borderlands/La Frontera, views Nepantla as a reference to living in the borderlands or crossroads, and the process of creating alternative spaces in which to live, function or create.
The workshop represents an attempt to maintain an ethnic connection with vital cultural Mexican craft traditions. Space in Between uses traditional sewing and embroidery techniques from Los Tenangos, Hidalgo, Mexico. Traditionally in mural form, the embroidery from Tenango de Doria Hidalgo employs colorful narrative traditions reflecting popular culture, traditional rituals, and myths of the Otomi indigenous communities.
Sometimes appropriating and other times reclaiming these techniques, immigrant workers relay their own personal border-crossing experience. This embroidered narrative element is combined in creative ways with the desert plants.
The first run of SPACE in BETWEEN took place in early 2010 at Box 13, in a former Singer sewing machine showroom in Houston's East End, home to a large and longstanding Spanish-speaking immigrant community. Participants in the workshop, themselves immigrants to the United States from Mexico and Central America, produced numerous sculptural replicas of desert plants indigenous to the Southwestern United States.
Sewn together out of border patrol uniforms and planted in traditional Mexican terra cotta pots, these sculptural plants refer to the role of border patrol officers as protagonists in the American landscape.
Biography
Margarita Cabrera received an MFA from Hunter College in New York, NY. Cabrera currently lives and works in El Paso where she recently had a two-year exhibit at the El Paso Museum of Art. Her most recent exhibitions include a show entitled "Pop Departures" at the Seattle Art Museum. Her work has been included in galleries such as 516 Arts, Sara Meltzer, Walter Maciel, and Synderman-Works. Her work has been in the Smithsonian Museum of American Art, the Museum of Fine Arts Houston, the Contemporary Arts Museum Houston, the McNay (San Antonio), the Sweeney Art Gallery (University of California, Riverside), the Sun Valley Museum of Art (Idaho), El Museo del Barrio (NYC), and the LACMA (CA). County Museum of Art, CA. In 2012 she was a recipient of the Knight Artist in Residence at the McColl Center for Visual Art in Charlotte, NC. Cabrera was also a recipient of the Joan Mitchell Foundation Grant.
For more information:
Margarita Cabrera Website
Talley Dunn Gallery
Ruiz-Healy Art
@margaritacabrera.artist