Uncovered Spaces Participating Artist Margarita Cabrera
Assistant Professor, Arizona State University School of Art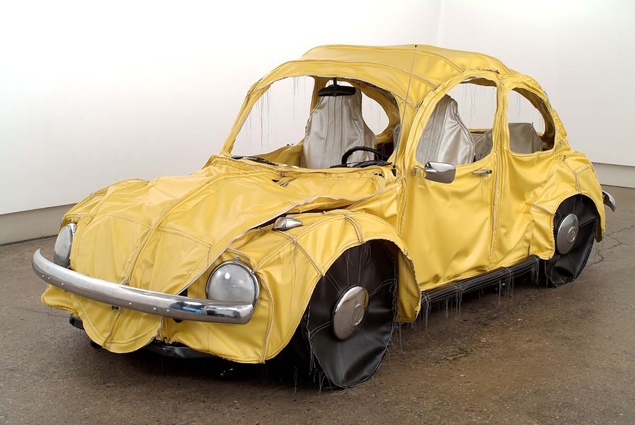 Margarita Cabrera, Installation view, Prospect 4, 2017, New Orleans, Louisiana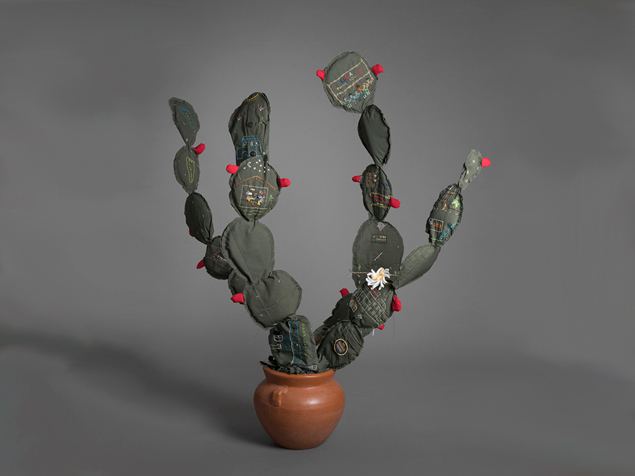 Space in Between – Nopal (Rosa E De Los Santos), 2016, Border patrol uniform fabric, copper wire, thread, terra cotta pot, 61 1/2h x 52w x 50d in
Artist Statement
"My work centers on social-political community issues including cultural identity, migration, violence, inclusivity, labor, and empowerment. I create sculptures made out of media ranging from steel, copper, wood, ceramics, and fabric. I have worked on a number of collaborative projects at the intersection of contemporary art practices, indigenous Mexican folk art and craft traditions, and US-Mexico relations. In addition to studying and preserving endangered cultural and craft traditions, these projects have served as active investigations into the creation of just working conditions and the protection of immigrants' rights. My emphasis is on creating a social consciousness through my work, generating solutions to these problems through my art, and empowering all members of highly diverse communities.
In recent years, I have especially focused on community art collaborations, producing work that has engaged international and local communities in transformative practices. With these works, we have created art pieces that serve as cultural and historical artifacts that value and document the experiences, struggles, and achievements of those who have found their way, often through migration and exceptional sacrifice, to new places where they now work to contribute meaningfully within their communities. This work is both individually and collectively inspiring to all participants and local populations."
- WHAT ART CAN DO – THE COLLABORATIVE ACT OF MAKING, 2019
Talley Dunn Gallery, Dallas, TX
Biography
Margarita Cabrera was born in Monterrey, Mexico, and moved to El Paso, Texas, at the age of 10. Cabrera holds both a BFA and MFA from Hunter College in New York, New York, and enrolled at the Maryland Institute College of Art in Baltimore, Maryland between 1994-1995. Margarita addresses cultural identity, immigration, violence, labor, and US-Mexico border relations through sculpture, mixed media works, and collaborative projects that intersect contemporary art practices, indigenous art, Mexican folk art, and embroidery traditions. Cabrera has participated in numerous solo and group exhibitions at institutions across the United States, including the Dallas Contemporary, El Museo del Barrio (New York), the Ford Foundation Gallery (New York), the Los Angeles County Museum of Art, the McNay Museum (San Antonio), the Museum of Fine Arts Houston, the Ogden Museum of Southern Art (New Orleans), the Seattle Art Museum, SITE Santa Fe, the Smithsonian Museum of American Art (Washington, D.C.), the Sun Valley Center for the Arts (Ketchum, Idaho), and the Sweeney Art Center for Contemporary Art at the University of California, Riverside. She is currently an assistant professor in the School of Art at Arizona State University.
For more information: