Uncovered Spaces Participating Artist Jana Harper
Associate Professor of The Practice of Art at Vanderbilt University College of Arts and Science, Tennessee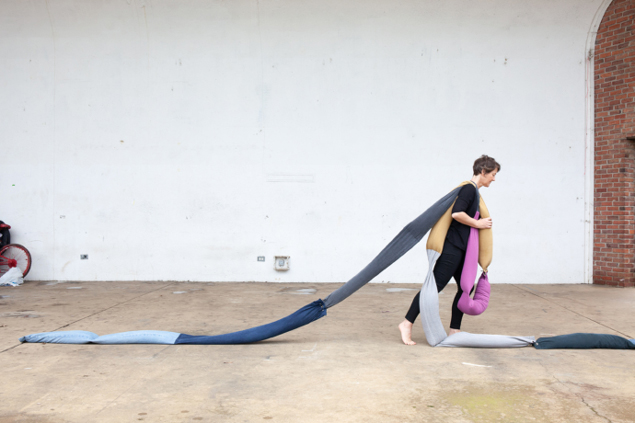 This Holding (Bearing), archival pigment print 40" x 27," 2019
Cargas, 2019 from Jana Harper on Vimeo
Artist Statement for Cargas
"A collaboration between Jana Harper, Liliam Padrón, her dance company Danza Espiral, and singer Moksha Sommer, Cargas is an hour-long performance that addresses the burdens we carry and how through empathy and community we might eventually transform them. During preparational workshops, performers came up with a list of 100 words that describe the weights they experience as Cubans. These ranged from everyday local concerns such as food shortages or caring for one's family to global issues like migration and climate change. The words were painted on ration bags and carried through the city of Matanzas, from the sacred Ceiba Tree to the Palace of Justice.
Cargas was performed on May 12, 2019, as the concluding performance for Ríos Intermitentes, a project for the 13th Havana Biennial in Matanzas, Cuba."
-Jana Harper
Biography
Jana Harper is a mixed media and video performance artist exploring the themes and tensions of materiality and transcendence, relationships, chance encounters, human connectivity, willfulness, and human acts of meaning making. Harper received a BA from Evergreen State College in 1992 and holds an MFA from Arizona State University. She has held numerous exhibitions, awards, and fellowships both nationally and internationally.
Her work is held in several public collections including the Library of Congress, the Sackner Archive for Visual and Concrete Poetry, J.S. Blanton Museum, Proyecto Ace Print Collection, and the Janet Turner Print Collection. She is a recipient of a National Endowment for the Arts award in support of her project This Holding, which premiered online via OZ Arts Nashville on May 29, 2020. Recently, her collaborative performance Cargas was the closing event for Intermittent Rivers, the Matanzas portion of the Havana Biennial in Cuba. Harper leads workshops on movement and creativity, either independently or in collaborative projects implementing her background in somatic practices and is interested in how the burdens of history can be transformed through gestures of love and empathy. Jana is Associate Professor of the Practice in the Department of Art at Vanderbilt University.
For more information: