Uncovered Spaces Exhibition Participating Artist Zac Thompson (they/them)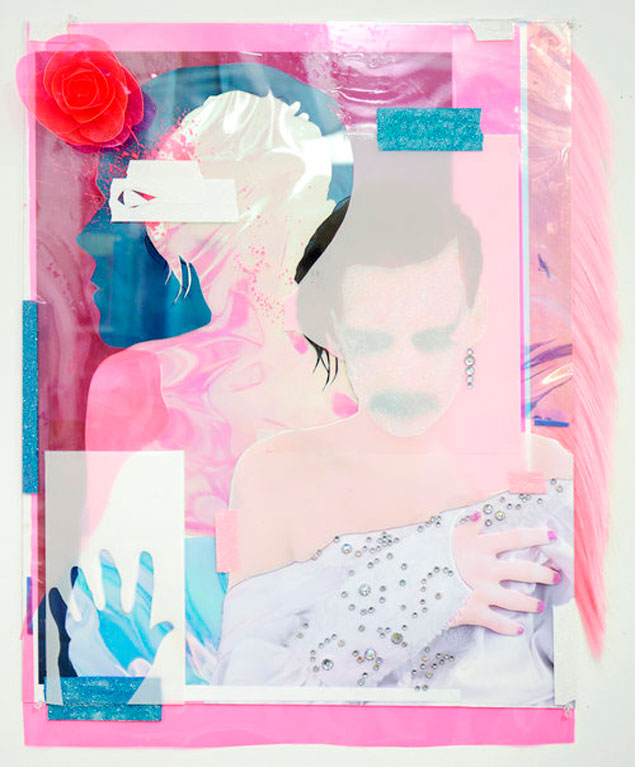 Untitled, 2018, Disposable camera photographs, postcards, dura-lar, tape, glitter, vinyl, plexiglass, rhinestones, feathers, acrylic, etc. (sizes ranging from 4x6 inches to 11x14 inches).
You may touch my dust but please don't write in it, 2019 from Zac Thompson on Vimeo.
Pastel and charcoal on site-specific wall with performance, audio and custom dress 1min, 32sec.
Artist Statement
The white evangelical family Zac Thompson was born into didn't make room for queer, non-binary artists, let alone gender@#&! drag performers. Since they're both of those things, the myopic traditionalist world their parents made for them growing up felt too small. To make room, they've had to build their own queer worlds by using their work to playfully expand the limiting normative structures around home, family, and gender that they grew up with, through a combination of drawing, photography, zine-making, and performance.
Biography
Zac Thompson is an artist and gender@#&! performer, known as Zacrilegious, whose work quietly addresses the often-oppressive impact of home and a desire to rebuild through a combination of drawing, photography, zine-making, and performance. Born in Colorado Springs, CO, they received their BFA in Drawing from the University of Florida and their MFA from the School of Visual Arts. They are currently co-curator of ArtpartmentNYC, and their work has been featured in Hyperallergic as well as exhibited in group shows at the Craig Krull Gallery in Los Angeles, CA, the SVA Chelsea Gallery in New York, NY, Vox Populi in Philadelphia, PA, and they have been a resident at the Visual Arts of Chautauqua Institution. They currently live and work in Brooklyn, NY.
For more information:
Zac Thompson Website
Craig Krull Gallery
Gloria's Project Space