Uncovered Spaces Participating Artist María Fernanda Barrero
Moterrey, México
The Horizon and the Storm, Cotton thread and beeswax on aluminum, 160 x 90 cm, 2018, Private Collection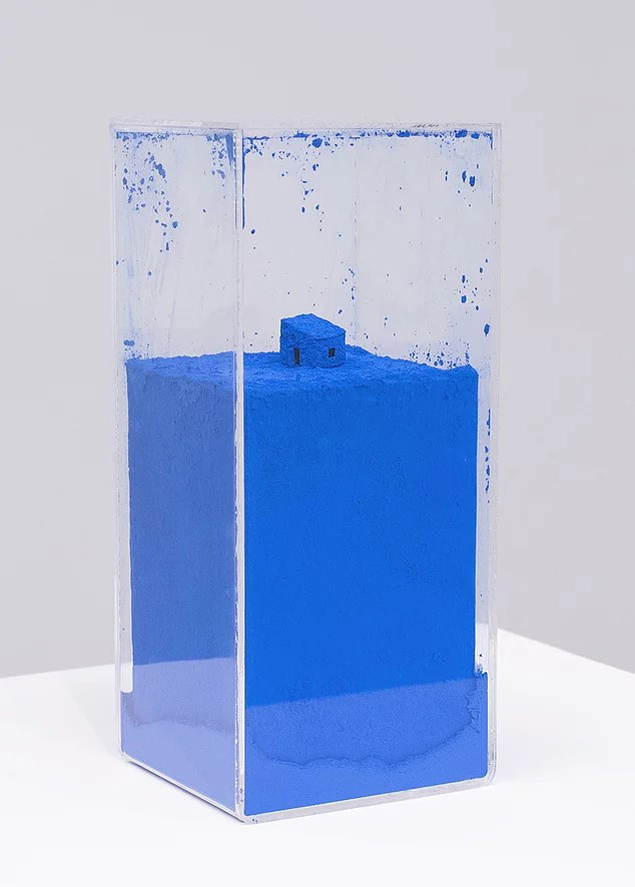 Can't Stop Thinking about Yves Klein, Blue pigment, paper, acrylic box, 25 x 10 x 10 cm, 2012, Private collection
Artist Statement
"I have always been marveled by our beautiful biosphere, a complex and synchronized life network where everything is interconnected and exquisitely woven. My sense and wish of belonging to our biosphere and cosmos have led my life's curiosity. Therefore, the aim of my art practice is to investigate how we exist within our life network and how we participate as interdependent elements of it. My practice is based on four axioms: (1) everything is part of a whole and is a whole itself, (2) life is not a fragmented mechanism, but rather a multifaceted organism where boundaries are illusory. (3) Therefore, life in my work is understood as a web of relationships and experiences that happen within space. (4) Consequently, we are interdependent and interconnected elements within this system, and it is impossible to define and understand ourselves as humans without aiming to recognize our macrocosms, our biosphere, our microcosmos, and our place within all of it.
As my work examines how we perceive, experience, and develop an understanding of our life network and our sense of belonging to it, I aim to make tangible this interconnectedness thru aesthetic tools like light, color, monochromia, patterns, geometry, containment of space, and our own spatial sense of self. My motifs are everyday observations of our surroundings that support life including both nature and human made elements that interact with our network: landscapes, stars, plants, the ocean, dusk and dawn, ocean currents, clouds patterns, as well as architectural elements, maps, scientific diagrams, and quotidian objects. My fundamental actions consist of containing, constructing, replicating, tracing, mapping, folding, weaving, and embracing. With these tools, motifs, and actions, I seek to elaborate a full poetics of our life network and our place within it.
The predominant material used in my work (2007-2014) was white paper as featured in Paper Environments. This exploration began with Paper House, built at the Slade Research Centre, University College London, in March 2007 during my MFA degree. To formulate the idea of the mind as a dynamic and sensible container of space, I constructed a white paper house based on the shape of my former studio. Spectators shared extraordinary experiences of light, whiteness, and spatial containment, which led me to continue exploring the monochrome, self-contained, vulnerable, and unified possibilities of paper as both surface and structure. I constructed several large format paper installations containing life size paper objects and flora that could be transited by visitors including: Paper Bedroom (2008) for the Slade Degree Show 2008 in London and Paper Garden (2009) for the Recent Graduate Show at the Affordable Art Fair in London; Water Lily Pond (2010) for the Zona Maco Monterrey Art Fair and a garden, at dawn (2010) for the Alternativa Once Gallery in Monterrey, Mexico. These Paper Environments created spaces where everything seemed integrated into a whole. They motivated incredibly unique perceptual experiences that are bodily and spatial, peaceful, and enjoyable.
Then, I began to develop smaller installations and pieces building on former elements and introducing added resources such as detailed cutouts, mapped, and embossed images or text. The project, Leaves of stars/Estrellas de la hierba (2012-2014) bonds miniature oblivious elements, mainly grass, with massive yet easily forgotten celestial bodies. For example, I overlapped the exact location of the stars beneath the grass under my feet as I stood in my studio, all on the same sheet of paper. Star mapping was achieved with the use of the Starwalk Application, as well as other astronomical sky maps and photographs. I combined geography and literature alluding to human links with the Earth and sky: bringing in fragments of Walt Whitman's Leaves of grass or Gaston Bachelard's Poetics of Space.
My current project An Imaginary Line examines landscape and the horizon as a point of reference that helps us develop our sense of self and belonging within our biosphere. This project explores mountain, sea and cloud landscapes thru pieces using 3D imagining and printing or thread painting on wax. This project has been shown at Registro 05 Enfocar la Mirada Exhibition at Museo de Arte Contemporáneo (MARCO), Monterrey, 2018; and at the solo exhibition Al Final del Ocaso at Alternativa Once Gallery, Monterrey, 2018.
This last project has widened and deepened the scope of my work by focusing my research on landscape elements and by introducing new materials and techniques into my practice. The original aims of my practice remain, yet different approaches help me to further understand our sense of belonging within our fabric of life."
Biography
María Fernanda Barrero is a Mexican artist who lives and works in Monterrey, México. Barrero holds an MFA specializing in sculpture from the Slade School of Fine Arts, University College London in 2008 and a BFA from the Universidad de Monterrey, Mexico (2003). She also studied sculpture at Europäisches Kunst Akademie, Germany in 2005 and West Dean College, England in 2005. Her oeuvre examines our environment and the synchrony of our biospheres as well as conservation issues. Her work is characterized by its usage of white paper, or thread, and contained monochrome spaces to explore ideas related nature, landscape, and the interconnectedness of our ecosystems. Her solo exhibitions include: By the End of Dusk, Alternativa Once Gallery, Monterrey (2018); A House in the Air at Casa de la Cultura de Nuevo León, Monterrey (2014); The flowers of a Garden that Might Have Existed, Galería CONARTE. Monterrey (2012); A Garden by Dawn, Alternativa Once, Monterrey, (2010). She participated in the Registro 05 group exhibition at Museo de Arte Contemporáneo (MARCO) Monterrey (2018) and in the X FEMSA Biennale in 2012 as well as in over 40 group shows in Mexico, United States, England, Italy, Israel, and Japan. She participated in the Mino Paper Residency (2011) granted by the Japanese government and their exhibition Navigating Light at the Mino Washi Museum, Japan. She obtained the Bernardo Elosúa. Arte A.C. Award Soporte/papel in 2009.
For more information: