AmeriCorps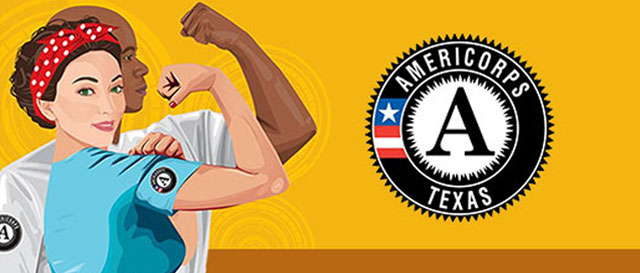 AmeriCorps is an opportunity to make a big difference in your life and in the lives of those around you. As a member, you will learn teamwork, leadership, responsibility and other essential skills that will help you for the rest of your life. Additionally, you will gain the personal satisfaction of taking on challenges and seeing results.
AmeriCorps members assist students with the college enrollment process (admissions, testing, academic advising, financial aid, orientation, registration, etc.), facilitate parent workshops, and serve as a liaison for students (at ISD high schools and other designated venues, via phone and/or email). Members will maintain program activity logs, compile reports, and other required documentation.
Each year the AmeriCorps Program serves over 4,500 12th grade students; AmeriCorps members answer questions and guide students with all college enrollment requirements. AmeriCorps engages more than 80,000 Americans in intensive service each year at nonprofits, schools, public agencies, and community and faith-based groups across the country.
Please watch this video for more information about UTRGV AmeriCorps Program
Transcript of AmeriCorps information Video
[Background Music playing]
What is AmeriCorps?
AmeriCorps is a program in which UTRGV students help high school seniors with the college admissions and financial aid process.
What exactly does that mean?
The college admissions process involves: applying to universities, registering for tests (ACT, SAT, TSI), orientation, and applying for scholarships and financial aid (FAFSA/TASFA).
Members help students:
Find the right college for them and apply for admission.
Register for the necessary tests.
Register for orientation/courses once they're accepted.
Remember! Members help students find the right college for them, even if it is not UTRGV.
There are members at both the Edinburg and Brownsville UTRGV campuses. Together we serve Brownsville ISD, Edinburg CISD, McAllen ISD, San Benito CISD, and Los Fresnos CISD.
You will be placed along with other AmeriCorps members as a team at a service site where you will serve for 4.5 months.
Keep in mind you will be commuting to and from your service site, as well as to meetings, trainings, and events throughout the term.
How do I join?
In order to join you must:
Be a US citizen or legal permanent resident
Have a 2.5 cumulative GPA
Have completed 24 credit hours
Be enrolled in the term you plan to serve
Submit an application
Submit an unofficial transcript
Submit a resume
Be able to commit to serve for the entire term [4.5 months]
Have excellent customer service skills
Bilingual speak preferred (English and Spanish)
Successfully pass required background checks
Apply today at www.utrgv.edu/americorps
AmeriCorps Application
Spring 2023 AmeriCorps application available. Click here to apply.
AmeriCorps Offers Tangible Benefits
Member who satisfactorily completes term of service (full 4.5 months) will earn a $1,718.25 educational award
Semi-monthly $470.56 stipend will be provided during a term.
Pre-Service Orientation on time management skills, leadership skills, civic reflection, and public speaking
eligible members can receive a $600 need-based resident grant during the term of service for completing a full term.
Segal AmeriCorps Education Award
The Segal AmeriCorps Education Award is a post-service benefit received by participants who complete a term of national service in an approved AmeriCorps program.
The education award may be used to pay educational costs at eligible post-secondary educational institutions (including many technical schools and GI-Bill approved educational programs), as well as to repay qualified student loans. The dollar amount of a full-time award is based on the maximum amount of the U.S. Department of Education's Pell Grant, thus it can vary from year to year. Currently, AmeriCorps members may earn up to the value of two full-time education awards and have seven years from the date they earned each award to use it.
Members can divide an award and use portions of it at different times before it expires, as long as it is for authorized expenditures.
Requirement to Join
Be a U.S. Citizen or Legal Permanent Resident
2.5 GPA
24 credit hours completed
Bilingual Preferred (English and Spanish)
Be able to commit to serve for full 4.5 months for 22-25 hours a week, mainly from 8AM to 4PM, M-F (not completing commitment can have negative repercussions).
Excellent customer service skills
Application available here
Résumé
Enrolled for Spring 2023
Community Service Activities
FAFSA/TASFA Super Saturday
MLK Day of Service – A day-on not a day-off
United We Serve
AmeriCorps Week
University Day
Program Overview
AmeriCorps members will serve a 4 and a half month term:
Spring: from January 10, 2023-May 15, 2023
22-25 hours per week on average
80 percent of the time will be spent at assigned high school
Members can serve up to 4 terms.
AmeriCorps Fast Facts
Video

| | |
| --- | --- |
| Figure | Description |
| 1 million + | Number of people who have served as AmeriCorps members since 1994 |
| 1.4 billion | Total number of hours served by AmeriCorps members since 1994 |
| 1.9 million | Number of community volunteers managed or mobilized by AmeriCorps members last year |
| $1 billion | Value of cash and in-kind donations leveraged by AmeriCorps members each year |
| 21,600 | Unique sites that AmeriCorps members served last year |
| $3.6 billion | Total amount of Segal AmeriCorps Education Awards earned by AmeriCorps members since 1994 |
| 75,000          | AmeriCorps Members serve annually |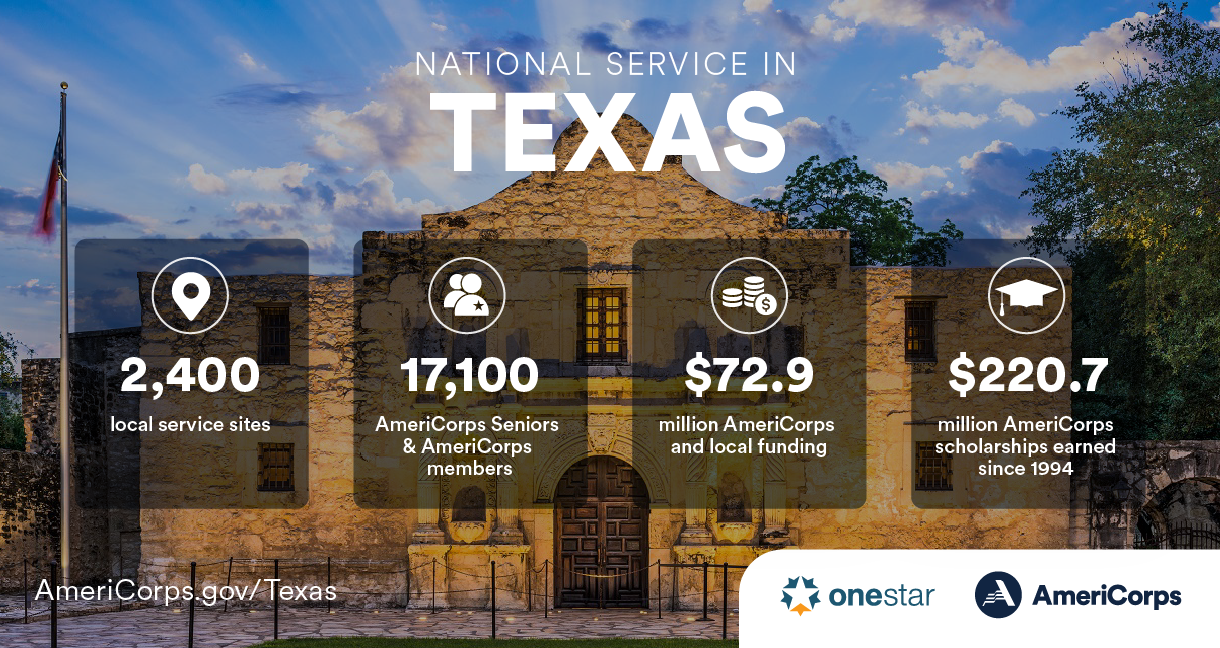 Contact Us
Brownsville Location:
U Central
The Tower, Main 1.100
1 West University Blvd.
Brownsville, TX 78520
956-882-7321
AmeriCorps@utrgv.edu
Edinburg Location:
U Central
1st Floor Student Services Building (SSBL)
1201 West University Drive
Edinburg, Texas 78539
956-665-2157
AmeriCorps@utrgv.edu