Work-Study for Students
UTRGV has several Work-study Programs that help students earn wages through the Work-study Grant.
Why chose a work-study job over a non-work-study job?
Not only does a work-study job provide the convenience of working on-campus or in between campus. It helps you market your skills to On-Campus employers because Work-study eligible students are highly sought after!
How does Work-study Program Work?
Eligible students are offered a generic work-study award, which may vary per student. The generic award helps students market themselves for work-study positions.

Work-study does not pay for a student's tuition and fees; nor does it get disbursed with other financial aid awards. Students earn their work-study award through part-time student employment.

If the student is hired for a work-study assignment, the real funds are placed onto the student record once the department requests the student for hire. Work-study awards are also pro-rated based on the point of hire. It is important to know that your work-study awards may change from the time you are awarded to the time you are hired for a position.

Your student ASSIST account will indicate the amount of work-study grant you are eligible for once the hiring department submits a request.
Eligibility
How do I become eligible? To become eligible for Work-study Program you will need to do the following:
Apply for financial aid by submitting a FAFSA or TASFA application Complete any Financial Aid Verification items
Be a U.S. Citizen, or Permanent Resident, or Texas Resident with valid Employment Authorization
Be in a financial aid eligible degree program
Be enrolled for the duration of employment or if a receiving Texas College Work-study Grant be enrolled a minimum of 6 credit hour
Meet UTRGV's Satisfactory Academic Progress
Demonstrate financial need
How do I can I tell if I am eligible?
You can check your student ASSIST account, under Financial Aid Awards for the current academic year.
If you do not have a work-study award offered to you, you can submit an
Additional Aid Request
online to request Work-study funds.
If you have questions on your eligibility, please visit your nearest UCentral or email
workstudy@utrgv.edu
.
Finding a Work-study job
The Career Center offers services to students and alumni to help you reach your career goals! Services include resume reviews, mock interviews, job search strategies, career planning, self-assessment and more! Watch our Career Center welcome video!
Contact info: careercenter@utrgv.edu Phone: (956) 665-2243 Edinburg/(956) 882-5627 Brownsville. Office Hours are Monday to Friday 8:00 a.m. to 5:00 p.m.
Additional tips on how to navigate Handshake or our other services/resources:
When is the last day I can find a Work-study job?
Work-study is available all academic year if you are meeting the requirements. The best time to start searching for a work-study job is at the start of the semester or right before. The Financial Aid Office recommends looking for jobs a few weeks before the semester starts since that is a time when employers are looking to fill any vacant positions.
Just like a real job, sometimes there are simply few positions available. If you are not able to find a work-study position, the Career Center may have other student employment positions available like internships or employment outside of the university.
Having a work-study award DOES NOT guarantee that you will find a job- it just means the student is eligible to receive the funding.
If you are unable to obtain employment, the work-study award will be canceled at the end of the semester. However, you may always refer to the
Additional Aid Request
online to request work-study funds again, if available.
Hiring Process
What is the Hiring Process?
All employers must submit a hiring proposal for review, called an ePAF (electronic Personnel Action Form). This is a multistep process requires Student Employment, Financial Aid, and Human Resources to review student eligibility.


At this point, the department may begin to coordinate a work schedule and give you an expected date to begin working. New hires will be required to complete a Criminal Background Check and i9 employment authorization from, as well as additional On- Boarding documents. Be sure to monitor your UTRGV emails and have two valid forms of ID (Birth certificate, Passport, Social Security Card, State ID, or Driver's License) ready to turn in at Human Resources. Please keep in mind that Human Resources must give the final approval before you begin your first day of work.

For the Human Resources On-Boarding links visit our Work-Study Resources and complete the On-Boarding items needed for your employment.
What happens if decide to quit or transfer to another department?
If you decide to quit or transfer, it is customary to provide a "2 weeks' notice" to your supervisor. This will help make sure that your resignation or transfer is processed with ample time.

Additionally, if you are transferring, the remaining award is what will be available to earn in the new department.

For Example:

If you were awarded $ 4,000 in your work-study award and you have earned $2,436 in Department A, you will have $1,564 available to earn in Department B.
$4,000 − $2,436 = $1,564
Getting Paid
How much does a Work-study job pay?
UTRGV begins minimum wage at $8.00 per hour, which is more than some retail stores! However, some jobs will pay more based on experience, qualifications, and/or job duties. The Handshake job posting will have the starting pay for the jobs you are applying for.
Do my earnings go to my student account?
No, work-study earnings are not disbursed to your student account and do not reduce your tuition bills. They are earned wages through employment that you will receive in the form of a paycheck after you find a work-study job.
How do I get paid?
Students are paid on a bi-weekly basis by submitting their timecard through PeopleSoft before 5 p.m. of the due date. Timecards must be approved by your supervisor by 5.pm. of the scheduled due date.

Earnings will be released as either a Direct Deposit or a check that you can pick up at the Bursars Office.
What happens if did not get paid?
If you were not paid on the due date, make sure your timecard was submitted and approved by 5 p.m. of the due date. If your timecard was not submitted and/or approved by the due date, Payroll will process it in the next pay period. If you have additional questions, contact the Payroll Office.
Work-study Award
Will I ever have to pay my Work-study back?
No. Work-study are wages that you earn through your job. Similarly, if you do not have a work-study job then you are not able to earn work-study wages.
What happens if I earn more than my award?
If you earn more than your work-study award, you will keep your earnings.
However, in some cases, earning more than the work-study award may cause a student to be over-awarded. An over-award means that the student has more financial aid than what their student's budget allows for. If there is an over-award, it is possible that other financial aid may be reduced to accommodate the work-study earnings.
Therefore, it is imperative that both student and Supervisor monitor the assignment.
How many hours can I work?
All hourly employees can work no more than 19hrs per week per UTRGV regulations.

You and your employer will discuss your schedule to plan accordingly. The number of hours you can work during your employment depends on your work-study award and your pay rate.

For example:
If your work-study award is $4,000 for the Fall and Spring semesters combined and you are getting paid at $8.00 per hour, then you will have 500hrs to work between the Fall and Spring semesters.

$4000 ÷ $8.00 𝑝𝑒𝑟 ℎ𝑟 = 500 ℎ𝑟𝑠

It is important to know that you should not work more than your work-study award on a semester or annual basis. Doing so can negatively impact your other financial aid awards since your work-study earnings must fit within your financial aid budget.
How can I monitor my hours, so I do not go over my award?
Supervisors are responsible for monitoring the students schedule and remaining hours. Due to the number of students employed as work-studies, the Financial Aid Office does not monitor each students' hours.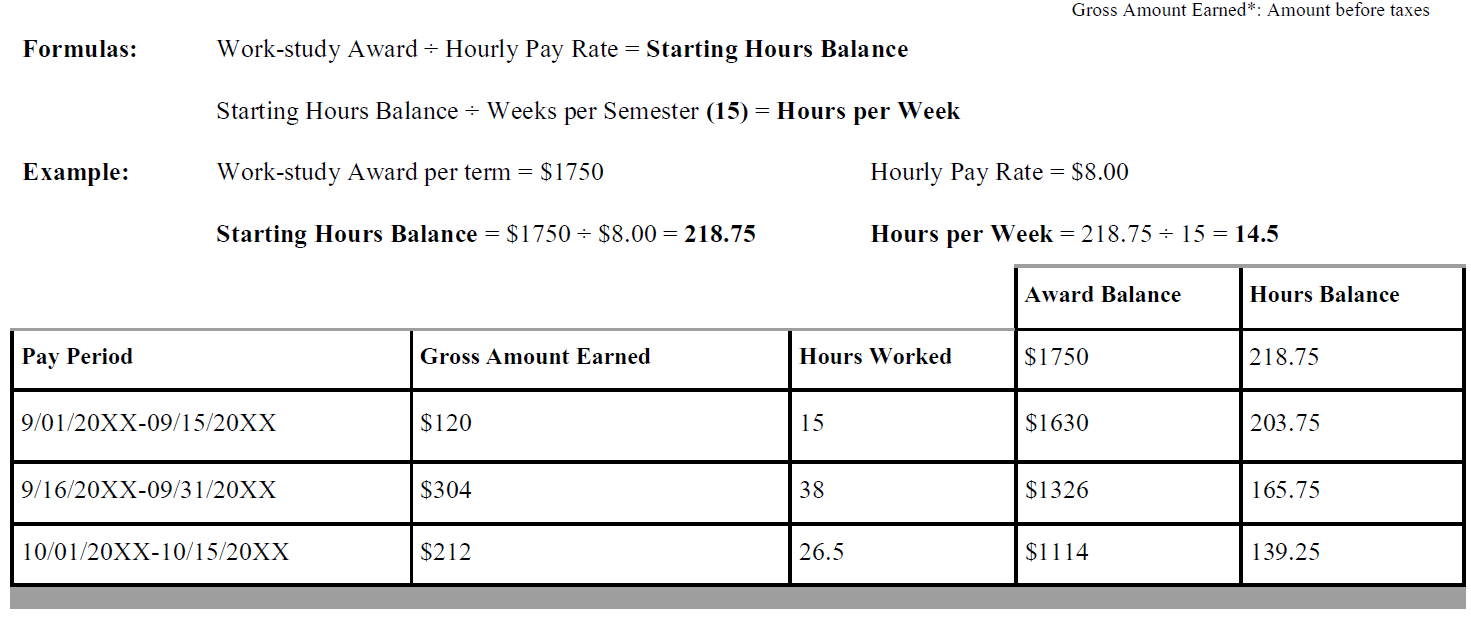 Why did my work-study award decrease?
Work-study can decrease because financial aid in another area increased, your enrollment changed from the time you were awarded, or for other specific reasons. Similarly, the total sum of your financial aid awards cannot exceed your financial need, meaning you cannot receive more financial aid than what you are eligible for.
If you have questions regarding a reduction, visit your nearest UCentral.
Can I increase my work-study award?
Yes, you can request an increase to your work-study award by coming into UCentral or emailing workstudy@utrgv.edu . Work-study award increases are not guaranteed and depend on your financial aid eligibility at the time the review is taking place.