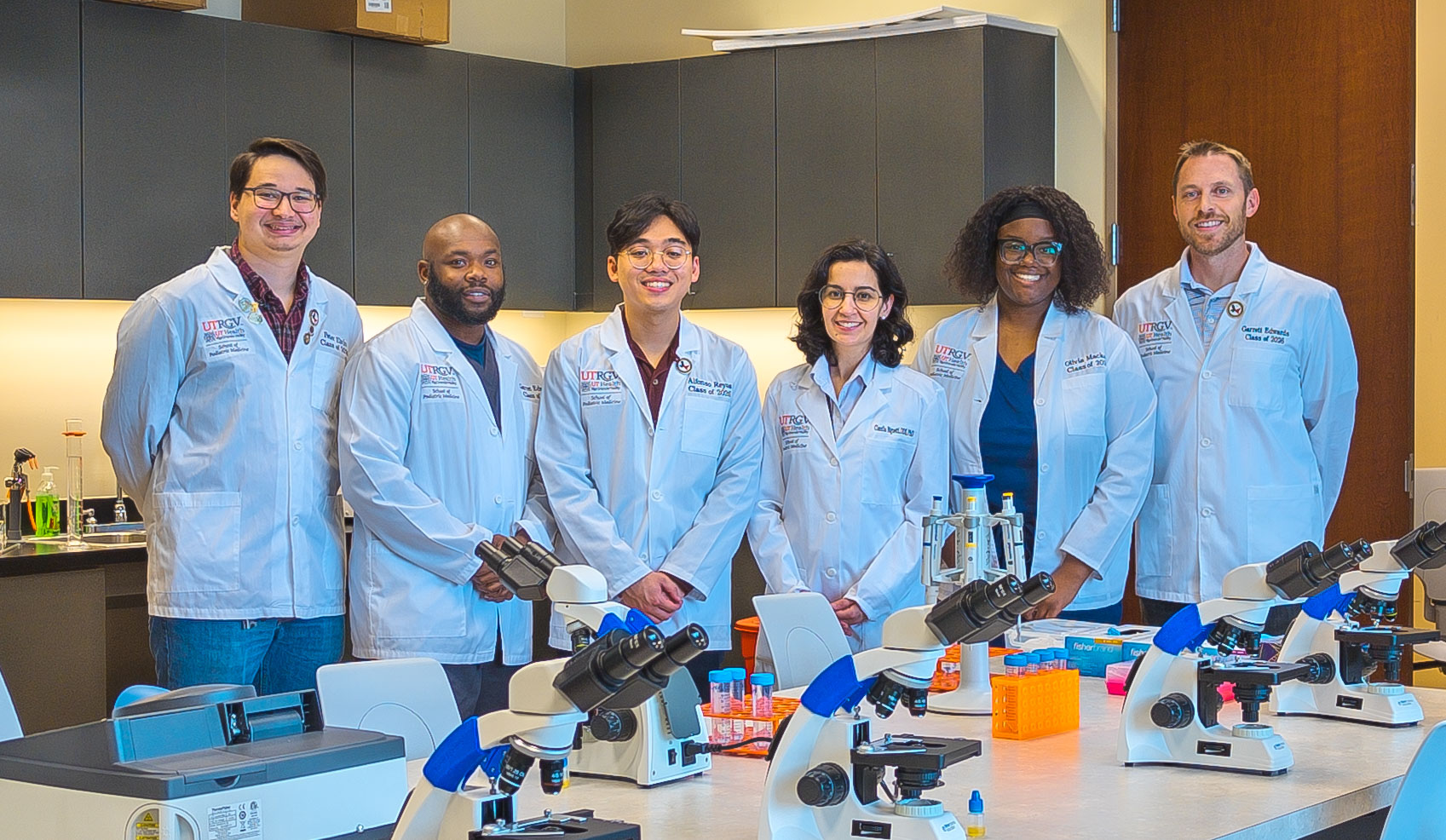 Regenerative Medicine Laboratory
Regenerative Medicine Laboratory at UTRGV-SOPM
Director and Principal Investigator: Dr. Claudia Biguetti, DDS, MSc, PhD
The Laboratory of Regenerative Medicine, founded in November of 2022, is part of the School of Podiatric Medicine at The University of Texas Rio Grande Valley. The mission of our lab is to foster interdisciplinary research in tissue engineering and regenerative medicine. We seek to optimize tissue healing and tissue homeostasis in patients with dysregulated inflammatory responses due to diabetes, aging, and chronic neuropathy. As of 2017, there are 425 million individuals affected with Type 1 and Type 2 Diabetes Mellitus (DM) worldwide, including 34.2 million American-adults (10.5% of the population). In the Lower Rio Grande Valley, community-wide screenings indicate a prevalence of DM in 30.7% of adults. These patients suffer from impaired tissue healing and destructive inflammatory conditions. In our lab, our ultimate goal is to identify new potential targets for the development of therapeutic alternatives to prevent impaired tissue healing related to immune imbalance in diabetes and aging. Our research projects are also developed in collaboration with other investigators and clinical experts from University of Texas Rio Grande Valley (Harlingen, TX), University of Texas at Houston Health Science Center (Houston, TX), University of Texas at Dallas (Dallas, TX), University of Sao Paulo (USP, Bauru, Sao Paulo, Brazil), and University of the State of Sao Paulo (UNESP, Aracatuba, Sao Paulo, Brazil).
Current projects
Targeting the HMGB1/CXCR4 pathway in diabetic osseointegration using a new implant surface approach. Claudia Cristina Biguetti (Principal Investigator-UTRGV), Danieli Rodrigues (Principal Investigator -UTDallas), Hafizur Rahman (Co-Investigator-UTRGV), Javier LaFontaine (Co-Investigator-UTRGV)
Diabetic patients have higher incidence of fractures due to bone fragility caused by the diseases. Therefore, clinical outcome of orthopedic procedures in diabetics is often inadequate with higher failure rates using titanium devices (10-15%) compared to non-diabetics (1-3%). In 2018, Dr. Claudia Biguetti along with Dr. Gustavo Garlet (USP-Brazil) described the role of a regenerative molecule called HMGB1 that participate in successful integration of titanium devices. Now, Dr. Biguetti is working with Dr. Rodrigues (UTDallas) and their collaborators to develop a new surface approach to modulate these regenerative pathways using a titanium coating for fracture healing in diabetic patients.
Current tissue engineering strategies and clinical outcomes for diabetic foot ulcers.
Claudia Cristina Biguetti (Principal Investigator), Naohiro Shibuya (Co-Principal Investigator), Research Assistants: Nathaniel Primous, Peter Elvin, Alfonso Reyes
Diabetic foot ulcers (DFUs) comprise one of the major complications in DM and are a challenge in limb salvage. Unsuccessful healing of DFUs can ultimately result in amputation of lower extremity structures and increased risk of death. Tissue engineering strategies may have a positive impact in accelerating wound healing in these circumstances. Our goal in this study is to perform a scoping review on current tissue engineering strategies for treatment of DFU, followed by a systematic review and meta-analysis on at least three selected strategies. We expect that the results of this research will enhance the current knowledge of DFU treatment options and current challenges in Podiatry and Biomedical Research.
Immunological Blood Biomarkers and Oral Microbiome in the Progression of Type II Diabetes: A Pilot Study in Mexican American Cohort from Rio Grande Valley.
Claudia Cristina Biguetti (Principal Investigator), Walid Fakhouri (Co-Investigator), Craig Hanis (Co-Investigator).  Research Assistants: Peter Elvin, Olivia Mackey, Garret Edwards
Multifunctional Ionic Liquid Application for Treatment of Peri-implant Diseases
Claudia Cristina Biguetti (Co-Investigator UTRGV), Danieli C. Rodrigues (Principal Investigator UTDallas)
In this study, Dr. Biguetti's Lab is collaborating with UTDallas in developing a multifunctional coating for treatment of inflammatory destructive bone disease that leads to implant loss.
Current Research Support
UTRGV Faculty Seed Grant (Intramural Research Funding).
UL1 – Cooperative Agreement - Center for Clinical & Translational Sciences, National Center for Advancing Translational Sciences, NIH
National Institutes of Health, National Institute of Dental & Craniofacial Research
UT System – Rising Stars