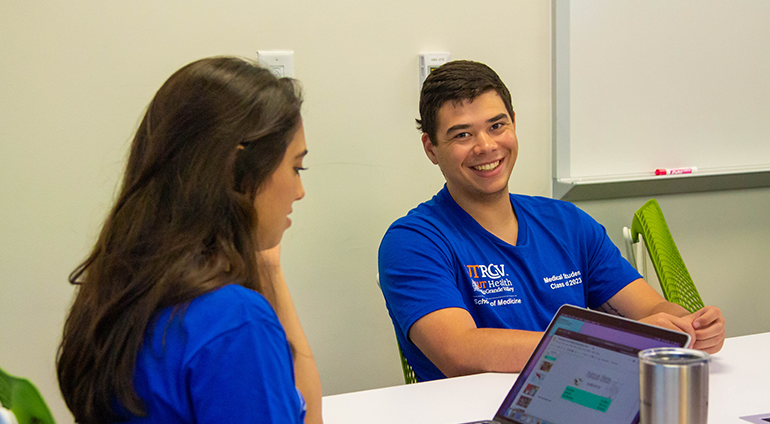 Education
The UTRGV School of Podiatric Medicine offers a four-year program leading to the Doctor of Podiatric Medicine (DPM) degree. The UTRGV SOPM is a unique opportunity for students who want to pursue a health career profession. The curriculum is similar to medical school education where the first two years emphasize basic sciences and clinical skill development. The goal of the 3rd and 4th year clerkship curriculum is to introduce students with an established background in the basic sciences to podiatric and non-podiatric clinical/surgical medicine in the four-year continuum. This provides students with the tools and experiences that will encourage them to become competent, compassionate, and caring lifelong learners and clinicians. The clinical rotations set the foundation for the clinical skills the student will use for the rest of their professional career.
Courses will be delivered using a hybrid model which include interactive laboratories, case-based group interactions, and problem-based learning. The program philosophy emphasizes integration across health disciplines and critical thinking in a humanistic approach to health care. UTRGV SOPM students will learn from distinguished and experienced UTRGV faculty along with practicing physicians in the Rio Grande Valley.
Through the rigorous comprehensive and integrated curriculum, UTRGV SOPM students will earn the required medical knowledge and practical skills necessary to excel in residency and practice.
The UTRGV School of Podiatric Medicine aims to graduate podiatric physicians dedicated to practicing and providing evidence-based, compassionate, and patient-focused podiatric medical care in the Rio Grande Valley and beyond.