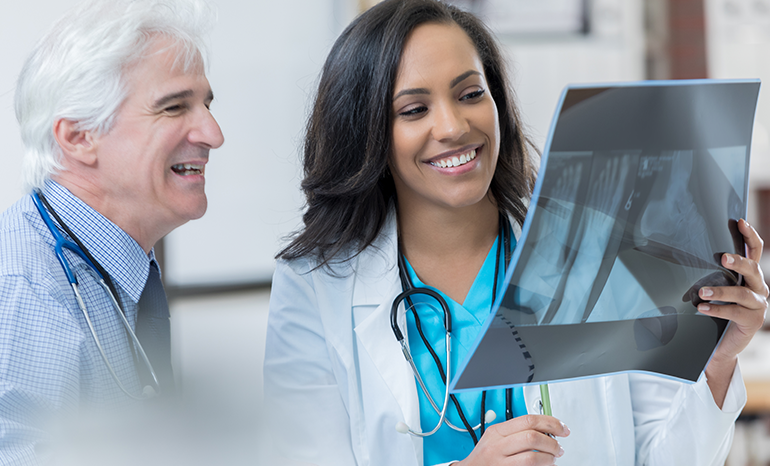 Accreditation
Welcome to The University of Texas Rio Grande Valley School of Podiatric Medicine (UTRGV SOPM) accreditation website. The Council on Podiatric Medical Education, the designated accrediting agency for colleges/schools of podiatric medicine, has approved the UTRGV SOPM eligibility application as a new school of podiatric medicine. 
The SOPM has achieved candidate status as of June 9, 2022. Our first cohort of students began classes on August 8, 2022. SOPM plans to achieve provisional accreditation status in 2024. Full accreditation approval will be obtained prior to graduating the inaugural Class of 2026. To achieve and maintain accreditation, a podiatric medical education program must meet CPME accreditation standards. 
This website is a resource to help you stay up-to-date on new developments, share your feedback, and understand how the overall process affects you as a student, faculty, or staff member. This is an exciting time for UTRGV SOPM, and we look forward to sharing this journey with each of you.
Accreditation Overview
The University of Texas Rio Grande Valley (UTRGV) is accredited by the Southern Association of Colleges and Schools Commission on Colleges (SACSCOC) to award associate, baccalaureate, masters, and doctorate degrees. Degree-granting institutions may also offer credentials such as certificates and diplomas at approved degree levels. Questions about the accreditation of UTRGV may be directed in writing to the Southern Association of Colleges and Schools Commission on Colleges at 1866 Southern Lane, Decatur, GA 30033-4097, by calling (404) 679-4500, or by using information available on SACSCOC's website (www.sacscoc.org).
Accreditation is a non-governmental process conducted by representatives of institutional and specialized agencies. As conducted in the United States, accreditation focuses on the quality of institutions of higher and professional education and the quality of educational programs within institutions. Two forms of accreditation are recognized; one is institutional accreditation, and the other is specialized accreditation. Institutional accreditation concerns itself with the quality and integrity of the total institution, assessing the achievement of the institution in meeting its stated mission and goals/objectives. Specialized accreditation is concerned with programs of study in professional or occupational fields. [1]
[1] Council on Podiatric Medical Education. (2021, October).
CPME 120: Standards and requirements for accrediting colleges of podiatric medicine.
What is CPME?
The Council on Podiatric Medical Education (CPME or Council) is an autonomous, professional accrediting agency designated by the American Podiatric Medical Association (APMA) to evaluate and accredit colleges and schools that grant the professional degree of Doctor of Podiatric Medicine (DPM).
The CPME's mission is to promote the quality of graduate and post-graduate education, certification, and continuing education in podiatric medicine. The Council is the final authority in determining the accreditation status to be granted to a school in the specialized field of podiatric medicine. Accreditation by the Council assures that the school meets or exceeds established standards and requirements of a high-quality podiatric medical education program deserving of public approbation.
The CPME is recognized by the Council for Higher Education Accreditation (CHEA) and the US Department of Education (USDE). For more information, visit www.cpme.org.
Accreditation Standards and Requirements for Colleges of Podiatric Medicine
The Council on Podiatric Medical Education has developed eight (8) standards for granting accreditation to colleges or schools of podiatric medicine. These standards were established to serve as the basis for evaluating the quality of the educational program being afforded its students and to assess the institution's continued commitment to support the educational program. Compliance with the established standards fosters high-quality education in the field of podiatric medicine, surgery, and research.
About AACPM
The American Association of Colleges of Podiatric Medicine (AACPM) is a nationally recognized education organization that represents the eleven accredited U.S. colleges of podiatric medicine as well as over 200 hospitals and organizations that conduct graduate training in podiatric medicine. The Association serves as a national forum for the exchange of ideas, and issues information relating to podiatric medical education. 
The AACPM administers several national service programs, including: 
Clerkship Program

 


An online application and matching service for third year students applying for their third and fourth year clerkship rotations.

 

CASPR – Central Application Service for Podiatric Residencies

 


Application and matching service for fourth year students interested in applying for residency positions in teaching hospitals.

 

CRIP – Centralized Residency Interview Program

 


The CRIP interview process provides a means of saving time and money as hospital faculty and residency candidates interview together in one major city during one six-day period in January each year.

 
AACPM staff also support the activities of the Association's Board of Directors and several Councils representing member podiatric medical schools and residency programs. 
AACPM is an Affiliated Organization of the American Podiatric Medical Association (APMA), which represents practicing podiatric physicians in the USA.