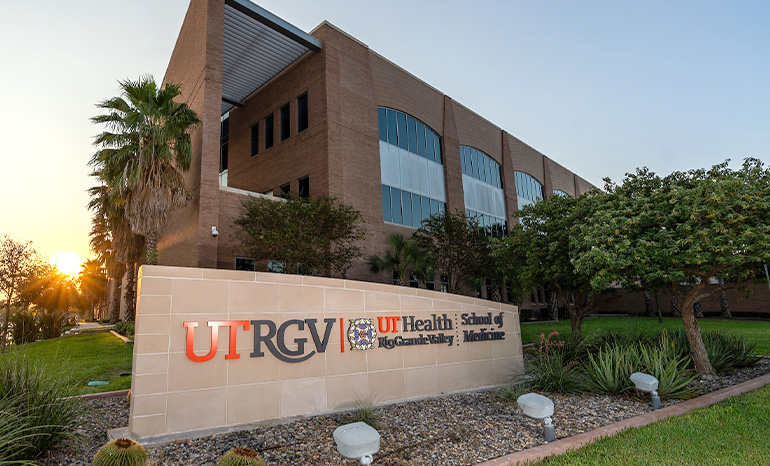 Strategic Plan
Mission
Educate a diverse group of medical students and future biomedical scientists; Develop physicians who will serve across all disciplines of medicine; Bring hope to patients and communities by advancing biomedical knowledge through research; Integrate education and research that advances the quality and accessibility of health care; Engage with Rio Grande Valley communities to benefit Texas and the world.

Vision
To be a leader in the creation of a diverse and representative workforce, the stimulation of biomedical innovation, and the delivery of patient-centered health care for the Rio Grande Valley and beyond.

Goals
Provide forward-thinking medical education experience dedicated to scientific, evidence-based, patient-centered medicine in all settings, including underserved communities.
Leverage UTRGV's unique geographic location on the border of the United States and Mexico, a place rich with diverse cultural and family traditions, but also one burdened by health disparities.
Instill dedication to research, generation of new knowledge, and public service. Graduate culturally aware medical students who will be able to provide exemplary care to diverse populations and improve health outcomes in the Valley and beyond.
Increase underrepresented minorities in medicine.

Themes
Education
Educate a workforce of physicians and scientists for the Rio Grande Valley and the nation through high-quality professional and graduate degree programs in the biomedical sciences.
Research
Create and translate biomedical knowledge through basic and applied research and scholarship in areas of focus for the Rio Grande Valley, the nation, and the world.
Clinical Enterprise
Establish a sustainable clinical enterprise that focuses on interprofessional, team-based care for all residents of the Rio Grande Valley.
Community Engagement
Improve the health and well-being of people in the Rio Grande Valley by engaging and partnering with community members, providers, organizations, and governments.

Helpful Links