2017 Conference
During the spring of 2017, Ninth Discrete Geometry and Algebraic Combinatorics Conference is organized by the School of Mathematical & Statistical Sciences of The University of Texas Rio Grande Valley. This event is being held from May 1 to May 5, 2017 on South Padre Island. The conference is a unique opportunity for geometry and combinatorics researchers to meet, share their specialized knowledge and learn from others.
The conference is supported by NSF.
Public Lecture
The lecture will be given by Marjorie Senechal on April 28, 2017 from 3-4pm at BBRHB 1.222.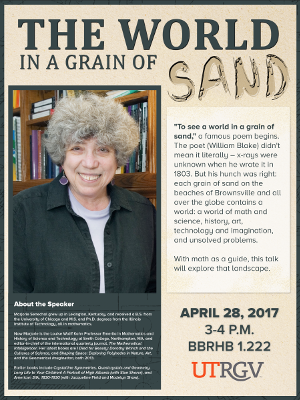 Conference Poster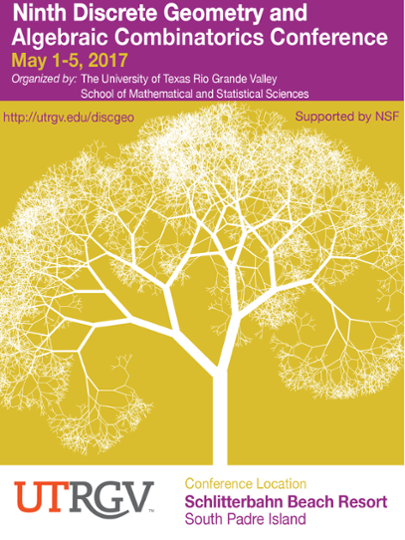 Organizing Committee
Mikhail Bouniaev
Alexey Garber
Alexey Glazyrin
Jerzy Mogilski
Oleg Musin
Participants
Boris Apanasov (The University of Oklahoma)
Alexey Balitskiy

 

(Massachusetts Institute of Technology)
Imre Bárány

 

(Alfréd Rényi Mathematical Institute, Hungary)
Alexander Barvinok

 

(University of Michigan)
András Bezdek

 

(Auburn University)
Mikhail Bouniaev

 

(UTRGV)
Peter Boyvalenkov

 

(Institute of Mathematics and Informatics, Bulgarian Academy of Sciences)
Boris Bukh

 

(Carnegie Mellon University)
Robert Connelly

 

(Cornell University)
Antoine Deza

 

(McMaster University, Canada)
Peter Dragnev

 

(Indiana-Purdue University Fort Wayne)
Alexander Dranishnikov

 

(University of Florida)
Baofeng Feng (UTRGV)
Florian Frick

 

(Cornell University)
Anahit Galstyan (UTRGV)
Alexey Garber

 

(UTRGV)
Alexey Glazyrin

 

(UTRGV)
Sergey Grigorian

 

(UTRGV)
Thomas Hales

 

(University of Pittsburgh)
Douglas Hardin

 

(Vanderbilt University)
Anthony Harrison (Kent State University)
Alan Haynes (University of Houston)
Brian Kodalen (Worcester Polytechnic Institute)
Włodzimierz Kuperberg (Auburn University)
Hirotake Kurihara

 

(National Institute of Technology, Kitakyushu College, Fukuoka, Japan)
William Martin (Worcester Polytechnic Institute)
Jerzy Mogilski

 

(UTRGV)
Oleg Musin

 

(UTRGV)
Boris Okun

 

(University of Wisconsin-Milwaukee)
Elena Poletaeva

 

(UTRGV)
Marjorie Senechal

 

(Smith College)
Senya Shlosman

 

(Institute for Information Transmission Problems, Russian Academy of Sciences)
Pablo Soberón Bravo

 

(Northeastern University)
Vesselin Vatchev

 

(UTRGV)
Andrei Vesnin

 

(Sobolev Institute of Mathematics, Russian Academy of Sciences)
Jacob White

 

(UTRGV)
Karen Yagdjian

 

(UTRGV)
Rupei Xu (The University of Texas at Dallas)
Wei-Hsuan Yu

 

(Michigan State University)
UTRGV students:

Mee-Lai Alvarado
Nestor Barroso
Miranda Castillo
David Garcia
Aldo Gonzalez
Bianca Hernandez
Jessica Juarez
Jose Lamas
Carolina Martinez
Lizette Martinez
Emma Ortega
Eva Ortega
Basilio Pesina
Eduardo Ramirez
Ronald Sanchez
Kimberly Teran
Diana Torres
Schedule
You can download the schedule of talks with all abstracts.

Monday, May 1, 2017
9:25 – 9:30
Opening and Welcome
9:30 – 10:15
Thomas Hales  "Bad packings: the Reinhardt conjecture as an optimal control problem"
10:30 – 11:15
Robert Connelly  "The Isostatic Conjecture"
11:30 – 12:15
Senya Shlosman  "Kissing spheres – a personal story"
12:30 – 2:30
Lunch break
2:30 – 3:15
Peter Dragnev  "Logarithmic and Riesz Equilibrium for Multiple Sources on the Sphere – the Exceptional Case"
3:30 – 4:15
Peter Boyvalenkov  "On a duality in computing bounds for spherical codes"
4:30 – 5:15
Douglas Hardin  "Universal lower bounds for the energy of spherical codes: lifting the Levenshtein framework"

Tuesday, May 2, 2017
9:30 – 10:15
Marjorie Senechal  "Icosahedral Snowflakes?"
10:30 – 11:15
Boris Bukh  "One-sided epsilon-approximants"
11:30 – 12:15
Alan Haynes  "Lower bounds for numbers of distinct frequencies of patterns in cut and project sets"
12:30 – 2:30
Lunch break
2:30 – 3:15
Włodzimierz Kuperberg  "Unavoidable crossings in finite coverings"
3:30 – 4:15
Antoine Deza  "Lattice polytopes with large diameter and many vertices"
4:30 – 5:15
Anthony Harrison  "The lattice size of lattice polygons with respect to the 2-simplex"

Wednesday, May 3, 2017
9:30 – 10:15
Alexander Dranishnikov  "On topological complexity of robot motion"
10:30 – 11:15
Boris Okun  "Action Dimension and L 2-homology"
11:30 – 12:15
Boris Apanasov  "Block-Building & Deformations of Polyhedra, Group Homomorphisms and Quasiregular Mappings"
12:30 – 2:30
Lunch break
2:30 – 3:15
Imre Bárány  "Tverberg plus minus"
3:30 – 4:15
Florian Frick  "Geometry and combinatorics of fair division"
4:30 – 5:15
Pablo Soberón  "Robust Tverberg results via the probabilistic method"

Thursday, May 4, 2017
9:30 – 10:15
Alexander Barvinok  "The symmetric moment curve"
10:30 – 11:15
Andrey Vesnin  "Pogorelov polyhedra from combinatorial, geometrical and topological points of views"
11:30 – 12:15
András Bezdek  "On W. Kuperberg's 6 cylinder problem"
12:30 – 2:30
Lunch break
2:30 – 3:15
William Martin  "Almost orthogonal vectors"
3:30 – 4:15
Hirotake Kurihara  "On graph structures on great antipodal sets of Hermitian symmetric spaces"
4:30 – 5:15
Wei-Hsuan Yu  "New bounds for equiangular lines and spherical two-distance sets"

Friday, May 5, 2017
9:30 – 10:15
Rupei Xu  "An Interaсtive Proof Study of Erdős-Szekeres Conjecture"
10:30 – 11:15
Brian Kodalen  "Connectivity of Nearest Neighbor Graphs"
11:30 – 12:15
Alexey Balitskiy  "Elementary billiard technique applied in convex and symplectic geometry"