2016 Conference
General Information
During the spring of 2016, Eighth Discrete Geometry and Algebraic Combinatorics Conference is organized by the School of Mathematical & Statistical Sciences of The University of Texas Rio Grande Valley. This event is being held from May 4 to May 6, 2016 on South Padre Island. The conference is a unique opportunity for geometry and combinatorics researchers to meet, share their specialized knowledge and learn from others.
The conference is supported by NSF.
Conference Poster
Download the 2016 Conference Poster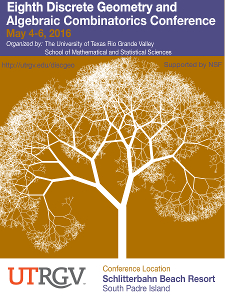 Organizing Committee
Mikhail Bouniaev
Alexey Garber
Alexey Glazyrin
Jerzy Mogilski
Oleg Musin
Participants
Károly Bezdek (University of Calgary)
Anton Dochtermann (The University of Texas at Austin)
Art Duval (The University of Texas at El Paso)
Alexey Garber (UTRGV)
Alexey Glazyrin (UTRGV)
Sergey Grigorian (UTRGV)
Matthew Haulmark (University of Wisconsin-Milwakee)
Timothy Huber (UTRGV)
Brandt Kronholm (UTRGV)
Włodzimierz Kuperberg (Auburn University)
Jerzy Mogilski (UTRGV)
Oleg Musin (UTRGV)
Christopher O'Neill (Texas A&M University)
Virgil Pierce (UTRGV)
Elena Poletaeva (UTRGV)
Charles Radin (The University of Texas at Austin)
Lorenzo Sadun (The University of Texas at Austin)
Pablo Soberón (Northeastern University)
Vladimir Vershinin (University of Montpellier)
Cristina Villalobos (UTRGV)
Jacob White (UTRGV)
Timo de Wolff (Texas A&M University)
Wei-Hsuan Yu (Michigan State University)
UTRGV students:
Jovanna Garza
Jose Lamas
Armando Leon
Irma Lozoya
Luis Moreira
Eduardo Ramirez
Erika Rodriguez
Stephanie Ruiz
Hilario Salas
Virginia Sauceda
Bianca Tafolla
Juan Villela
Blanca Zuniga
Schedule
You can download the schedule of talks with all abstracts.