UTRGV Accessibility Achievement Award
The Accessibility Achievement Award is an annual celebration of individuals who support and contribute to access for students with disabilities at the University of Texas Rio Grande Valley. Student Accessibility Services alone does not make the university accessible to students. We rely on every member of the multi-campus community.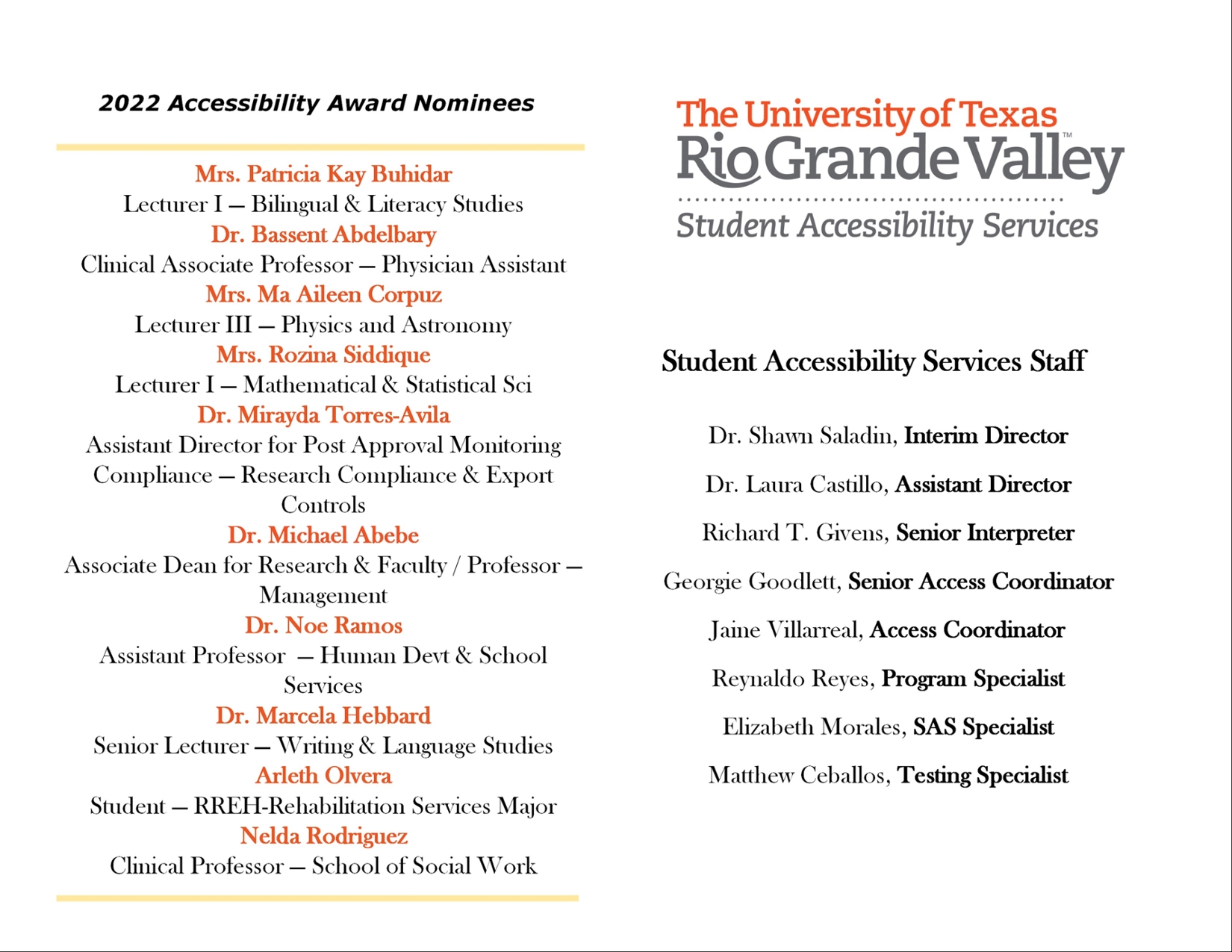 The 7th Annual Accessibility Achievement Awards Ceremony
Please join Student Accessibility Services in honoring nominees and award recipients.
If you have any questions, please contact SAS at ability@utrgv.edu, Brownsville BMSLC 1.107, 956-882-7374 Edinburg EUCTR 108, 956-665-7005 .
Previous Recipients (2021)
Accessibility Achievement Awards:  
Dr. Israel Aguilar, Assistant Professor—Organization & School Leadership
Student Belonging Awards:
Dr. Gordon Crews, Professor—Criminal Justice
Accessibility Ambassador Award:
Dr. Erich Wittmer, Lecturer I—Health & Biomedical Sciences
Accessibility Excellence Award:
Dr. Dagoberto Ramirez, Lecturer III—University College

2021 Accessibility Award Nominees:
Dr. Denise A. Longoria, Associate Professor-School of Social Work
Dr. Victor Vizcaino, Part time Lecturer-Teaching and Learning
Dr. Israel Aguilar, Assistant Professor—Organization & School Leadership
Martha Lovett, Lecturer II—Management
Dr. Dagoberto Ramirez, Lecturer III—University College
Dr. Michael Abebe, Professor of Management
Dr. Gordon Crews, Professor—Criminal Justice
Dr. Erich Wittmer, Lecturer I—Health & Biomedical Sciences
Archive:
2016 Accessibility Achievement Award Nominee pictures
2016 Accessibility Achievement Award Nominee video
2017 Accessibility Achievement Award Nominee pictures
2017 Accessibility Achievement Award Nominee video
2018 Accessibility Achievement Award Nominee pictures
2019 Accessibility Achievement Award Nominee video
2020 Accessibility Achievement Award Nominee video