UTRGV Interlibrary Loan Office
---
Welcome to the Interlibrary Loan LibGuide! The Interlibrary Loan (ILL) Office borrows research materials that are not owned by University Library. Service is available to all current students, faculty, staff, emeritus faculty, and visiting scholars. Non-UTRGV borrowers are encouraged to use the City/Public Libraries' ILL services.
Please help us in getting your materials as quickly as possible by checking our Library Catalog (for loans) and our E-Journal Portal (for journals) before placing a request.
Requests are placed through ILLiad. If you're new to ILL, read this before submitting your request to ensure that the process goes smoothly as possible. You'll need to log on using your University credentials. Please see tutorials for detailed procedures.
We hope you find this guide informative and welcome your feedback.
Status of requests can be checked on ILLiad accounts. Patrons will be notified by email when item has arrived. Interlibrary Loan books can be picked up and checked out at the front Circulation desk of UTRGV Libraries. Chapters of books and articles will be delivered electronically to UTRGV ILLiad accounts.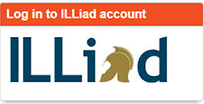 Register for a new UTRGV ILLiad Account
Click here and enter your UTRGV credentials to create a UTRGV ILLiad account.
Fill out the required information on the registration form.
Make sure to select your correct Delivery Location. This is important!
Once all information has been entered, press on Submit Information.
Be sure to read the FAQ section for important updates.