Sub Menu Toggle
Ernesto Espinoza Jr.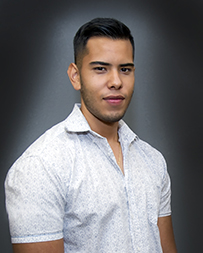 Name: Ernesto Espinoza Jr.
Age: 22                
Major: Pre-med Biology & General Studies
Hometown: Edinburg
Why UTRGV?
I decided to attend UTRGV not only because it's close to home but also because the environment, the people, and the culture makes you feel like part of one big great family.
What made you decide on your current major?
Ever since I was 4 years old I knew it was my calling to go into the medical field. I decided to double major, one in biology to be better prepared for medical school and the other in general studies to have wider knowledge in different areas.
What are your plans after graduation?
As tempting as finally sleeping sounds, I am looking into joining Teach for America for two years as a way to give back to my community.  After that I plan to attend medical school with the goal of returning back to the Rio Grande Valley not as a student but finally as a doctor who can serve his people in different ways.
What are you involved in on and off campus?
Being involved is a passion of mine and has led to the honor of being selected the 2015 Greek Volunteer of the Year and Homecoming King.  I've been very fortunate to be part of numerous organizations that have helped me impact not only my campus but also my community.  As a GEAR UP leader, I've had the opportunity to be a mentor to a number of high school students from various districts. As Heritage Committee chair, I've had the privilege of hosting events on campus to celebrate various cultures and bring awareness. I am also the current president of the National Association of Latino Fraternal Organizations and brother of Phi Iota Alpha.
What is your biggest accomplishment to date?
My biggest accomplishment will always be making my parents and family proud.  They are proud that I am my family's first-generation college student and have set high goals for myself. Their pride in the man I have become and the unconditional support they give me provides the motivation that keeps me striving for excellence.
What advice do you have for future students?
My advice to future students is to get involved in whatever makes them happy, to be outgoing and to take risks and opportunities that will help them improve and become a better person.  Fight for your goals and always remember that nothing is impossible with faith and hard work.