Sub Menu Toggle
Christina Marie Rodriguez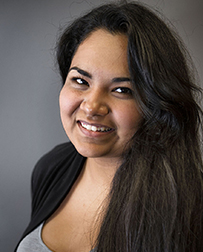 Name: Christina Marie Rodriguez
Age: 21
Major: Rehabilitation
Hometown: San Benito 
Why UTRGV?
I chose to attend UTRGV because staying close to my family is very important to me. The support I receive from them has helped push me toward reaching my goals. I feel very fortunate to have a university that is right in my backyard. I have to take full advantage.
What made you decide on your current major?
When I was a senior in high school I sustained a serious injury and the help I received from counselors and my physical therapist was so inspiring to me. These professionals solely focused on helping me no matter what it took or how long it took and I thought that to be very admirable. I knew then that I wanted to inspire my future patients like they inspired me.
What are your plans after graduation?
After graduation I plan on applying to the occupational therapy program at Texas Woman's University. I have a job opportunity awaiting me in the Houston area at a children's rehabilitation clinic. I plan to obtain my master's degree while working and gaining experience in this field. Although this is my home, I am excited to move and experience life outside of the Rio Grande Valley.
What are you involved in on and off campus?
I am currently a student manager at the Student Union which has allowed me to work on then-UT Pan American's Distinguished Speakers Series and meet all types of interesting people from Bill Nye to America Ferrera.  I attended a conference at Louisiana State University for a program called Association of College Unions International. I am also a member of the Campus Programming Board that organizes all kinds of campus events.  I am a member of the Rehab Club and also participate in intramural sports at the university recreational center. In the community, I volunteered at the Gladys Porter Zoo's Party for the Planet.
 What is your biggest accomplishment to date?
What I consider to be my biggest accomplishment thus far is being the first in my family to attend a university. Despite all the adversity my family and I have faced, I am doing well academically and networking with all types of professionals and students. 
What advice do you have for future students?
My advice for future students is not to be afraid to meet people. There are so many different types of individuals on campus who can help you be successful. Campus involvement is the key to establishing professional networks and friendships. This can really make a difference in anyone's overall college experience.