Sub Menu Toggle
Rebeca Ashly Rodriguez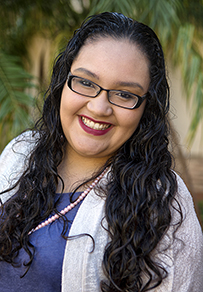 Name: Rebeca Ashly Rodriguez
Age: 21
Major: Communications
Hometown: Los Fresnos
Why UTRGV?
UTRGV is a home close to home. Coming from a family oriented background and thankful for the support they have provided led to my decision to attend school locally. Being able to attend a university a few miles away from the town I call home has made me realize what wonderful opportunities it brings to the Rio Grande Valley community. I have met many individuals who have guided me to grow not only as a student but also as a professional.
What made you decide on your current major?
At Los Fresnos High School, I was a proud member of the national Future Farmers of America (FFA) organization. With guidance and discipline from FFA faculty, I learned public speaking skills and grew out of my timid shell. I noticed that my interest for communications and public relations grew drastically. The passion intensified and I began to research higher education as a communication major as well as the job outlook in my chosen field. What started as an FFA extracurricular activity has transformed into a boundless educational experience.
What are your plans after graduation?
I would love to advance beyond being a student to become a proud staff member at UTRGV. Throughout my experience as a student employee, I have learned the reward of mentoring and assisting incoming university students. Being able to see their transformation from being timid and unsure to becoming student leaders is an unforgettable experience.
What are you involved in on and off campus?
I am a bystander peer educator for the Super Hero Project and a member of the Communication Council and the National Society of Leadership and Success. I am also a photographer for Humans of UTRGV.
What is your biggest accomplishment to date?
Being chosen to be a part of the Super Hero Project, which is an active bystander intervention program, where we educate students about the importance of helping others. Our goal is to start a trend on campus by assisting anyone who is experiencing any type of abuse, suicide thoughts or any other issue impacting them negatively.
What advice do you have for future students?
Future students should take advantage of all the organizations and seminars on campus. However, time management is the key to student success. Managing your time wisely between classes, work, organizations, family and friends is what will help you become a thriving student.