Sub Menu Toggle
Maria Ibarra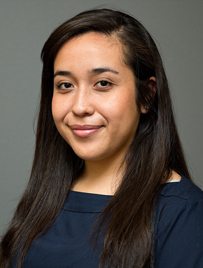 Name: Maria Ibarra Rodriguez
Age: 22
Major: Environmental Science
Hometown: Rio Grande City
Why UTRGV?
Growing up in the Rio Grande Valley as a DREAMer, I knew that UTRGV was going to be my home. As a student, I received unconditional support from faculty and staff in achieving my academic goals despite the obstacles I faced. In 2013, because of ongoing efforts from DREAMers across the country, I received Deferred Action for Childhood Arrivals status, which allowed me to work legally in the United States and opened doors to more opportunities in which I was able to represent my community and university. In addition, because of UTRGV's small student to faculty ratio, I have faculty that know about me personally.
What made you decide on your current major?
I have always been fascinated by the natural world. This past summer I had the opportunity to visit a national park and a national forest that put into perspective why I study environmental science. I hope to use my skills to help sustain the health and diversity of our ecosystems.
What are your plans after graduation?
I hope to obtain a job where I can find the connection between my passion for community organizing, policy, and the environment. After gaining some professional experience I plan to apply for graduate school.

What are you involved in on and off campus?
On campus I have been a resident assistant for more than two years and served the Minority Affairs Council in different leadership capacities to help affect change in a proactive manner toward political and social issues among our community. I also served on the University Program Board for a brief time. Outside of campus, I continue to serve as a mentor and motivational speaker for Region One Education Service Center's GEAR UP and I completed an internship with the United States Forest Service through the Hispanic Association of Colleges and Universities. In addition, I was part of the first inaugural GEAR UP Alumni Leadership Academy that was designed to train and engage GEAR UP alumni in advocacy and leadership, and work toward creating positive change in education policy for younger generations.
What is your biggest accomplishment to date?
I think my biggest accomplishment would be being the first in my family to graduate from a university because I know that this means a better way of life for my family.
What advice do you have for future students?
From experience, the best tip for success is to surround yourself with people who will build you up. When you start doubting yourself and your capabilities, this team of people will remind you that you have the tools and the ability to accomplish your goals.