Sub Menu Toggle
Mariel Gamboa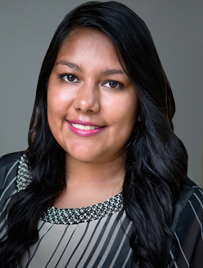 Name: Mariel Gamboa
Age: 20
Major: Spanish Translation and Interpreting
Hometown: Mission

Why UTRGV?
I chose UTRGV out of all schools because it offers a great translation and interpreting program. I was on the hunt for a university that offered a bachelor's in Spanish Translation and Interpreting and I found the perfect place here in the Valley. The Brownsville campus is not far from my hometown, which allows me to drive home whenever I miss my family. I am very fortunate to have found a university that offers my major and is a perfect distance from my home.

What made you decide on your current major?
When I was younger my family and I migrated to North Carolina where not many people spoke Spanish. It was extremely difficult for my parents to communicate to others due to the language barrier. At the age of seven, I would go with my parents everywhere and interpret for them. I always looked forward to interpreting for my parents, and it was something I slowly became passionate about. When I got to high school I was unsure of what I was going to study. All I knew was that I wanted to help Hispanics and Latinos. After researching options, I realized that there was a career in translation. I immediately knew that was my calling.

What are your plans after graduation?
After graduation, I would love to apply to law school and continue my education. In the future I would really like to work up north as a court interpreter.
What are you involved in on and off campus?
I am currently the president of Alpha Psi Lambda National Inc. I have participated in countless community service projects on and off campus. I am also in the ASPIRE program which assists students in achieving their academic goals. I'm an alumna and currently a general tutor of the College Assistance Migrant Program.
What is your biggest accomplishment to date?
One of my greatest accomplishments has been attending the university and maintaining good grades. I am a first-generation college student, and I am proud of everything that I have done to date. I came to the Brownsville campus knowing only a couple of people, but was able to come out of my shell and meet incredible people who have supported me and helped me achieve all my goals.

What advice do you have for future students?
My advice to future students is to always trust your instincts. Don't let others make decisions for you because at the end of the day it's your life and your future. Always trust yourself.