Sub Menu Toggle
Denisse Molina Castro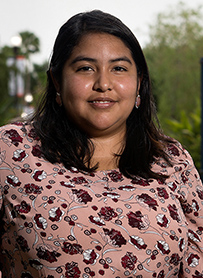 Name: Denisse Molina Castro
Age: 24
Major: Political Science
Hometown: Brownsville, Texas
Why UTRGV?
I chose to attend UTRGV because it is close to home, affordable and offers a great political science undergraduate program. I like that UTRGV has great partnerships with agencies across the Rio Grande Valley. Through the university I have been able to obtain internships with government agencies and also a part-time job at a local law firm.
What made you decide on your current major?
When I entered the university, I had planned to major in criminal justice. While taking my Introduction to Government course I became fascinated with the government structure. One day my professor approached me, and asked me "what is your long-term career goal?" I said I wanted to become an attorney. She suggested I change my major to political science, so I took her advice.   
What are your plans after graduation?
After graduation I plan to apply for law school and become an attorney. I would also love to become an elected official and serve my community.
What are you involved in on and off campus?
On campus I serve as the Student Government Association vice president for the Brownsville campus and as an executive board member for the National Society of Leadership and Success. I am also a UTRGV Honors College student. Outside of campus, I volunteer in community events with the university and the City of Brownsville. I also help manage a Facebook page that provides information on upcoming local elections and community needs. So far, I have been able to successfully balance my life as a wife – my husband is also a UTRGV student – with working part-time, being a student and participating in many campus activities.  
What is your biggest accomplishment to date?
My biggest accomplishment to date is being the first to attend a university on my mother's side of the family.

What advice do you have for future students?
Don't be afraid to be involved and, more importantly, don't be afraid to fail.