Sub Menu Toggle
Alondra Galvan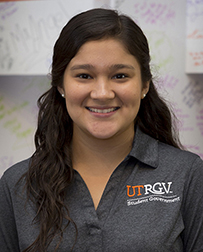 Name: Alondra Galvan
Age: 19
Major: Political Science
Hometown: Brownsville, Texas
Why UTRGV?
I chose to attend UTRGV because I absolutely love the city in which I live.  I love that we have such a beautiful campus. This university has so many great opportunities to offer students. UTRGV opens many doors that will help you obtain the career you want to pursue.
What made you decide on your current major?
I chose to major in political science with a minor in legal studies because I believe it will help me get prepared for law school. I have a strong interest in the law and in the courtroom. Majoring in this field will allow me to achieve the goals and dreams that I have.
What are your plans after graduation?
After I graduate I would like to go to law school. I have three career goals that I am planning on accomplishing. I plan to practice law for a couple of years and then become a judge. Since I absolutely love the city I live in, I have the goal of becoming Brownsville's mayor as well. I know I have many dreams, but I am on a mission to making them come true.
What are you involved in on and off campus?
I am a very involved student. I am in the UTRGV Student Government Association, American Criminal Justice Association, and the ASPIRE program. I work for the university's Student Involvement Office and I am also a resident assistant with UTRGV's Residence Life.  Outside campus, I serve as the youth leader for the church I attend, and I always try and see how I can be active and involved at my church.
What is your biggest accomplishment to date?
I have successfully completed coming out of my shell.  When I was younger, I was always the quiet and shy girl of the class. With the help of different clubs, my professors, staff, family and friends, I am no longer afraid to speak up. I have confidence in myself and I believe that I am capable of making all my dreams come true.
What advice do you have for future students?
I strongly advise students to get involved. When you get involved you meet new people who will lead you to the road of success. I made the decision of getting involved on and off campus and it has been the best decision I have ever made.