News
UTeach News!
April 2022
UTeach student  
March 2022
Dr. Smith and Lillianna Trevino received grant awards during this Academic year: 2021-2022.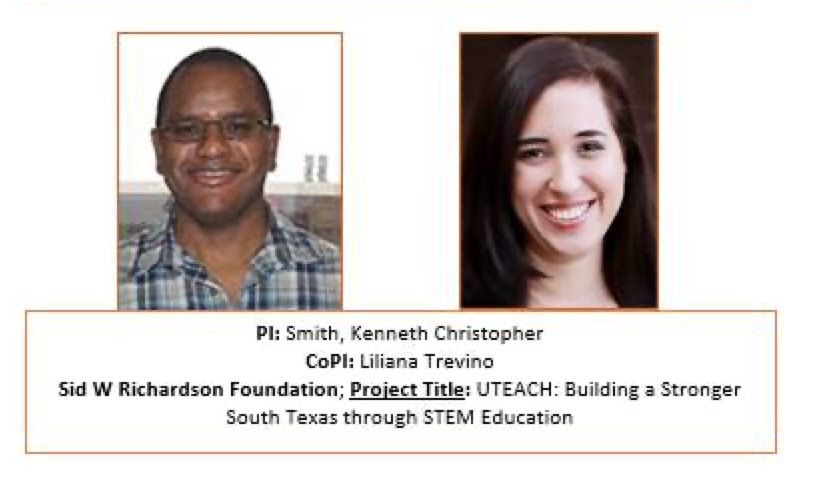 October 2021
Science Master Teacher Omar Elizondo is awarded the opportunity to help UTRGV and UTeach as a Faculty Fellow in Educational Technology. 

August 2021
UTRGV UTeach hosted their annual alumni Kickoff party to start the new school year at the University Drafthouse in McAllen, TX. Dozens of alumni were able to reconnect, network, and receive their classroom starter kits.
July 2021
The UTRGV College of Sciences, University College, and UTeach program hosted an open Q&A for new students and entering first-year students. Incoming students learned what it's like to be a COS and UTeach student at UTRGV from current UTeach biology, chemistry, physics, and mathematics majors. Thank you to UTeach students Daniela Martinez, Jennifer Scoggin.
UTeach physics major Yartiza Villarreal was featured in the Progress Times for working on a Big Bang Theory research project in Houston.
UTeach Co-Director Angela Chapman received the 2021 UTRGV Faculty Excellence Award for Community-Engaged Scholarship.
Master Teacher Tim Sears was honored as a UTRGV Unsung Hero. UTRGV Newsroom and Texas Border Business. 
Master Teacher Patricia Mendiola and UTeach alumni Itzamar Marquez and Cristobal Ortiz lead a week-long Math Camp for UTeach students and alumni. 
 Master Teachers Gus Valencia, Pamela Groves, and Lily Trevino host the 6th Annual UTeach Summer Professional Development. Alumni from UTRGV as well as the whole UTeach Nation were able to attend virtually through Zoom.
Nallely Garza, Melissa Lugo, Geovanelly Torres, and Keila Cervantes serve as UTeach ambassadors and answer questions during the Q&A.
Master Teachers Elizabeth Goldberg, Omar R. Elizondo, Dr. Pamela Groves, and Liliana Trevino were promoted to Associate Professors of Practice! Congrats!
June 2021
Master Teacher, Tim Sears, wins the 2021 USEA Special Award for Outstanding Contributions to STEM Education.

Master Teacher, Elizabeth Goldberg, presents at the 2021 UTeach Annual Conference and Equity and Racial Justice Summit.


Master Teachers Liliana Trevino, Gus Valencia, Anna Gonzalez, Elizabeth Goldberg, and UTRGV UTeach alumnus Estephania Sierra present at the Rio Grande Valley Mathematics Council of Teachers Annual Conference.
May 2021
The Brownsville Herald featured a story on UTeach graduates Samantha Delgado and Hector Charles.
March 2021
UTeach clinical teacher, Clarissa Martinez, was recognized by the UTRGV College of Education and P-16 Integration as one of the top-ranking candidates on the Brownsville campus.
January 2021
Student Recruitment in the Time of COVID.
December 2020
Congratulations to UTeach Administrative Assistant Paloma Trevino. She graduates from UTRGV with a Masters of Arts in Spanish.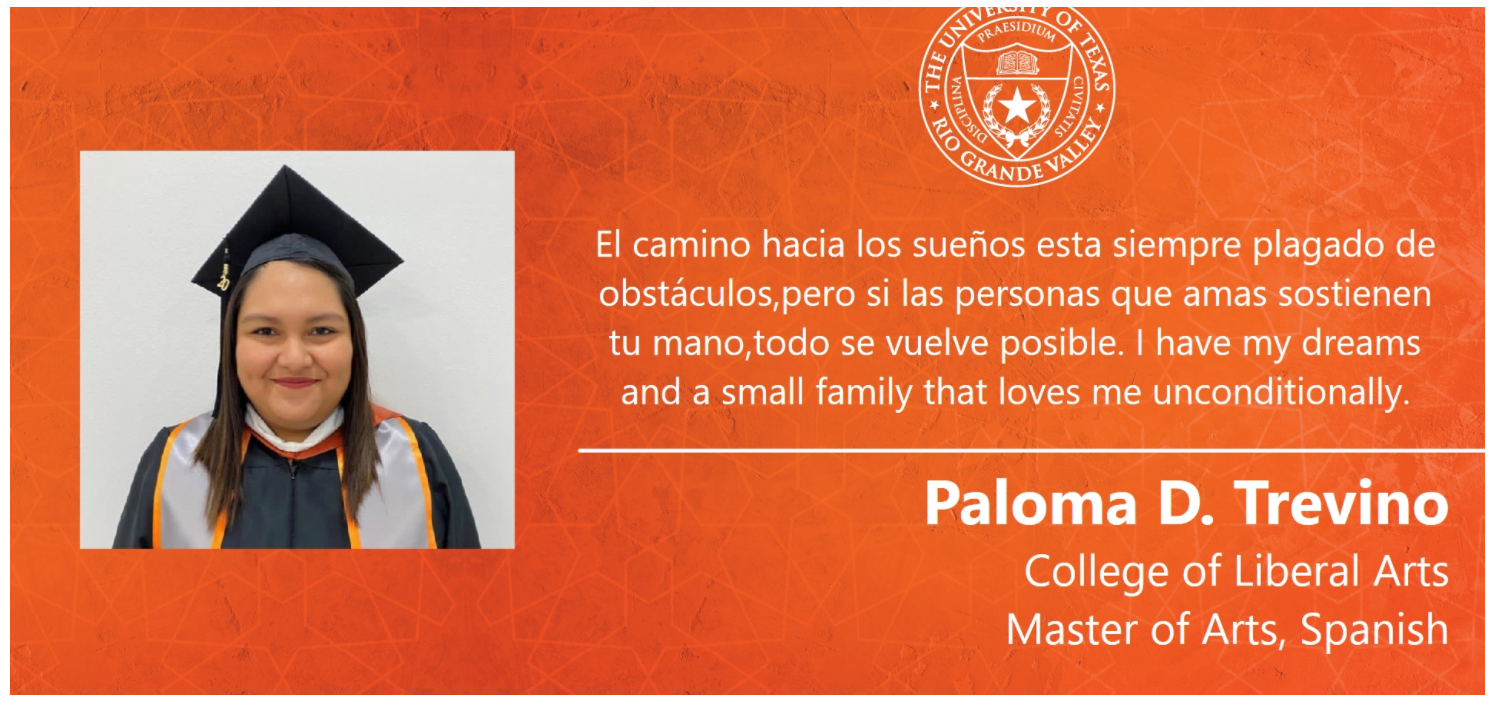 UTeach Fall 2020 Graduation Commencement Ceremony and graduate Estefania Sierra featured in the
Brownsville Herald
. Y en
Espanol
.
The UTeach program is pleased to announce UT UTeach Alumnus and creator of the YouTube sensation, the Amoeba Sisters, Brianna Rapini as the Fall 2020 UTeach Graduation Ceremony commencement speaker.
November 2020
The UTeach program shared with alumni the new UTeach face masks. Represent UTEACH!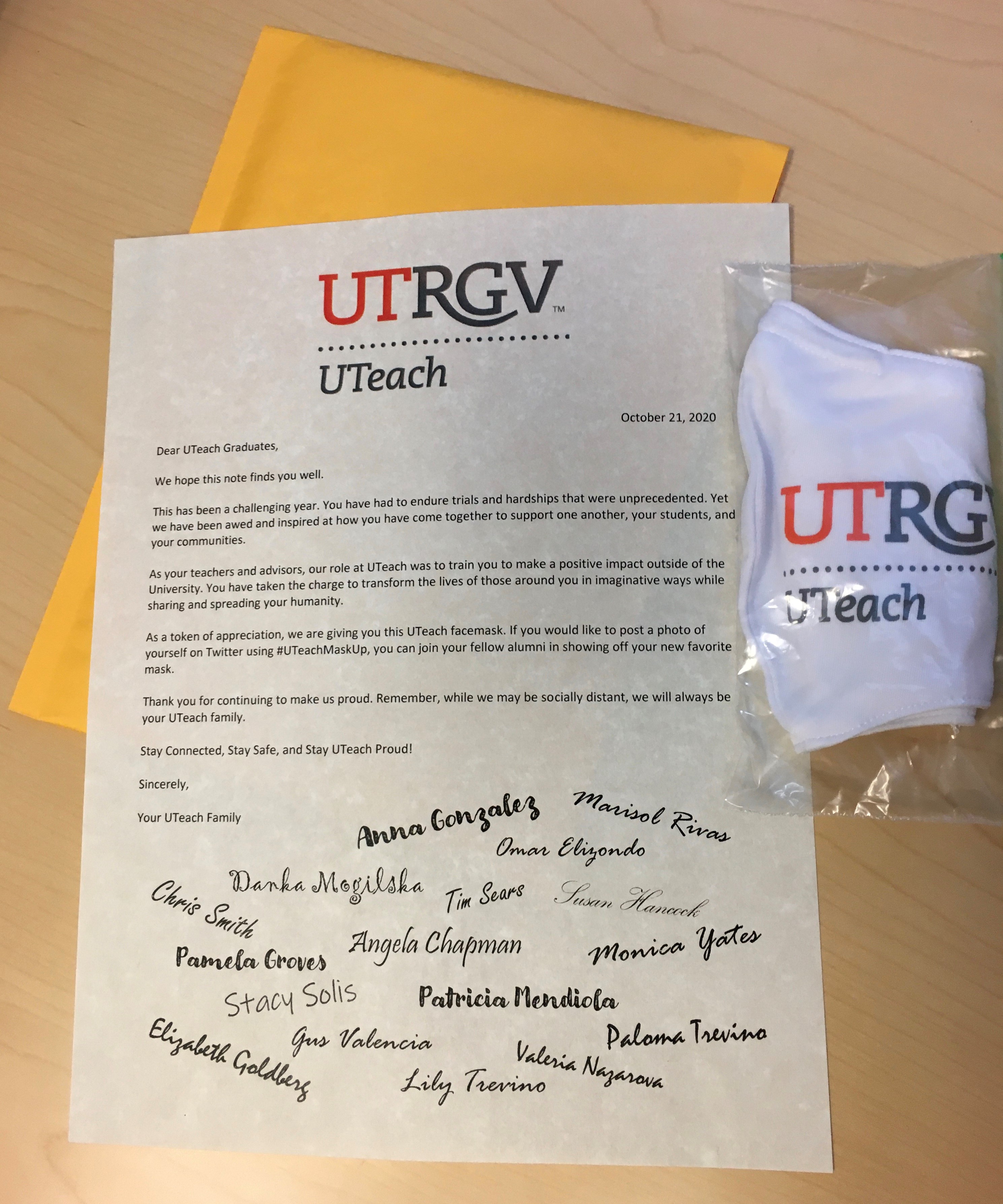 October 2020
UTRGV UTeach Step 1 online course curriculum adopted by the UTeach Institute for National replication.
Juan (J.B.) Lazo presented his research, An Unlikely Scholar, at the Engaged Scholar Virtual Showcase.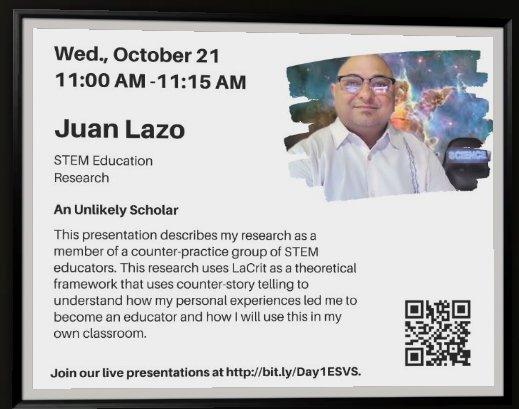 September 2020
UTeach in the RGV Rider!
UTeach student Dionicio Rios was featured in the UTRGV Profiles in Excellence.
August 2020
UTRGV UTeach hosts the first-ever Virtual Kickoff Alumni Event, featuring a Quarantine happy hour and trivia. 
June 2020
UTeach Academic Advisor, Monica Yates, earns the prestigious 2020 Outstanding Staff Award by the UTeach STEM Education Association (USEA).

UTeach Master Teachers Patricia Mendiola and Lily Trevino host the TI-Navigator Grant Training for current students and alumni. Winners of the 2019-2020 Sid Richardson TI Grant presented some of the lessons they taught using the technology during the 4-day workshop.

UTeach Co-Director, Dr. Angela Chapman, named 2020-2021 Chair-Elect of the UTRGV Women's Faculty Network. 
July 2020
UTeach Master Teacher Elizabeth Goldberg presents at the UTeach Conference.
UTeach STEM Educators: 2020-21 School Year Strategies and Equitable Learning Lessons
UTeach Master Teachers Gus Valencia, Pamela Groves, and Lily Trevino hosted and presented at the 5th Annual UTRGV Summer Professional Development for current UTeach students and alumni. 
UTeach Master Teacher Dr. Pamela Groves reads one of her favorite stories, The Monster at the End of this Book, as part of the UTRGV Story Time with the Vaqueros initiative.
UTRGV UTeach partnered with the College of Sciences and University College to hold a Live Virtual College of Sciences Q&A for incoming first-year students. The event was a huge success and helped new students answer their questions to start the semester off right.
Congratulations to the Summer 2020 Sid Richardson Grant recipients and UTeach Alumni: Andrea Lerma, Cristina Diaz, Jonathan Bolivar, Salvador Pina, Yadira Hinojosa, Yahaira Valadez, and Sonia Martinez. 
October 2019
Dressed as clowns, the UTeach RGV Student Organization earned Best Rookie Organization honors despite only two weeks of practice leading up to the event.
This year, with more than a month of practice time, the seven-person dance squad of biology majors Valeria Alanis, Thamara Hernandez, and Jacob Wolf, math majors Brendalee Hernandez, Jasmine Loredo, and Crystal Vega, and chemistry major Dani Martinez look to take the university by storm at UTRGV Madness on Friday at 9 p.m. at the UTRGV Fieldhouse.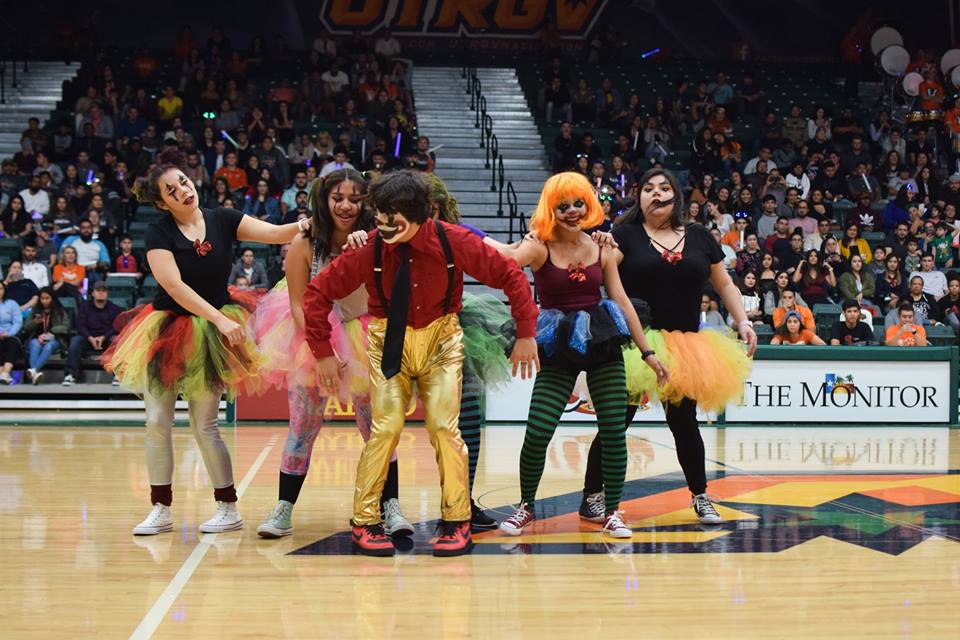 May 2019 
UTeach students Daniela Martinez and Thamara Hernandez presented a poster at the 13th Annual UTeach Conference titled UTeach Student Organization: A Way to Connect, Develop, Inspire, and Serve.
UTeach Master Teacher Pamela Groves presented a poster at the 13th Annual UTeach conference titled: A Case Study of Hispanic STEM Teacher Preparation.
UTeach Master Teachers Pamela Groves and Liliana Trevino presented a talk at the 13th Annual UTeach Conference titled: All Hands on Deck: Recruitment Brainstorming Session.
UTeach Master Teacher Pamela Groves earns her Ed.D in Curriculum and Instruction to become Dr. Pamela Groves.
Tim Sears and Elizabeth Goldberg nominated ECISD for the 2019 UTRGV Distinguished Engagement Partner.
UTeach mathematics students awarded by the School of Mathematical and Statistical Sciences.
July 2018
Tim Sears received the 2017-2018 UTRGV College of Sciences Faculty Excellence Award in Service. The award is one of five different faculty excellence awards given annually to recognize the exceptional efforts of faculty members from the College.

And Tim Sears was in Washington D.C. in July with the National USDA E. Kika De La Garza Fellowship program (one of 19 from around the country).
June 2018
The National Science Foundation's Robert Noyce Teacher Scholarship Program has awarded UTRGV a grant to recruit science and mathematics undergraduates and prepare them to become secondary school teachers in their respective majors.
UTeach Mathematics students Keyla Garza and Yesenia Trevino earn the Texas Council of Teacher of Mathematics Scholarship worth $1,000 each. Only 6 were awarded in the state!
UTeach students Anthony Bailey, Robert Luna, and Carlos Llamas assist UTeach graduate Ariana Garza in the JSTEM PBL summer program.
UTeach student, Gabriela Rodriguez, works with the Girlstart Summer Camp in Valley and North Texas.
UTeach RGV students Diana Torres, Jessica Juarez, Yosalin Rivera, and Alexandra Castillo visit NASA in Houston, Texas, as part of the Minority University Research and Education Project (MUREP) Educator Institute.
Master Teacher, Elizabeth Goldberg, attends UTeach at AACTE Day on the Hill in Washington DC! 
April 2017
Nine UTeach students presented their research findings at the ninth annual
Understanding Interventions that Broaden Participation in Science Careers
conference in San Antonio. Felicia Rodriguez, Erica Hinojosa, Esmeralda Lopez, and Nina Olvera co-presented "Attitudes Toward STEM: Factors that May Influence Pre-College Hispanic Female Students' Performance in a STEM Summer Camp." Leslie de la Pena, Lizbeth Morales, Yakeline Tijerina, Valeria del Bosque, and Elizabeth Lozano co-presented "Nothing is Impossible: Characteristics of Persistent Hispanic Females in STEM." 
May 2014
UTeach celebrates its
first graduating class
. Congratulations to Jessica Capistran, Karla Lopez, and Amber Rodriguez.