UTeach RGV Spotlight
Master Teacher Elizabeth Goldberg teaches about How to Not Take Things Personally...or at Least Try.
---
2021 Live Virtual College of Sciences Q&A
---
 Spring 2021 UTRGV UTeach Graduation
---
Virtual High School Inquiry-Based Demo Lesson Spring 2021
---
Fall 2020 UTCH 1101 (Step 1) Maker Projects
---
Fall 2020 UTeach Recap
---
 UTeach Half Time Interview with Elizabeth Goldberg
---
Fall 2020 UTeach Graduation Ceremony - Science Graduates
---
 Fall 2020 UTeach Graduation Ceremony - Mathematics Graduates 
How to Teach Inquiry Remotely
---
Live Virtual College of Sciences Q&A
---
How to Teach Inquiry Remotely Google Meet Version
---
 TI Navigator Grant 2019-2020 Winners 
---
How do UTeach?
---
Bianca Marroquin Commencement Speech
---
The UTeach Spring 2020 Graduate Ceremony
---
 How to Teach Inquiry Online
UTRGV HESTEC Spring 2020
RGV STEM Education Conference Poster Presentations
---
 How to make it through Step 1!
---
 UTeach Step 1 Maker Projects
---
What's Your Advice for New Teachers?
---
 Fall 2019 UTeach Graduation Banquets
---
Mock Interviews with AT Students
---
Math Conference with UTeach Students
---
 Fall 2019 Adopt a Game - UTRGV Men's Basketball
---
 PBI Saturday Challenge November 2, 2019
---
CDC Fall Festival 10/31/2019
---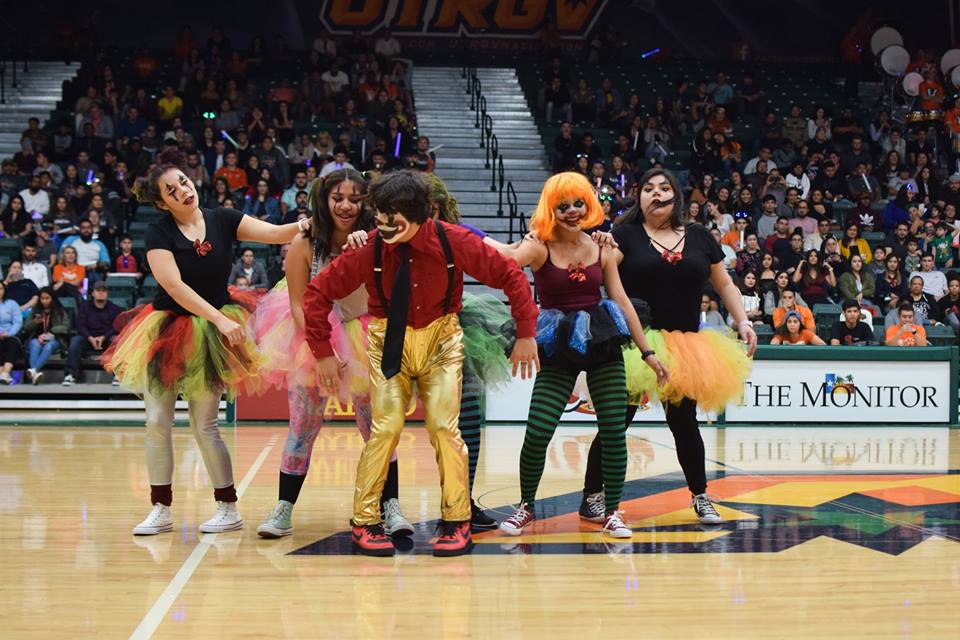 A year ago, one of the entries for the annual student organization dance-off at UTRGV Madness as a group of five clowns.
But they weren't clowning around.
 Dressed as clowns, the UTeach RGV Student Organization earned Best Rookie Organization honors despite only two weeks of practice leading up to the event.
 This year, with more than a month of practice time, the seven-person dance squad of biology majors Valeria Alanis, Thamara Hernandez and Jacob Wolf, math majors Brendalee Hernandez, Jasmine Loredo and Crystal Vega, and chemistry major Dani Martinez look to take the university by storm at UTRGV Madness on Friday at 9 p.m. at the UTRGV Fieldhouse.
 This competition, however, isn't just about winning. The students of UTeach have found that dancing has made them better at teaching.
 "I had always been very shy and dancing helped me to open up," said Martinez, who is minoring in dance. "Without the dancing experience that I had in high school, I don't think I would have been in the UTeach program, to begin with, because I was always too shy to be in front of or meet new people."
After performing in front of over 2,000 students and community members, it's hard to be nervous when performing in front of 25 students in a middle or high school classroom. The opposite is also true.
"Being part of UTeach has helped me in the sense that I'm not nervous about performing because I'm already kind of used to being the center of attention as a teacher in a classroom," Thamara Hernandez said. "When we teach lessons, I have to speak to large crowds, and although dancing at madness is in front of a bigger crowd, I'm effectively speaking through dance. It's a lot of fun."
Martinez and Hernandez say that dancing will help them to relate to their students as well. For some kids, the dance experience will make their teachers more relatable and able to understand what they're going through outside of the classroom.
Martinez and Hernandez also point to dancing as a necessity because it is critical to not get painted into a box of just being the person you are assumed to be based on your major.
"When we get to college, people like me often think we need to focus mainly on what we want to do, our science and our math," Martinez said. "One of the things we need to remember is not to lose our creative outlets and passions. That was one of the things one of my chemistry professors told me when I first started college. She said, 'don't be square because you're a scientist or a mathematician. You can still be creative and do these wonderful things.'"