Friday, October 7, 2022
  Around Campus
By Marisol Villarreal
RIO GRANDE VALLEY, TEXAS – UTRGV celebrated UTeach's 10-year anniversary of building future, professional teachers for the Rio Grande Valley and beyond with an honorary banquet. 
The event was held on Oct. 6, 2022, at the UTRGV Edinburg Campus ballroom.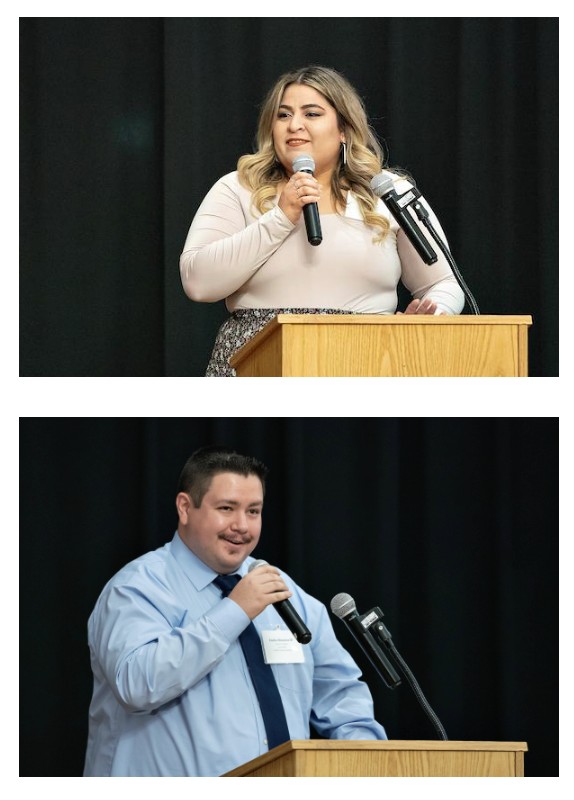 UTeach is a secondary-teacher preparation program for science and mathematics majors at UTRGV, which was developed according to the UTeach model at The University of Texas at Austin.
"For the Rio Grande Valley, UTeach was first developed at UTRGV's legacy institutions, one at the University of Texas-Pan American and one at the University of Texas at Brownsville, in 2012," said Dr. Chris Smith, a chemistry professor, and co-director and program manager with the College of Sciences for the UTRGV UTeach program. "The two programs combined when UTRGV was formed in 2015." 
Initially, the program was grant funded by private foundations, and in 2017 transitioned to an institutionally funded program through the UTRGV College of Sciences.  
Students who join the program continue to attend their regular classes based on their major, but simultaneously are able to gain field experience and inquiry-based learning and could graduate with their major with a teaching certification. 
Within the complete 10 years of the program, there have been 401 UTRGV UTeach graduates.   
An alumna who was among the first to graduate under the UTeach program said she's thankful she joined 10 years ago. 
"I was originally a math major and my plan was to get my bachelor's and see where I go from there," said Karla Lopez, currently a mathematics teacher with IDEA Public Schools and a part-time lecturer at UTRGV. "My academic advisor referred me to someone from the program who thought I was a good candidate, and they ended up hiring me as a tutor." 
Lopez said she loved being able to get first-hand experience early on in college, which helped prepare her for a teaching career.   
"I think UTeach is a great factor in my success. They were very helpful throughout the entire process and worked with me," Lopez said. "I was able to graduate with my bachelor's degree in mathematics within three years instead of four."  
Dr. Angela Chapman, co-director with the College of Education and P-16 Integration for the UTRGV UTeach program, said the program has been a success and has changed lives along the way. 
"We're very proud of the numbers. The relationships we've had with our school districts are very strong and our students tend to get hired very quickly. While they're doing their student teaching, they're usually sought after," Chapman said. 
For more information on the UTRGV UTeach program, visit 
https://www.utrgv.edu/uteach/
.
ABOUT UTRGV
The University of Texas Rio Grande Valley (UTRGV) was created by the Texas Legislature in 2013 as the first major public university of the 21st century in Texas. This transformative initiative provided the opportunity to expand educational opportunities in the Rio Grande Valley, including a new School of Medicine, and made it possible for residents of the region to benefit from the Permanent University Fund – a public endowment contributing support to the University of Texas System and other institutions.
UTRGV has campuses and off-campus research and teaching sites throughout the Rio Grande Valley including in Boca Chica Beach, Brownsville (formerly The University of Texas at Brownsville campus), Edinburg (formerly The University of Texas-Pan American campus), Harlingen, McAllen, Port Isabel, Rio Grande City, and South Padre Island. UTRGV, a comprehensive academic institution, enrolled its first class in the fall of 2015, and the School of Medicine welcomed its first class in the summer of 2016.