Sub Menu Toggle
Dionicio Rios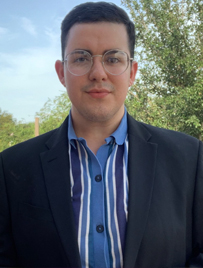 Name: Dionicio Rios
Age: 22
Major: Biology- Life Sciences
College: College of Sciences
Hometown: Roma, TX
High School: Roma High School 
Why UTRGV?
UTRGV is part of such a historical community, richly filled with tradition and culture. Leaving this community was never an option for me. The Rio Grande Valley offers tremendous hospitality for all its members, and I knew that I would never find that anywhere else. UTRGV actively takes pride in the level of education it offers as well as promotes inclusivity and diversity. 
What made you decide on your current major?
Ever since I was a little kid, I remember spending most of my playtime pretending to be a teacher. I would ask my teachers for extra handouts and books so that I could teach my siblings and neighbors the material I had learned in school. It wasn't until high school that I became increasingly fascinated with biology. Biology aimed to answer the origins of living species and how we have evolved into what we are now. Biology always has something interesting to learn and discuss.
How are you maneuvering being a student during the COVID-19 pandemic?
Being a student during this pandemic has been very challenging, but this is all a learning progress. I like to tackle things day by day in order not to get overwhelmed. I try to maintain a routine that makes me confident in what I am doing, and if I don't like something, I can always go back and change it. Aside from simultaneously learning in school and working, I've also taken the time to discover new things about myself. This keeps things interesting and unpredictable.
What are your greatest strengths and what are some challenges? 
My greatest strength has been my ability to adapt quickly through this situation. During the previous spring semester, I was able to achieve more than what I expected. I was able to get in the Dean's List even though I was enrolled in 17 hours and still working a job. Even I was impressed with myself. One challenge of this pandemic was being able to maintain sane mental health. Like many other students, this pandemic took us by surprise and we were given very little time to adapt and face the realities of the situation. 
What do you hope to achieve beyond completion of your major?
I hope that I can become a great teacher that not only teaches well, but a teacher that impacts the lives of many students. I want to be the teacher that students come back to me and say that I inspired them. I want to create a loving environment with my students that allows them to go above and beyond my expectations. I want my students to challenge themselves to do better. 
What do you like most about UTRGV?
I've met so many wonderful and inspiring people during my years at UTRGV. So many teachers and peers that push me to do better. I've been able to establish and maintain friendships throughout the years. I am very grateful for the friends that I've met and that gave me the love, support, and strength needed to continue going.

What does being a Vaquero mean to you?
Being a Vaquero means that you are part of something bigger than you. It means you are part of a very loving and supporting community that always aims to help the less fortunate. A community that actively advocates for freedom, compassion, love, and justice for all. A community that will always be there for you to help you and lift you even when times are rough. I would never trade this community for anything.

What opportunities has UTRGV helped you find throughout your community?
UTRGV has given me the opportunity to broaden my mind and expand my interests. It has allowed me to learn and appreciate my culture and heritage at a higher degree. It has made me proud of "mis raices," which I would never give up for anything. It has allowed me to go above and beyond my expectations without limits.
What advice do you have for fellow students pursuing degrees during the COVID-19 pandemic?
I would advise all students to keep going and keep pushing as hard as they can. In the end, it will all be worth it. Every sacrifice made will only make you stronger. There will be many obstacles, but those obstacles will only make you more mature, wiser and stronger. Believe in yourself and don't give up - this is only the beginning.