Sub Menu Toggle
Jorge Alejandro Gonzalez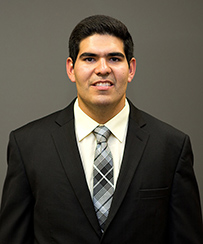 Name: Jorge Alejandro Gonzalez
Age: 21
Major: Mechanical Engineering
Hometown: Mission, Texas
Why UTRGV?
Growing up in Mexico and then the Rio Grande Valley was an unforgettable experience I wouldn't change. Even though I come from a family where both parents value the importance of a quality education, this transition made me realize, for myself, the real significance of having a supportive family and obtaining a good education.  Attending UTRGV has been one of the smartest decisions I have made.  UTRGV provides one of the best higher education opportunities in the country and has allowed me to stay close to those who love me dearly.
What made you decide on your current major?
Born to a farming family, I grew up around heavy machinery which I quickly built a huge interest in.  Since childhood, I have wondered how things work, especially fast cars, and the reason behind their speed. Studying mechanical engineering at UTRGV has provided me the technical knowledge to fulfill my desire for knowing how things work. I can now answer many of the questions I could not answer a few years ago.
What are your plans after graduation?
With many different options at such a young age, it is no easy task to determine what path I will take. I enjoy helping other people. In the next few years I plan to pursue a master's degree in entrepreneurship. Meanwhile, I will practice my engineering degree working for an American corporation and start my own venture in my spare time.   
What are you involved in on and off campus?
Being involved in campus activities provides skills and knowledge beyond those gained by just reading text books or attending classes. Currently I am involved in UTRGV's Student Government Association, Society of Professional Hispanic Engineers, and Tau Beta Pi. I have also been able to participate in invaluable internships out of state.
What is your biggest accomplishment to date?
I have made the Dean's List every semester except for one summer session at the end of my freshman year.  Also, this past spring I was elected as one of two vice presidents – one at Edinburg (me) and one at Brownsville – for the first ever UTRGV Student Government Association. I enjoyed campaigning on both campuses and am proud that we, along with our new SGA president, were able to unite two student bodies into one strong university.
What advice do you have for future students?
I can narrow down my advice to three suggestions: Study, stay involved and have fun.