Authorized Driver Approval Process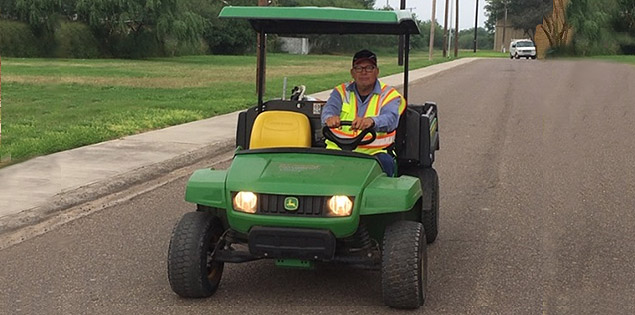 Authorization to Drive a UTRGV Vehicle
UTRGV employees must be authorized prior to driving a university leased or owned vehicle, utility vehicle, or any other category of motorized transport that may be driven on city streets (e.g. forklift).
Students are prohibited from operating a UTRGV vehicle, unless they are employed with the university (student worker, direct wage etc.) and are driving the vehicle in the fulfillments of the specific job requirements.
Employees who wish to be authorized to drive a UTRGV vehicle must be approved as an "authorized" driver prior to driving the vehicle. This is a two-step process consisting of 1) completion of the Driver Safety Training and 2) completion of a Texas DPS Motor Vehicle Record (MVR) check. Instructions are as follows.
1. Driver Safety Training
Driver Safety Training is facilitated through the Department of Environmental Health, Safety and Risk Management (EHSRM) Learning Coordination Program. It is an online training. Successful completion of the training requires a 100% passing grade on the quiz after all course material has been viewed. For more information about Driver Safety Training, contact Michelle Guglielmo at (956) 665-7256 or email Michelle.Guglielmo@UTRGV.edu.
This training must be completed every 3 years.
Instructions for accessing the online training course can be obtained at:
www.utrgv.edu/ehsrm/_files/documents/training/training-driver-safety.pdf
Driver Safety Training Frequently Asked Questions
2. Motor Vehicle Record (MVR) Check
All employees required to drive a UTRGV vehicle must first complete a Motor Vehicle Record (MVR) check. Approved UTRGV drivers will receive an email once the motor vehicle record check has been completed, reviewed, and deemed acceptable. Approval of the MVR check is contingent on being able to obtain information regarding the applicant's last three years of driving history. For more information about the MVR check, contact EHSRM at (956) 665-3690 or email EHSRM@utrgv.edu.
The MVR form must be submitted to EHSRM@utrgv.edu initially and thereafter, is run automatically on a quarterly basis.
Application for Copy of Driver Record Form
---
Utility Vehicle Operators
Departments acquiring a vehicle must make prior arrangements for the appropriate storage of the vehicle.
Prior to operating the vehicle, departments are required to register the utility vehicle with the UTRGV Police Department and with Vehicle Services.
Utility vehicle operators must also complete the authorized driver approval process outlined above.
More information regarding utility vehicle use may be found in the Handbook of Operating Procedures: ADM 10-105.
---
Out-of-State License Holders
UTRGV employees who have recently moved from other states or countries are not exempt from filling out the authorization form to run an MVR check. A record check shall be completed based on data from their former place of residence.
Out-of-State Online Application for Copy of Driver Record
New Texas residents can legally drive with a valid, unexpired driver license from another U.S. state, U.S. territory, Canadian province, or qualifying country for up to 90 days after moving to Texas.
Please note that prior to the end of the 90-day grace period, a new Texas resident must apply for a Texas license in person at any driver license office to continue to drive legally. After 90 days, the out-of-state or out-of-country license will no longer be valid for use in Texas.
Texas Department of Public Safety – Information on Moving to Texas
---
12/15 Passenger Van Training
Because of safety related concerns, UTRGV personnel are prohibited from renting a 15-passenger van. Employees, however, can rent a 12-passenger van, and in accordance with UTS 157, allow twelve passengers in the vehicle.
Employees who will be driving a 12-passenger van are required to attend the 12-Passenger Van Training conducted by EHSRM. This training consists of a both classroom training and a road test. Because of the road test, employees are required to be an authorized driver prior to attending this training. The 12-Passenger Van Training is held three times a year, and can also be scheduled at the same time you rent the vehicle.
For more information about the 12-Passenger Van Training, contact Celia Saenz at (956) 665-2902 or email Celia.Saenz@UTRGV.edu.
---
Forklift Operators
UTRGV shall ensure that each powered industrial truck (PIT) operator is competent to operate a powered industrial truck safely, as demonstrated by the successful completion of training and evaluation. The UTRGV employee must be at least 18 years of age to operate a PIT. A PIT includes forklifts, platform lift trucks, and motorized hand truck. In addition to the training requirements outlined below, a forklift operator is also required to complete basic Driver Safety training online and complete the driver record check on an annual basis.
Forklift Operator Training shall consist of:
Formal instruction: lecture, video, written materials
Practical training: demonstration from instructor and exercises performed by trainee
Evaluation: Unassisted skills demonstrations and written exam
Forklift Operator Training is required at least every 3 years.
Sooner if involved in accident or near miss
Sooner if observed operating Truck in unsafe manner
Training program content is listed under OSHA standard 1910.178(l)(3) for Powered Industrial Trucks https://www.osha.gov/SLTC/poweredindustrialtrucks/standards.html
EHSRM provides forklift operator training as outlined above. 
Inspections are to be performed by the user of a forklift prior to each use. This inspection may be visual or written but it is mandatory. Refer to your departmental policy for specific inspection rules at your location.
---
Related Links: