Learning Coordination
Program Mission:
To ensure that The University of Texas Rio Grande Valley (UTRGV) employees and students receive appropriate safety training prior to the performance of their work activities. To provide easy access to online training as well as scheduling of in-person training. To develop and maintain the Environmental Health, Safety & Risk Management (EHSRM) website and promotional materials for all EHSRM programs.
Records Management
There are over 8,000 employees throughout the UTRGV campus (Edinburg, Harlingen, Brownsville, Coastal Studies, and Rio Grande City) many of whom require some type of safety training as part of their assigned duties whether it is driving a university vehicle, handling food during fundraisers and promotional events, volunteering as an emergency contact in the event of a building evacuation, fire, or first aid emergency, working with chemicals, working with biological agents, or working in an environment that may present environmental, electrical or other physical hazards.
EHSRM served approximately 9,000 students in academic year 2017 that were enrolled in Chemistry (Introductory Labs), Biology (Introductory Labs and Anatomy and Physiology), Engineering (Intro to Mechanical, Manufacturing, Electrical, and Civil Engineering Labs), Fine Arts (Ceramics, Sculpture, Jewelry Making, Photography) and Theatre Arts (Stage Craft) which all require Laboratory Safety/Hazard Communication training. This training addresses topics such as chemical storage and handling, nanomaterial handling, personal protective equipment, safe use of power tools, hazard identification, and emergency response procedures.
There are over 375 research and teaching laboratories throughout the UTRGV campus whose personnel require basic laboratory safety training before entering the laboratory and in some cases additional training or higher levels of training depending on the type of research being performed.
List of EHSRM Trainings
There are over 30 different safety trainings offered by EHSRM personnel. Many are found online through Blackboard inside the organization Environmental Health, Safety and Risk Management. To register for in-person training, log in to the UTRGV training services portal at www.utrgv.edu/training and click the green registration button.
12-Passenger Van
Animal Care Occupational Health and Safety
Arc Flash Awareness
Asbestos Awareness
Back Safety
Biological Safety Level 3
Clinical Safety (BBP)
Community Gardening Safety
Contractor Expectations
COVID-19 General Awareness
Crowd Control
Driver Safety
Ergonomics
Evacuation Assistant/Fire Extinguisher
Facilities New Employee Safety Orientation
Fall Protection
First Aid/CPR/AED
Food Handler
Forklift Operator
Hazard Communication for Non-Laboratory Personnel
Heat Stress
Indoor Air Quality (IAQ) in an Institutional Environment
Laboratory Safety for Minors
Laboratory Safety/Hazard Communication
Laser Safety
Lift Operator (Scissor/Aerial/Boom)
Lockout / Tagout
Mercury Spill Response
MS4 (Municipal Separate Storm Sewer System)
Nuclear Magnetic Resonance (NMR) Safety
OSHA 10-Hour Construction
Radioactive Materials Safety
Radiation Safety Training: Industrial X-Ray Devices (Non-Human Use)
Radiation Safety Training: Medical X-Ray Devices (Human Use)
Rocket Safety
Stop-the-Bleed
Worker's Compensation Insurance
View the latest training schedule.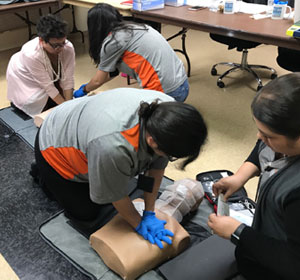 Employees practice chest compressions and rescue breaths during the CPR section of the American Red Cross course.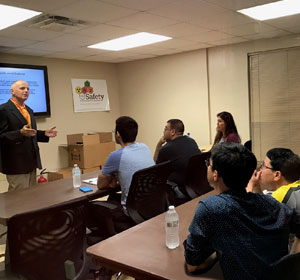 Engaged listeners lean forward with interest as safety director, Dr. Richard Costello, delivers one of his fascinating lectures.
EHSRM Program Manager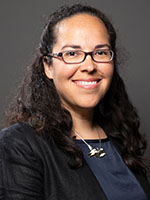 Michelle Guglielmo
EHS Program Manager
EEHSB 1.114
Michelle.Guglielmo@utrgv.edu
(956) 665-7256