Pedestrian Safety
On average, a pedestrian is injured in a traffic collision every eight minutes nationwide. Most pedestrian injuries occur as the result of the inattentiveness of both motorists and pedestrians compounded by the use of cell phones and earphones which do not allow the pedestrian to hear when a motor vehicle is approaching. This has been a continuing issue on the UTRGV campuses. Additionally, the failure of both pedestrians and motorists to obey traffic signals can cause a fatality. By taking basic precautions and being aware of one's surroundings, the likelihood of an unnecessary collision can be dramatically reduced.
UTRGV Pedestrian Safety Initiatives
In an effort to address pedestrian safety issues on the UTRGV campuses, the institution has established a Pedestrian Safety Committee comprised of various stakeholders on the campus who. They include members from the department of Environmental Health, Safety and Risk Management; University Police; Facilities; Parking and Transportation; Dean of Students; and the Student Government Association. The stakeholders meet periodically to assess pedestrian related issues on the campuses, and make recommendations to the administration in an effort to improve pedestrian movement on the campus.
Major initiatives include:
Sugar Road Traffic Studies and Renovations
Traffic studies are required by law whenever installing a "midblock" crosswalk and are designed to place crosswalks in those locations that facilitate safety for pedestrians as well as the movement of traffic. Over the years, UTRGV Facilities has conducted a number of traffic studies to ensure this and in 2018 commissioned two traffic studies recommending the removal of three crosswalks, improvement in signage, and the improvement in the timing of the lights. In conjunction with the city of Edinburg, the majority of this work was conducted in January 2019. The removal of the Edinburg Recreational Center crosswalk will be done in summer 2019.
Public Information Campaign
Public Service Announcements (PSA) were developed and will serve as a reminder to the campus population to be safe when walking or riding across the campuses. The PSA's can be found at utrgv.edu/policenews.  
Crosswalk Upgrades
Crosswalks throughout the University were "upgraded" for consistency with the Manual on Uniform Traffic Control Devices (MUTCD) standards. The institution is working with the city of Edinburg Public Works Division to ensure consistency on the designs of the crosswalks throughout the campus.
Safety Tips For Pedestrians
As a pedestrian, it is your responsibility to make yourself visible and avoid dangerous behavior and situations.
When possible, utilize the sidewalk; if not available, you should walk in the direction opposite the flow of traffic.
Make eye contact with drivers and pay attention to the environment around you.
Cross at intersections and in crosswalks. Look left, then right, then left again before proceeding.
Yield to vehicles on the roadway if you cross the street at a place other than a marked crosswalk or pedestrian tunnel or crossing. If you are hit while jaywalking, the driver may not be liable, and his or her auto insurance may not cover your injuries.
Do not make the assumption that you are safe in a crosswalk. Even if you have the right of way, it is important to realize that vehicles may not always stop.
Always obey crossing signals and make sure to look both ways before crossing into the street.
Discontinue the use of anything that can distract you including headphones or talking on your cell phone while crossing the street. It is important to pay attention to your surroundings and take extra care to avoid dangerous situations.
As a passenger, get in or out of a car on the curb side of the street.
Safety Tips For Bicyclists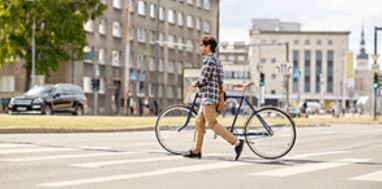 Bicyclists share the responsibility of being both a pedestrian and a vehicle. When on a pathway, a bicyclist takes on the role of a pedestrian. Even as a pedestrian, you must travel at a safe speed, follow posted signs, and yield to other pedestrians. It is recommended that cyclists dismount their bicycle when crossing at a crosswalk.
When on a street, bicyclists have the same rights and responsibilities as drivers. As a bicyclist, you should obey all traffic laws, including the following:
Stop at red lights and stop signs
Pay attention to lane markers
Ride near the curb, traveling in the same direction as traffic
Use a light on the front and a red reflector or red light on the back of your bike while riding at night
Remember to use proper signals when you want to stop or turn. For a left turn, stretch your left arm to the left; for a right turn, stretch your right arm to the right. For a stop, hold your left arm downward.
It is illegal to wear headphones while riding your bike because it can impair your senses.
Additionally, if you bicycle while intoxicated you will be held to the same standards as other motorists and may be charged with Driving Under the Influence (DUI).
Safety Tips For Skateboards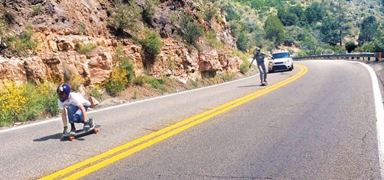 Skateboards and roller skates are great fun, but they are not considered lawful vehicles.
Anyone using a skateboard or roller skates on a sidewalk must use them with ordinary care, at a safe speed, and must yield the right of way to other pedestrians on that sidewalk.
Unlike bicycles, skateboarders must always act as pedestrians. This means skateboarders must take care and yield to other pedestrians while maintaining a safe speed.
Skateboarding is prohibited in some areas, so it is important to be aware and follow the posted laws.
Since skateboards are not considered vehicles, skateboarders cannot ride in the street. If you are caught riding a skateboard in the street you may be issued a ticket.
Dismount skateboard when crossing a crosswalk

General Safety Tips
Make eye contact with motorists if possible.
It is illegal to consume alcohol when operating a vehicle, bicycle, or skateboard.
Take extra care during times of high traffic, especially during dusk and dawn.
To cross intersections:

Stop walking before stepping into the crosswalk
Look both directions to make sure vehicles are stopped
Cross the street as quickly as possible

According to law, bicycles are required to have a front light and back reflector while traveling at night or in low-light conditions.
It is illegal to wear headphones while riding a bike. If you are wearing headphones as a skateboarder or pedestrian, it is recommended that you keep your music at low levels.
Be aware of traffic signs and safety laws on campus and in the community. As a citizen, it is your responsibility to know bike, skateboard, and pedestrian laws.
Links
Give Us Your Feedback!
We want your ideas! Please contact the Pedestrian Safety Committee if you have any ideas for improving pedestrian safety on the UTRGV campus or if you have experienced a problem as a rider with a particular highway.