Need help?
Contact the Office of Human Resources
Bravo Vaqueros
Phone: (E) 956-665-2451
---
Phone: (B) 956-882-8205
---
Email: Bravo@utrgv.edu
Bravo Vaqueros
Bravo Vaqueros is a peer recognition initiative that provides an opportunity for any UTRGV employee to acknowledge their colleagues who demonstrate VAQUEROS Culture of Service Excellence qualities and values. Bravo recognitions will be posted on the Bravo Board to share with all UTRGV employees. Upon posting, the recognized employee and their supervisor/s will receive an email notification of the great news.
When submitting a Bravo, select one (1) of the Vaquero Culture of Service Excellence principles that best represents the meaningful acknowledgment in relation to quality customer service and operational excellence. For more information, visit the Frequently Asked Questions.
Let other employees know you appreciate their hard work and commitment to excellent service by sending them a BRAVO today! It only takes a few minutes of your time and provides meaningful recognition.
How to submit a Bravo
---
Log in to myutrgv.edu and click on the Bravo icon under "Applications."
Once in the application, look for "Submit Bravo."
Please complete the form, select a graphic, and submit it. You will be notified once the Bravo has been posted. The recipient of the Bravo, and his/her supervisor, will be notified as well.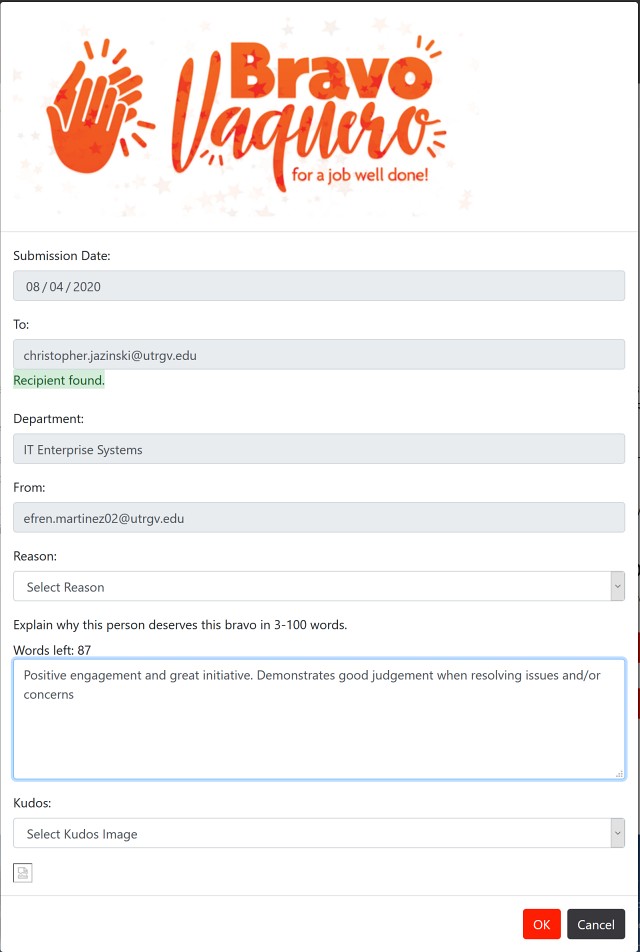 This is your chance to highlight the excellent service provided by your peers. Submit your first Bravo today and have fun reading through your peers' accomplishments.