Awesome Alumni
Meet some of our UTeach students, both current and alumni! They are doing great things for education. Here are some of their stories!
---
Brenda Lee Garcia was awarded Rookie Teacher of the Year at Pace High School in Brownsville ISD.
Marissa Luna-Galvan received her TIA Recognized Distinction and received an "Academic Excellence" core value from IDEA Robindale, Brownsville.
Allison Burrola and J.B. presented at the first Virtual K-12 STEM Educator Summit.

Georgina Galindo, Ashley Saenz, Diana Padilla, Alexandra Castro, Valerie Gonzalez, Ester Hernandez, and Geovanelly Torres presented at the Summer TI Training.
Ashley Saenz was selected as a presenter for the alumni closing panel at the 2023 Annual UTeach Conference.
Brenda Garica, Brena Santa, Roxanne Gomez, Linda Palominos, Michael Vazques, Maribel Martinez, and Lidya Michelle Leija are the recipients of the 2023 Sid W. Richardson Grant. They each received a class set of TI Nspire CX and TI-Navigator Systems. 

Anthony Bailey taught at the 2023 JSTEM Summer Institute.
Jovana Garza was selected as the 2023 Harmony Public Schools Secondary Teacher of the Year.

Rafael Chico received his TIA Master's Recognition
Jabeth Azpeita was named the World Scholars Teacher of the Year

Hazel Segovia was promoted to instructional coach at Pat Neff Middle School in NISD, San Antonio.
Sergio Guzman is an assistant principal at Losoya Middle School with San Antonio ISD.
Karla Lopez is an Assistant Principal with San Benito CISD Collegiate Academy
Emily Ramos is the science co-department Chair at PSJA Early College High School.
Ashley Saenz was featured in the UTeach Newsletter under the UTeach Alumni Spotlight.

Eva Ortego won the Apple Award at Pace Early College High School in Brownsville ISD.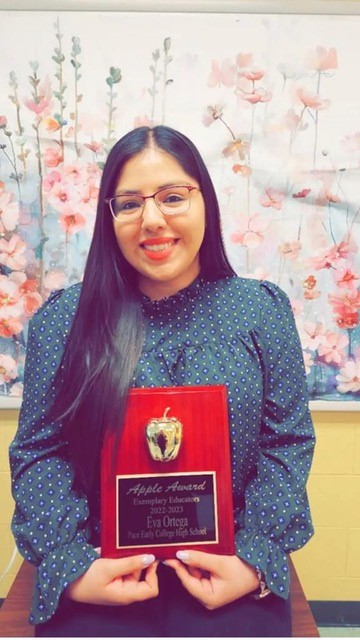 Karla Lopez and Mee Lai Alvarado were named Math Master Teachers for IDEA Schools.
Samantha Guerra was named Teacher of the Year at Sharyland ISD.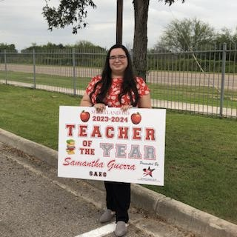 UTeach alumni Emilio Hinojosa, Tammy Escalante, Karla Lopez, Sam Ramirez, and Andrea Lerma served as panelists for UTeach Career Day.
Edgar Uresti and Clara Janskowski Uresti both received their Masters in Counseling.
Adrian Diaz was named the IDEA North Mission College Prep Employee of the Month.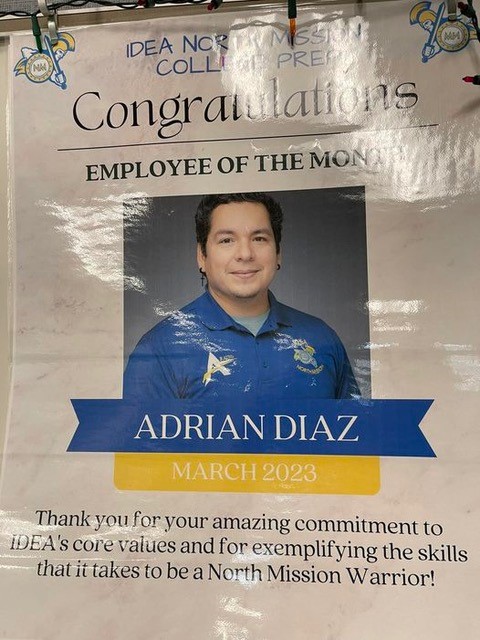 Jovana Garza was named the Harmony Brownsville Secondary Teacher of the Year.
Jonathan Bolivar was named the Harmony Brownsville High School Teacher of the Year!

Congrats to UTeach Alum Emilio Hinojosa (physics teacher in La Joya ISD). He is the regional coordinator of the Regional SeaPerch Competition hosted by La Joya ISD. Over 20 campuses from La Joya to Brownsville districts competed for one of the top 2 teams advancing to the national SeaPerch competition. Well done!



Congratulations to UTeach alumnus Tammy Escalante who completed a two-year leadership program from Holdsworth and received her TI designation.
 

Congrats to our Andrea Lerma for becoming a distinguished TIA teacher. 


UTeach Alumnus Ashley Saenz won 3rd Runner-Up Grand Champion at the RGV Regional Science Fair and is attending the International Competition in May!



Congrats to Harem Pena for being selected as the IDEA Tres Lagos Teacher of the Month!

Congratulations to Elizabeth at IDEA Harlingen College Prep for becoming a Level 5 Master Teacher!

UTeach alumnus Cristina Diaz was named the 2021-2022 Teacher of the Year at the School of Science and Technology Corpus Christi.

UTeach alumnus Veronica Mora was named the 2021-2022 Teacher of the Year at Berta Cabaza MS, San Benito.

UTeach alumnus Jose Lama won the 2021-2022 Apple Award for Exemplary Educators at Jubilee School, Brownsville.

UTeach Alumni and TI grant winners Jonathan Bolivar, Cristina Diaz, Andrea Lerma, Sonia Martinez, Yadira Hinojosa Cantu, Yahaira Valadez, and Salvador Pina presented to fellow alumni on how they used TI technology in their classrooms.

UTeach Alumnus Geovanelly Torres served as a panelist on What it's Like to be a First-Year Teacher at the Inaugural 2022 UTeach Career Day for UTeach students and alumni across all of UTeach Nation.

UTeach alumnus Dora Salas was named the 2021-2022 Teacher of the Year at Horizon Montessori Public School.

UTeach alumnus Lily Duarte was named 2021-2022 Teacher of the Year at Lucio Middle School in Brownsville ISD.

UTeach alumni Ashley Saenz and Carolina Oviedo won the 2021-2022 Apple Award for Exemplary Educators at Pace Early College High School in Brownsville ISD.

UTeach alumnus Veronica Moran-Garcia was named the 2021-2022 Teacher of the Year at Cabaza Middle School in San Benito CISD

Fall 2018 math graduate, Sonia Martinez, won teacher of the year at IDEA Robindale in Brownsville TX. Sonia is also a TI Sid Richardson Grant recipient.

UTeach Mathematics Graduate Yesenia Trevino is the 2022 Teacher of the Year!

Three Fall 2021 Clinical Teachers were hired by the campuses where they did their clinical teaching; Geovanelly Torres, math, at Hanna High School; Caitlyn Gonzalez, biology, and Dulce Silva, math, both at Los Fresnos United.UTeach alumni Itzamar Marquez and Cristobal Ortiz presented on TI-Nspires and PBI math projects at UTeach Math Camp for UTeach mathematics students and alumni.

Cristina Diaz received the TI Innovator Rover from Donors Choose.

The following students earned their Masters degree in Fall 2021: Georgina Galindo, Lily Duarte, and Janet Flores in Math Education. Virginia Sauceda in Curriculum and Instruction in Mathematics. Alondra Torres Acosta M.Ed. in Curriculum and Instruction in Science Education. Ernesto Sanchez MS in Biology. Miriam Ortiz earned a master's in public health and is working on her doctorate of education. She is now a lecturer at UTRGV.

Kimberly Teran, IDEA Teacher, had the highest Geometry Test Scores in the RGV for Fall 2021.

Jesus Barrientos was named the new co-chair of the Harlingen High School Math Department.

Alejandra Carrizalez (math) was named October 2021 Teacher of the Month at Coakley Middle School in Harlingen.

UTeach Alumni Estefania Sierra presented at the 2021 Virtual Rio Grande Valley Council for Teachers of Mathematics Conference.

Alondra Acosta, IDEA Riverview 2020-2021 Teacher of the Year

Yesenia Trevino and Keyla Garza were featured as Middle Marvels on the "Unlock the middle," - a middle school educational web series.

Before teacher long-time UTeach mentor teacher Michelle Milligan retired in December, she wanted to ensure her seventh-grade students would be in good hands. She got her to wish with UTeach student-teacher Karina Quintana.

Edinburg Consolidated Independent School District did a feature story on UTRGV UTeach Alum Silvia Perez and read the story in Texas Border Business.

Tech Integration for Students Is a Crucial Investment. Co-written by UTRGV UTeach Alum Joel Alvarado.

New Teacher Makes a Big Impression - UTeach Graduate Tammy Escalante becomes Teacher of the Year.

2019 Sid Richardson Grant winners present at the TI-Nspire Training: Victoria Santacruz, Itzamar Marquez, Hazel Segovia, Virginia Saueda, Anthony Bailey, Karla Lopez, Kimberly TeranAnthony Bailey, and Ariana Garza present at the 3rd Annual STEM Education Conference.

Emily Ramos and Fabiola Doria, part of the 2019-2020 PSJA Master Science Curriculum writing team Yesenia Trevino awarded the 2019-2020 Star Team Member for Memorial Pathway Academy in Houston. 

Tammy Escalante named 2019-2020 Teacher of the Year, Harlingen School of Health Professions, Harlingen, TX. 

Virginia Sauceda named 2019-2020 Teacher of the Year, IDEA Riverside, Brownsville, TX.

Alejandro Sanjo named 2019-2020 Teacher of the Year, Edinson Middle School, Houston, TX.

Ashley Saenz named 2019-2020 Rookie Teacher of the Year, Pace High School, Brownsville, TX.