Podiatrist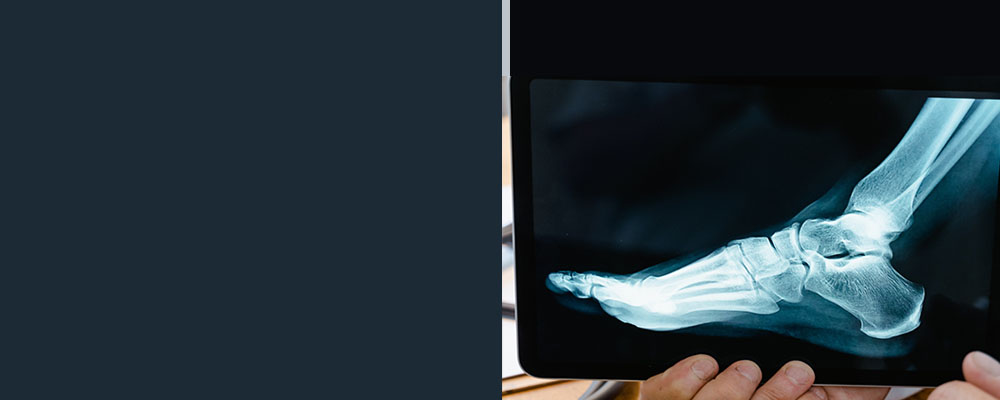 Podiatric medicine is defined as the specialty of medical science that pertains to the diagnosis and treatment of conditions affecting the foot and ankle both medically and surgically by any system and means. Podiatric physicians provide the full range of foot and ankle care, including palliative care, acute care for injuries, and chronic care for secondary conditions related to diseases such as arthritis, diabetes and cardiovascular disease.
A DPM (Doctor of Podiatric Medicine), qualified by their education and training, is a specialist in the prevention, diagnosis, and treatment of lower extremity disorders (i.e physical therapy, prescribe medication, etc.), diseases, and injuries. Podiatric physicians may specialize in areas such as surgery, orthopedics, or public health.
Podiatrists may also practice in subspecialties such as sports medicine, pediatrics, dermatology, radiology, geriatrics, or diabetic foot care. Podiatric physicians are the only doctors to receive specialized medical and surgical training, and board certification in the care of the lower extremity.
Educational Pathway
To enter a podiatric medical school, one must first complete a minimum of three years or 90 semester hours of college credit at an accredited institution. Over 98% of the students who enter podiatric medical school have a bachelor's degree. Many have also completed some graduate study.
The AACPM web site lists the following prerequisites for podiatric medical school admission:
8 semester hours of Biology.
8 semester hours of Chemistry, General or Inorganic.
8 semester hours of Physics.
6 semester hours of English (UTRGV and CA accept Communications hours.)
Science courses taken should be those designed for health-profession or pre-medical students and MUST include laboratory experience. Courses for non-science majors are not accepted. Prospective students are encouraged to reach out to individual admissions offices for podiatric medicine programs of interest to learn more about their admissions processes.
Upon completion of four years of medical education, all podiatrists are required to participate in a three-year comprehensive podiatric medicine and surgical residency training, which provides a competency-based medical and surgical experience. In general, states require a minimum of two years of postgraduate residency training in an approved health care institution. A residency provides an interdisciplinary experience with rotations such as anesthesiology, internal medicine, infectious disease, surgery, ER, and pediatrics. Podiatrist may also practice in a sub-specialty such a sports medicine, pediatrics, dermatology, radiology, geriatrics, or diabetic foot care. Other specialties that a podiatrist may purse include research, academia, and biomechanics.
Podiatric physicians may also become certified in one or both specialty areas: primary care and orthopedics, or surgery. National podiatric specialty boards grant certification to qualified podiatrists who have completed the specified educational requirements and who successfully complete written and oral examinations.
Admissions Process
The schools and colleges of podiatric medicine consider many factors when making decision on offers of admissions. Admissions committees evaluate an applicant's scores from the Medical College Admissions Test (MCAT), grade point average (GPA), letters of recommendation, and personal interview(s). Additional information provided in an application such as work experience, leadership, volunteerism, and demonstrable knowledge to practice podiatric medicine, is also taken into consideration.
Undergraduate Timeline for Podiatric Medical School Admissions
First Year
Research & determine if podiatric medical school is for you.
Adjust to college life academically & socially.
Map out plan to complete medical school prerequisites and degree requirements with an advisor.
Develop study skills & strategies.
Maintain a competitive GPA.
Research pre-med and other student organizations; consider joining one.
Volunteer or work in a medical setting.
Shadow a DPM.
Second Year
Complete required coursework.
Maintain competitive GPA.
Build relationships with faculty for letters of recommendation.
Continue to build your resume; work, volunteer, seek clinical & shadowing opportunities.
Begin planning and preparation for the MCAT.
Research podiatric medical schools and entrance requirements.
Third Year
Take the MCAT (summer prior to or during third year.)
Research and decide to which schools you will apply.
Sign up for the committee process (committee letter of recommendation) or letter of recommendation service.
Maintain a competitive GPA.
Visit schools and colleges of podiatric medicine to which you are interested in applying.
Continue to build your resume; work, volunteer, seek clinical & shadowing opportunities.
Fourth Year
Prepare and submit applications through the American Association of Colleges of Podiatric Medicine Application Service (AACPMAS) or TMDSAS (UTRGV only.)
(Summer prior to or during early fall fourth year.)
Request official transcripts of all college work attempted.
Request for letters of recommendation to be sent to the schools/colleges you plan to apply to.
Prepare for admissions interviews.
Continue to build your resume; work, volunteer, seek clinical & shadowing opportunities.
Attend interviews with colleges and schools.
Prepare for interview(s) if offered.
Wait for admissions decisions.
Accept an offer and notify other schools of decision in a timely manner.
Apply for federal financial aid and scholarships for which you may be eligible.

Application for FAFSA becomes available October 1.
Research scholarship opportunities by early summer to meet application deadlines.
Licensing Requirements
State licensing requirements generally include graduation from one of the ten accredited schools and colleges of podiatric medicine, passage of the National Board exams, postgraduate training and written and oral examinations. National Boards are taken in two parts while in podiatric medical school. Part I covers basic science areas and is generally taken at the conclusion of the second year. Part II has a written exam and Clinical Skills Patient Encounter (CSPE) components of the examination. The CSPE portion assesses proficiency in podiatric clinical tasks and the written examination covers clinical areas such as Medicine; Radiology; Orthopedics, Biomechanics and Sports Medicine; Anesthesia and Surgery; and Community Health, Jurisprudence, and Research.