Veterinarian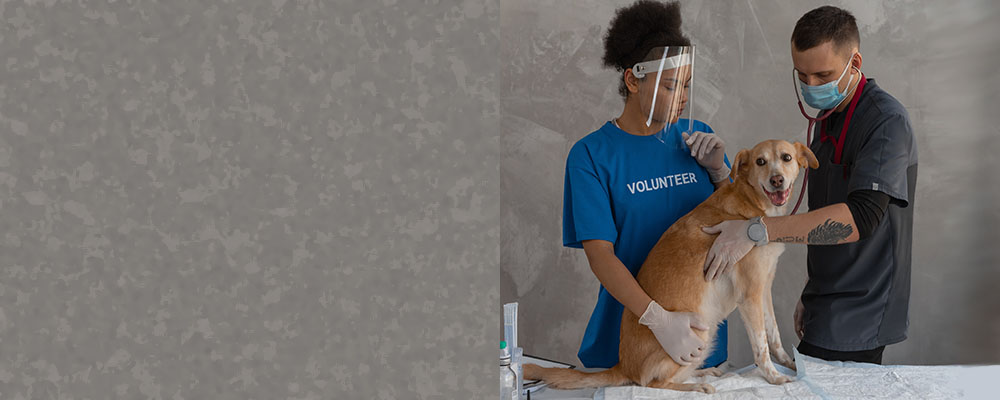 A veterinarian or Doctor of Veterinary Medicine (DVM) is a medical professional whose primary responsibility is protecting the health and welfare of animals. A veterinarian diagnosis and controls animal diseases, treat sick and injured animals, prevents the transmission of animal diseases to people, and advise owners on proper care of pets and livestock. A veterinarian may also be involved in wildlife preservation and conservation and the public health of the human population.
Educational Pathway
To become a veterinarian, a bachelor's degree is not required by most U.S. veterinary schools. However, the vast majority of students accepted to veterinary schools have earned a bachelor's degree or an advanced degree such as a master's degree or doctorate.
The standard veterinary school curriculum at an American Veterinary Medical Association Council on Education (AVMA COE) school takes about four years to complete. Veterinary school encompasses the full scope of animal health and disease including disease prevention, diagnosis, prognosis, and therapy. The curriculum begins at the basic level and systematically moves to clinical application. Students will traditionally spend the majority of the first two or three years in the classroom and in laboratories learning how to prepare for working with an animal patient. The final year is usually focused on clinical rotations which allow students to gain hands-on experience in a variety of settings. Clinical rotations may include small and large animal medicine and surgery, radiology and imaging, anesthesiology, dermatology, emergency care, wildlife medicine, and cardiology. Once a student successfully earns their DVM degree, the North American Veterinary Licensing Exam (NAVLE) is required to be licensed to practice clinical veterinary medicine in all jurisdictions in the U.S and Canada. Every veterinarian in the United States must also obtain a license to practice within the state in which they would like to work.
Some veterinarians choose to enroll in a residency or internship program post-graduation to gain additional training before starting their careers. Veterinarians can become board-certified specialists through the American Board of Veterinary Specialties (ABVS). Through specialization, a veterinarian can gain advanced levels of competency in well-defined areas of study or practice to provide the public with exceptional veterinary service. There are 22 AVMA-recognized veterinary organizations comprising 46 distinct AVMA-recognized veterinary specialties.
Major Selection
No specific undergraduate major is required for admission to Veterinary School. Although a bachelor's degree is not required by most U.S. veterinary schools, most aspiring veterinarians will earn bachelor's degrees in one of the sciences or something similar. Candidates are encouraged to choose a major which allows them to demonstrate strong academic performance while focusing on developing a strong background in the sciences. Some of the more popular undergraduate majors for admissions into veterinary schools include, but are not limited to, biology, chemistry, biochemistry, microbiology, zoology, animal sciences, and wildlife biology.
Prerequisites for Veterinary Programs
Veterinary school do not have common prerequisite requirements. The Veterinary Medical College Application Service(VMCAS) provides a summary of course prerequisites by veterinary program.
Because prerequisites vary greatly by individual veterinary schools and programs may have additional requirements, recommended courses, preferences, and/or policies, candidates are strongly encouraged to contact schools of interest directly to learn of school-specific requirements.
Admissions Process
Application processes, procedures, and requirements vary from program to program. Many programs participate in the Veterinary Medical College Application Service (VMCAS) a centralized application service which allows students to apply to multiple veterinary medicine education programs with one application and set of resources. For those programs who do participate, applicants will have to apply through VMCAS. Programs that do not participate in VMCAS will post applications on their individual web sites. In either case, published application deadlines and application process requirements should be followed carefully. Admissions committees will typically take into consideration factors including academic preparation, Graduate Record Examination (GRE) or other admissions exam scores, employment, letters of recommendation, volunteer experiences, animal or veterinary-related experience, leadership skills, and communication skills. Interview requirements will vary from school to school.
Some schools do require the GRE, a specialized test which is constructed specifically for use by graduate and professional programs for admissions purposes and measures the general academic ability necessary for graduate education. The GRE is comprised of three test sections:
Verbal Reasoning
Quantitative Reasoning
Analytical Writing
Some veterinary schools also require the Biology GRE. The Medical College Admission Test (MCAT) is also accepted by some schools in place of the GRE.
Undergraduate Timeline for Veterinary School Admissions
First Year
Research & determine if a career as a veterinarian is for you.
Adjust to college life academically & socially.
Map out plan to complete veterinary school prerequisites and degree requirements with an advisor.
Develop study skills & strategies.
Maintain a competitive GPA.
Research pre-veterinary or other similar student organizations; consider joining one.
Volunteer or work in a veterinary medicine environment.
Shadow a veterinarian.
Second Year
Maintain competitive GPA.
Build relationships with faculty for letters of recommendation.
Continue to build your resume; work, volunteer, seek clinical & shadowing opportunities.
Begin planning and preparation for the GRE.
Research veterinary schools and entrance requirements.
Third Year
Research VMCAS and review veterinary school application processes.
Begin requesting letters of recommendation.
Maintain a competitive GPA.
Research Veterinary schools to which you are interested in applying.
Continue to build your resume; work, volunteer, seek clinical & shadowing opportunities.
Register for and take the GRE (During or summer after third year.)
Create a budget for veterinary school admissions processes.
Fourth Year
Complete prerequisite courses and degree requirements.
Prepare your personal statement (summer prior.)
Request official transcripts of all college work attempted (summer prior.)
Prepare and submit applications through the VMCAS (summer prior to or during early fall fourth year.)
Prepare for admissions interviews.
Obtain a good interviewing outfit.
Attend interviews with veterinary schools.
Wait for admissions decisions.
Accept an offer and notify other schools of decision in a timely manner.
Apply for federal financial aid and scholarships for which you may be eligible.