Medical Doctor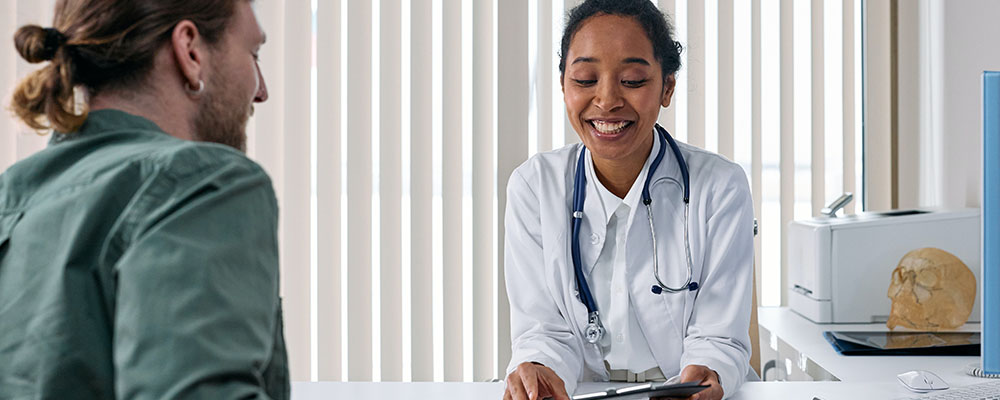 There are two types of doctors, MDs and DOs. Although they have similar training and duties, their titles refer to the type of degree and licensing they have.
MD stands for Doctor of Medicine. MDs are allopathic doctors who diagnose and treat conditions through conventional medical tools such as x-rays, prescription medications, and surgery. MDs may choose to be general practitioners or specialize in one of many areas through additional education and training.
DO stands for Doctor of Osteopathic Medicine. Although DOs use the same the conventional techniques as MDs, they tend to focus more on holistic health and prevention. While DOs, who have all of the same rights and responsibilities as an MD can pursue specialization in a particular area, over half tend to work in primary care.
Educational Pathway
To become an MD or a DO, you must first complete a series of pre-requisite medical courses and earn an undergraduate degree. Once these requirements have been met, you may be eligible to attend medical school or a college of osteopathic medicine.
Upon completion of four years of medical education, MDs and DOs must complete an internship and a residency, which consists of on-the-job training under the supervision of experienced medical doctors. Some will then pursue fellowships to acquire further knowledge about a particular area of specialty.
Both MDs and DOs must pass a licensing exam before they can practice medicine professionally. The type of licensing exam varies and is dependent on the state of residency.
Major Selection
Choosing a major in college can be particularly overwhelming because of the many, varied degree options. However, it is important to keep in mind that there is no one major that is required for medical school. While many choose to major in the biology, chemistry, physics, math, or an area within health professions, some students choose to major in non-STEM fields as medical schools seek increasingly well-rounded applicants.
A major in the biological sciences is preferred by most students who apply and enroll in medical school, according to the Association of American Medical Sciences. In biology and similar programs, it is possible that many of the pre-requisites for medical school might be satisfied through traditional completion of degree requirements.
The bottom line is that a particular major is not expected or required for medical school admissions. As long as medical school prerequisites will be completed, the priority should be on majoring in an area of interest, one in which you feel you could do very well.
Prerequisites for Medical School
The AAMC web site lists the following courses as prerequisites for medical school admission.
One year of biology.
One year of English.
Two years of chemistry, through organic chemistry.
However, prerequisites vary from school to school. Most medical schools will require additional courses to those listed by the AAMC. You are encouraged to seek out minimum requirements for each medical school for which you have an interest in applying. School specific course recommendations may include:
Biology: two semesters of lecture/one semester of lab.
General chemistry: One semester of lecture/ One semester of lab.
Organic chemistry: Two semesters of lecture/ one semester of lab.
Biochemistry: One semester of lecture.
Physics: Two semesters of lecture/ one semester of lab.
Math: Two semesters of lecture, including calculus and statistics.
English: two semesters of lecture.
As with the undergraduate degree, prerequisite courses must be completed prior to enrolling in medical school. You may apply to medical school with some requirements outstanding as long as they are completed prior to matriculation.
Admissions Process
Grade Point Average
Most medical schools don't publish a minimum grade point average (GPA) requirement for admission. Although schools tend to utilize "holistic admissions", whereby an admissions committee can assess unique individual experiences alongside traditional measures of academic achievement such as test scores and grades, successful applicants tend to have GPAs well above a 3.5. According to the Texas Medical and Dental Schools Applications Services (TMDSAS), students who matriculated in 2021 to medical schools in the state of Texas had an average GPA of 3.81. It is much more difficult to get accepted into medical school with a lower GPA so it is important to always remain mindful of grades.
MCAT
The Medical College Admission Test (MCAT) is traditionally required for medical school admission. For a vast number of medical schools, the MCAT score is valid for three years from date of the exam. If your MCAT score is older than three years, the test will have to be retaken.
The earliest students begin to take the MCAT exam is the summer after their sophomore year. The latest it is recommended for a student to take the exam is April of application year. Students should plan to allow for 3-4 months of study and preparation time for the exam to maximize their score. The average MCAT score for students who matriculated in 2021 to Texas medical schools, according to the TMDSAS, was a 506.2.
Resume Building
With medical schools seeking to admit well rounded applicants, students should obtain skills and competencies through activities outside of the classroom. In a competitive admissions process where most applicants tend to have strong grades and MCAT scores, admissions committees will carefully assess how students spent their time outside of class. Some activities that could prove helpful in the medical school admissions process may include:
Shadowing: observing physicians in a professional setting.
Clinical experience: experience volunteering in a clinical setting with exposure to patients.
Community Service: any volunteerism in a non-clinical setting based on interests which could include work with charitable organizations, schools, community service, and the like.
Faculty Recommendations
Requirements for letters of recommendations vary from medical school to medical school. The following guidelines are suggested:
Two letters from a science professor, undergraduate or graduate professor.
One letter from a non-science professor, undergraduate or graduate professor.
Two or three letters from individuals who have supervised you in an extracurricular setting.
The quality of a letter of recommendations is far more important than the quantity. You should build relationships with your instructors and ask for recommendations from those individuals that can speak best on your behalf.
Undergraduate Timeline to Medical School Admissions
First Year
Research & determine if medical school is for you.
Adjust to college life academically & socially.
Map out plan to complete medical school prerequisites and degree requirements with an advisor.
Develop study skills & strategies.
Focus on earning good grades.
Research pre-med and other student organizations; consider joining one.
Second Year
Build relationships with faculty for letters of recommendation.
Continue to build your resume; work, volunteer, seek clinical & shadowing opportunities.
Begin planning and preparation for the MCAT.
Research medical schools.
Third Year
Take the MCAT (summer prior to or during third year.)
Research and decide to which schools you will apply.
Prepare and submit primary applications for admissions; will include personal statement, resume, and letters of recommendation (spring third year.)
Fourth Year
Prepare and submit secondary applications (summer prior to or during early fall fourth year.)
Prepare for admissions interviews.
Wait for admissions decisions.
Early Admissions Programs
Medical School Admissions Data