Dentist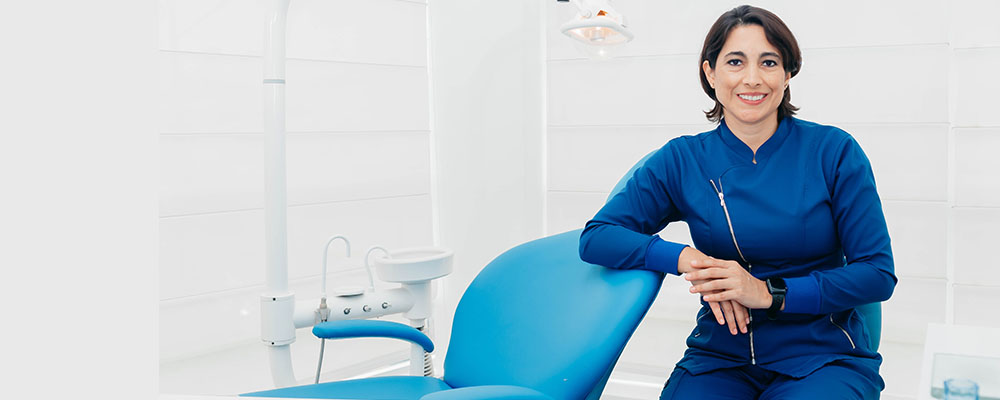 A dentist can be a Doctor of Dental Surgery (DDS)or a Doctor of Medicine in Dentistry (DMD). A dentist specializes in the prevention, diagnosis, and treatment of oral diseases and conditions. A dentist plays a critical role in the detection of oral cancer and other systemic conditions which appear in the mouth. They perform general dentistry or practice in one of ten dental specialties including dental anesthesiology, dental public health, endodontics, oral and maxillofacial pathology, oral and maxillofacial radiology, oral and maxillofacial surgery, oral medicine, orofacial pain, orthodontics and dentofacial orthopedics, periodontics, pediatric dentistry, or prosthodontics.
Educational Pathway
To become a dentist, you must first complete a series of pre-requisite courses and earn an undergraduate degree. A few dental schools will admit a small number of students through early admissions programs with two or three years of undergraduate preparation.
The traditional dental school program is four years long, although an accelerated program may only require three years. However, dental students may choose to focus on a dental specialty in which case they must also complete a residency within that specialty. The length of the dental specialty can range from two years to six years dependent upon the specialty and the school affiliation.
All U.S. licensing jurisdictions require that its licensed dentists pass the Integrated National Board Dental Examination (INBDE). Every dentist in the United States must obtain a license to practice within the state in which they would like to work.
Major Selection
A specific undergraduate major is not required for admission to dental school. A good foundation in the sciences, however, is required. Candidates are encouraged to choose a major which allows them to demonstrate strong academic performance while focusing on developing a strong background in the sciences. Many dental schools will encourage students to take courses in the social sciences as well as it helps relate to and work with patients with many different personalities and perspectives.
Prerequisites for Dental School
The ADEA web site lists the prerequisites for dental school admission.
2 semesters of Biology with lab.
2 semesters of General Chemistry with lab.
2 semesters of Organic Chemistry with lab.
2 semesters of Physics with lab.
Some dental schools require additional courses, such as English composition, and additional upper-level biology courses, such as anatomy and physiology, microbiology and biochemistry. Some dental schools will substitute one semester of biochemistry for the second semester of organic chemistry. Many schools strongly encourage applicants to take courses in the arts and social sciences. It is recommended that applicants inquire with the dental programs of interest to learn more about their requirements, processes, and policies.
Admissions Process
Dental schools consider various factors when making admissions decisions. Many admissions committees consider the total applicant, not just grades and test scores, though a "holistic review" process. Factors traditionally considered though a holistic review include metrics, attributes, and experiences.
Metrics speak to the numbers, grades, and Dental Admission Test (DAT) scores. The DAT is a half-day, multiple choice, computer-based exam which measures academic ability, scientific understanding, and perceptual ability. There are four sections of the DAT: Natural Sciences (biology, general chemistry, and organic chemistry), perceptual ability (two- and three-dimensional problem solving), reading comprehension (dental and basic sciences), and quantitative reasoning (mathematical problems in algebra, numerical calculations, conversions, etc.). The DAT is required for admission by all dental schools. It is recommended that the DAT be taken at least one year before you want to go to dental school, after prerequisites in biology, chemistry, and organic chemistry have been completed. Most students take the DAT after their third year of school.
Attributes incorporate skills and abilities, personal and professional characteristics, and demographic factors.
Experiences comprise educational background, employment, volunteerism, research experience, dentistry-related experience, and the like. While grades and test scores are important, successful candidates will be able to showcase not only their academic potential but also their potential to be caring, dedicated health care providers.
Undergraduate Timeline to Dental School Admissions
First Year
Research & determine if dental school is for you.
Adjust to college life academically & socially.
Map out plan to complete dental school prerequisites and degree requirements with an advisor.
Develop study skills & strategies.
Maintain a competitive GPA.
Research pre-dental, pre-health professions, or other student organizations; consider joining one.
Volunteer or work in a health care environment.
Shadow a DDS or DMD.
Second Year
Maintain competitive GPA.
Build relationships with faculty for letters of recommendation.
Continue to build your resume; work, volunteer, seek clinical & shadowing opportunities.
Begin planning and preparation for the DAT.
Research dental schools and entrance requirements.
Start putting together a financial plan for applying to dental schools.
Third Year
Complete biology and chemistry prerequisite courses.
Research how your dental school of interest handles letters of recommendation and review the dental school application process.
Maintain a competitive GPA.
Visit dental schools to which you are interested in applying and/or participate in visits from dental school admissions officers.
Continue to build your resume; work, volunteer, seek clinical & shadowing opportunities.
Register for and take the DAT (During or summer after third year.)
Fourth Year
Prepare and submit applications through the Associated American Dental Schools Application Service (ADEA AADSAS) (summer prior to or during early fall fourth year.)
Complete advanced science courses and degree requirements.
Request official transcripts of all college work attempted.
Request for letters of recommendation.
Prepare for admissions interviews.
Obtain a good interviewing outfit.
Attend interviews with colleges and schools.
Wait for admissions decisions.
Accept an offer and notify other schools of decision in a timely manner.
Apply for federal financial aid and scholarships for which you may be eligible.