Occupational Therapist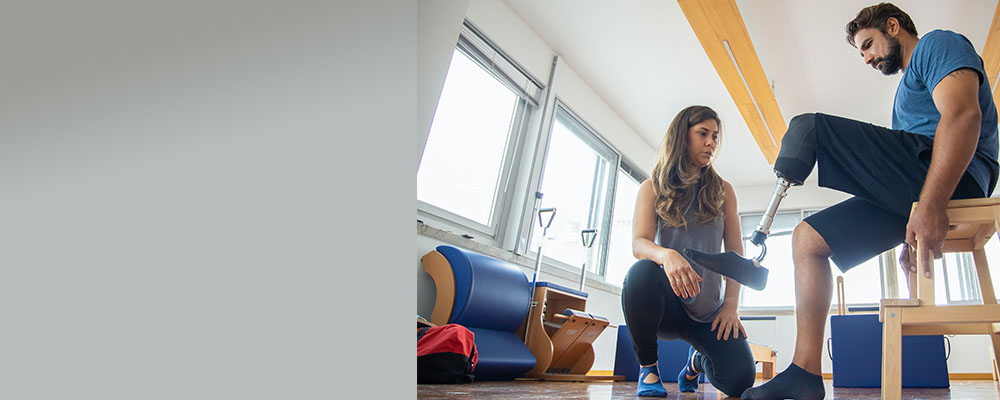 An occupational therapist is a Doctor of Occupational Therapy (OTD) whose primary responsibility is to help people participate in their desired occupations with the therapeutic use of everyday activities, based on a client's personal interests and needs. Services focus on client goals and typically include an individualized evaluation to determine a client's goals, customized interventions to improve upon daily activities, and an outcomes evaluation to ensure goals are being met or changes to interventions need to be made. Services may also include comprehensive evaluations of a client's home or other environments, recommendations for adaptive equipment and training, and guidance and education for family members or caregivers.
Educational Pathway
To become an occupational therapist, you must first earn a bachelor's degree. The standard occupational therapy program curriculum at an Accreditation Council for Occupational Therapy Education (ACOTE) school takes two to three years to complete. Occupational therapy programs typically incorporate traditional classroom instruction with experiential and community-based training. The curriculum prepares students to enter the field with an acute understanding of how engagement in occupation impacts health and well-being and a strong foundation in professionalism, critical reasoning, and practice skills. Fieldwork plays an important role in occupation therapy education because it enables students to put into practice what they have learned while working with real clients. Level I fieldwork, usually completed in the first two years, introduces students to clients, allows them to apply knowledge to practice, and helps them understand the needs of clients. During Level II fieldwork, students assume responsibility for the clients while helping them achieve their quality-of-life goals through occupation.
Once a student successfully earns their OTD degree, a passing score on the National Board of Certification in Occupational Therapy (NBCOT) exam is required to be licensed to practice in the U.S. Every occupational therapist in the United States must also obtain a license to practice within the state in which they would like to work.
Major Selection
No specific undergraduate major is required for admission to occupational therapy programs. Candidates are encouraged to choose a major which allows them to demonstrate strong academic performance while focusing on developing a strong background in the sciences. Some of the more popular undergraduate majors for admissions into occupational therapy programs include, but are not limited to, kinesiology, exercise science, physiology, psychology, sociology, health science, and biology.
Prerequisites for Occupational Therapy Programs
Occupational therapy programs do not have common prerequisite requirements. Some of the more common prerequisite courses include:
General Chemistry with lab
General Biology with lab
Anatomy with lab
Physiology with lab
Statistics
Psychology
Sociology
Abnormal Psychology
Physics
Because prerequisites vary greatly by individual occupational therapy programs and programs may have additional requirements, recommended courses, preferences, and/or policies, candidates are strongly encouraged to contact schools of interest directly to learn of school-specific requirements.
Admissions Process
Application processes, procedures, and requirements vary from program to program. Many programs participate in the Occupational Therapy Centralized Application Service (OTCAS) a centralized application service which allows students to apply to multiple occupational therapy education programs with one application and set of resources. For those programs who do participate, applicants will have to apply through OTCAS. Programs that do not participate in OTCAS will post applications on their individual web sites. In either case, published application deadlines and application process requirements should be followed carefully. Admissions committees will typically take into consideration factors including academic preparation, letters of recommendation, volunteer experiences, and observation hours with a licensed occupational therapist. Interview requirements will vary from school to school.
Some schools do require the GRE, a specialized test which is constructed specifically for use by graduate and professional programs for admissions purposes and measures the general academic ability necessary for graduate education. The GRE is comprised of three test sections:
Verbal Reasoning
Quantitative Reasoning
Analytical Writing
Undergraduate Timeline for Occupational Therapy Program Admissions
First Year
Research & determine if a career as an occupational therapist is for you.
Adjust to college life academically & socially.
Map out plan to complete occupational therapy program prerequisites and degree requirements with an advisor.
Develop study skills & strategies.
Maintain a competitive GPA.
Research pre-health or other similar student organizations; consider joining one.
Volunteer or work with a healthcare setting.
Shadow an occupational therapist.
Second Year
Maintain competitive GPA.
Build relationships with faculty for letters of recommendation.
Continue to build your resume; work, volunteer, seek clinical & shadowing opportunities.
Begin planning and preparation for the GRE.
Research occupational therapy programs and entrance requirements.
Third Year
Research OTCAS and review occupational therapy program application processes.
Begin requesting letters of recommendation.
Maintain a competitive GPA.
Research occupational therapy programs to which you are interested in applying.
Continue to build your resume; work, volunteer, seek clinical & shadowing opportunities.
Register for and take the GRE (During or summer after third year.)
Create a budget for occupational therapy program admissions processes.
Fourth Year
Complete prerequisite courses and degree requirements.
Prepare your personal statement (summer prior.)
Request official transcripts of all college work attempted (summer prior.)
Prepare and submit applications through the OTCAS (summer prior to or during early fall fourth year.)
Prepare for admissions interviews.
Obtain a good interviewing outfit.
Attend interviews with occupational therapy programs.
Submit secondary applications, if applicable.
Wait for admissions decisions.
Accept an offer and notify other schools of decision in a timely manner.
Apply for federal financial aid and scholarships for which you may be eligible.