President's Messages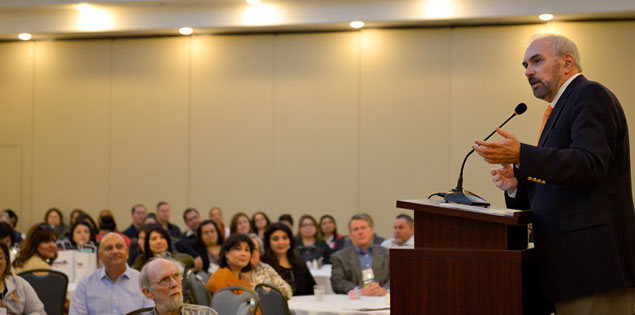 As we begin our fourth year as UTRGV, I'd like to take this opportunity to thank all of you for your hard work in creating the university and in making it a success. As you will see below, we have much to be proud of as we enter our 4th year.
The Transforming our World Strategic Plan includes a focus on promoting a welcoming, inclusive and nurturing campus climate, along with values around engagement, shared governance, leadership, inclusion, and well-being. In response to these goals/values, UTRGV hired ModernThink, LLC, to conduct an institution-wide, customized Faculty/Staff Engagement Survey and a Student Engagement Survey for UTRGV. This survey will assess our progress in the aforementioned areas and will allow us to develop a plan to strengthen our campus climate.
Many of you have attended one of Dr. Bailey's recent presentations. He has been meeting with each college and administrative unit to lay out some critical trends in higher education and how these factors impact UTRGV. Perhaps most importantly, he has laid out plans for how we can address those challenges and actually thrive if we focus on recruiting students, retaining students, and creating educational opportunities for students.
After careful consideration of both the internal and external candidates for Provost/VPAA and after consultation with stakeholders and careful review of the campus feedback, the following communication lays out a reorganization of Academic Affairs that will help UTRGV better achieve its core priorities. The new organizational structure will address both the challenges that UTRGV faces and the opportunities we have.
We've all heard the saying "Your vote is your voice", yet far too few of us make our voices heard. According to the non-partisan group, the Advocacy Alliance Center of Texas (AACT), the Rio Grande Valley has over a half million registered voters, but only 2 out of 10 people vote. If we truly want our voices to be heard on issues that affect our community, secure funding and resources, and ultimately build a better quality of life for our communities, we must vote.
As stated in my December 5, 2017 campus message, the SACSCOC Board confirmed that UTRGV successfully addressed all concerns cited in its probationary letter of January 11, 2017. At its December 2017 annual meeting, the SACSCOC Board continued UTRGV on probation for Federal Requirement 4.7, a standard not originally cited in the January 11, 2017 letter.