President's Messages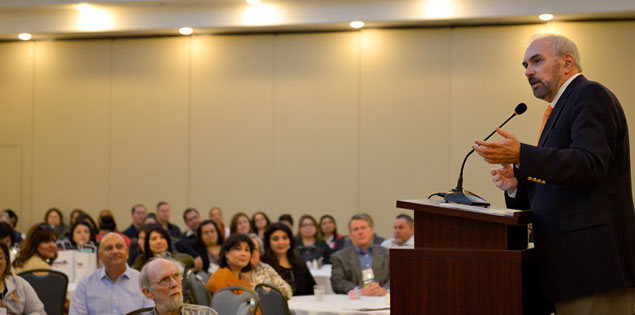 On Monday, the U.S. Immigration and Customs Enforcement issued new guidelines related to online courses permitted for our international students through the Student and Exchange Visitor Program. UTRGV is home to an average of more than 800 international students each year. All of them are valued members of our diverse university community, and we are committed to helping them continue their education at UTRGV.
---
UTRGV Campus Operations for Staff, Faculty, and Students.
---
Today we come together to proudly celebrate Juneteenth, which commemorates the ending of slavery in the United States. The state holiday is especially meaningful this year, as we continue to stand in solidarity with our Black community to end racism and injustices in our communities. Rest assured that at UTRGV, Black Lives Matter.
---
For the second time this week, the U.S. Supreme Court has provided a favorable ruling that helps to support UTRGV's commitment to promoting diversity, access, and inclusion and ensuring that all members of the university community have opportunities to succeed.
---
As you may already know, the number of positive COVID-19 (coronavirus) cases throughout the Rio Grande Valley continues to rise. While most of us are attending classes or working from home, this increase in cases should serve as a stark reminder for all of us that the virus is still prevalent in our communities. For the health and safety of our campus community, strictly adhering to health protocols and guidelines is more important now than ever before.
---
The U.S. Supreme Court ruled Monday that Title VII of the Civil Right Act of 1964, which bars employment discrimination based on race, color, religion, national origin or sex, also protects gay, lesbian and transgender workers from workplace discrimination. While UTRGV policy already protected gay, lesbian, and transgender workers from discrimination, the Court's opinion emphasizes that this protection is now a matter of federal law.
---
As an update to my May 19 message regarding leadership changes in Academic Affairs and P-16 Integration, I am pleased to announce today that Dr. Janna Arney has agreed to serve as our Interim Provost. Dr. Arney currently serves as Deputy President and will retain that title and role during this transition period.
---
I hope everyone is staying healthy and safe. Last month I appointed Dr. John Krouse, Executive Vice President for Health Affairs and Dean of the School of Medicine, to lead a Return to Campus Task Force charged with providing recommendations and procedures for bringing university operations back to campus in a safe and practical manner.
---
As we begin a new semester and continue to safely and gradually reopen our campus, we do so with sadness, anger and grave concern. The tragic death of George Floyd and other recent incidences throughout our country have highlighted the fact that racism and injustice continue to plague our society.
---
Summer and Fall semesters, Spring Virtual Commencement.
---
I am pleased to share with you that the University of Texas Office of Employee Benefits has informed us that there will not be a premium increase for the UT Select Health Plan and the dental plan for the FY 2020-2021.
---
As many of you may have already heard, state agencies and institutions of higher education received a letter from Governor Abbott, Lt. Governor Patrick and House Speaker Bonnen (State Leadership) yesterday asking that we "submit a plan identifying savings that will reduce general and general revenue related appropriations by five percent for the 2020-2021 biennium."
---
Dr. Patricia McHatton has decided to step down from her position as Executive Vice President for Academic Affairs and P-16 Integration for personal reasons, effective June 1, 2020.
---
I'm happy to announce that UTRGV is providing more relief for you! Before I mention the great news, I want to make sure all of you are aware of and/or taking advantage of the relief efforts the university is providing now.
---
As we head into the final week of the Spring Semester, I truly hope everyone is staying safe and healthy. When I think about how far we've come in six weeks, overcoming sudden and drastic changes to our operations, I couldn't be more pleased with UTRGV's current position. The momentum we will take into our Summer Semester is a testament to the hard work, resiliency and dedication of all our students, faculty and staff.
---
The purpose of this message is twofold. First, I want to thank and commend each of you for what you have accomplished and continue to accomplish under the most difficult of circumstances.
---
These last few weeks have been difficult for everyone, but I am grateful and proud of the way we have come together to face this crisis. I have no doubt that we will come out of this a better and stronger university.
---
Dear Vaqueros, I can't thank you enough for your resiliency. I know many of you are experiencing hardships stemming from the COVID-19 (coronavirus) pandemic, but you continue to forge ahead because you truly believe in the power of higher education and the impact it can have on your future and the future of your loved ones.
---
Thank you again for your hard work and dedication during these uncertain and difficult times. We had another productive week and continue to move forward, making steady progress that wouldn't be possible without your steadfast commitment to our students. Student Success has been UTRGV's top priority since Day 1, and that focus will not and cannot change during this crisis. Our commitment to Student Success is more critical now than ever, and we need everyone's help to ensure that our students continue to advance through this crisis.
---
First and foremost, I hope everyone is staying safe and healthy. I know these are difficult and uncertain times and I wish you and all your loved ones the best. Secondly, I'd like to thank each and every one of you for your hard work and dedication to UTRGV. Over the past few weeks, to help ensure the safety and health of our campus community, we've had to completely change the way we operate. 
---
These are unprecedented times. Many of us around the country have been affected by the COVID-19 pandemic. This week we transitioned to remote instruction for the spring semester and our UTRGV students are adjusting to this new reality. As with any disruption to the norm comes hardship. Many of our students have lost jobs they depend on, some incurred unexpected moving and travel expenses, while others are unable to return home to be with their families.
---
UTRGV learned today that one of our students and one of our faculty have each tested positive for COVID-19 (coronavirus). Our student tested positive after traveling out of state and our faculty member after returning from international travel. Please join me in sending positive thoughts to these Vaqueros for a speedy recovery. 
---
To: Faculty & Staff. We deeply appreciate the work that all of you have done over the last few weeks to help our students cope with the effects of the COVID-19 (coronavirus) pandemic. This pandemic has placed many new requirements on UTRGV's faculty, staff, student employees, and administrators. One of the new challenges we face as supervisors is the management of our work and of most of our employees in an entirely new remote format.
---
Gov. Greg Abbott has issued a series of Executive Orders related to COVID-19 (coronavirus) preparedness and mitigation for the state of Texas. Among his direct orders, Governor Abbott directed government entities, including universities, to...
---
As a follow-up to yesterday's message announcing the proactive measures UTRGV is initiating to mitigate the outbreak of COVID-19 (coronavirus) on the campus community, the university would like to provide more information regarding campus operations. 
---
As part of our ongoing commitment to our UTRGV community's health and safety, the Office of Emergency Preparedness, along with our Infectious Disease Outbreak Committee, continues to monitor the current COVID–19 (coronavirus) outbreak. To help mitigate the impact of the outbreak on our campus community, UTRGV announces the following proactive measures...
---
As part of our ongoing commitment to our UTRGV community's health and safety, the Office of Emergency Preparedness, along with our Infectious Disease Outbreak Committee, continues to monitor the current COVID–19 (coronavirus) outbreak, both foreign and domestic. Given the recent levels of COVID–19, UTRGV has decided to suspend all UTRGV Faculty/Staff/Student related travel to the following states...
---
We continue to monitor the progression of the COVID-19 (coronavirus) outbreak and are taking proactive measures to mitigate impact to our campus community. Therefore, to help ensure the safety and security of our students, faculty, staff, patients and community during the outbreak, UTRGV is instituting the following university-related and personal travel restrictions/guidelines.
---
In accordance with SACSCOC policy, a Special Committee of our peers visited campus this week for meetings with administrators, faculty, staff and students as part of the Reaffirmation process. I am excited to share that today the Committee's report reflected the best possible outcome of no findings.
---
Have you voted yet? We've all heard the saying, "Your Vote is Your Voice." Yet, far too few of us make our voices heard.