Research Experience for Teachers (RET)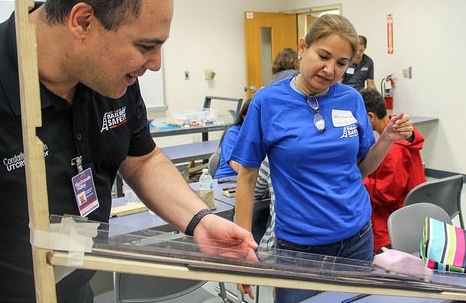 The UTCRS will provide K-12 teachers the opportunity to participate in a research-intensive five-week program. Selected applicants for this program will work closely with faculty, students, and staff on current educational research projects, prepare professional presentations, participate in workforce development workshops, and submit a written, final report describing the results of their research. This experience will also serve as professional development in the field of railway safety, with the ultimate goal of raising awareness about careers in transportation among K -12 students. Teachers participating in this program are expected to bring the knowledge they gained to their classrooms in any form of class activity they deem appropriate and beneficial for their students.
Duration
June 1, 2019 - July 5, 2019
Financial Support
UTCRS will provide the selected teachers with a $4,000 ($800 per week) stipend for their participation in the RET Program.
Application Process
If you are interested in participating in this educational and professional development opportunity: 
Complete and submit the 2019 RET Online Application located here: 2019 Research Experience for Teachers Program-Online Application
Send to railwaysafety@utrgv.edu a PDF file of:

Your updated resume, and
One Letter of Recommendation from a professional reference listed in your application.
Application Deadline
Applications must be submitted no later than 11:59 pm CDT on March 31st, 2019.
For more information regarding the RET Program and the application process, please contact:
University Transportation Center for Railway Safety (UTCRS)
College of Engineering & Computer Science
The University of Texas Rio Grande Valley 
Engineering Portable EPOB4 1.100
1201 W. University Drive
Edinburg, TX 78539-2999
Tel. (956) 665-8878