Visitor Information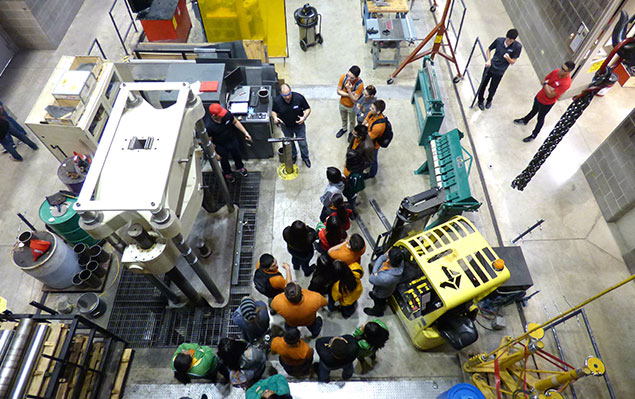 The University Transportation Center for Railway Safety (UTCRS) Laboratories, located in the Hi-Bay area of the Engineering Building at the University of Texas Rio Grande Valley (UTRGV), are open to all visitors from the community at large, transportation industry, businesses, educators, school counselors and coordinators, students, faculty, and other UTCs from around the nation interested in learning more about the various UTCRS activities.
 The UTCRS Laboratories feature a one-of-a-kind Single Bearing Test Rig with vertical, lateral, and impact load capabilities that closely mimics the operating conditions that railroad bearings experience in service. The laboratories also feature other bearing testers that are dedicated for service life testing and performance characterization of all classes of railroad bearings. One of these bearing testers is housed in a specially designed environmental chamber that can simulate ambient conditions that range anywhere from -40 to 150 degrees Fahrenheit. One of the UTCRS Laboratories is dedicated to building railroad bearings according to industry specifications, and conducting detailed disassembly and inspection of all bearings following testing protocols. Defect detection, thermal and dynamic modeling of railroad bearings and suspension elements, and lubricant analysis are just a few of the many capabilities of the UTCRS Research Group at UTRGV. The UTCRS faculty and students conduct railway research pertinent to the transportation industry.
 Visitors can schedule tours to see these facilities and learn about the research being performed by the UTRGV Railroad Research Group. Our own undergraduate and graduate research assistants guide the tours and provide answers to all questions related to the ongoing research projects and their experience being a part of UTCRS. The research assistants are excited to inspire the younger generation of students who are considering careers in Transportation Engineering and STEM-related fields.
 Tours have a minimal fee of $3 per participant payable to the UTCRS. UTRGV Hi-Bay area Safety Rules and Regulations are to be strictly followed during the entire tour. Please make sure you are prepared by wearing:
Long pants,
Sleeved shirts,
Closed-toe shoes, and
Safety glasses (will be provided by the UTCRS Tour Staff).
To schedule your group tour send us a request through UTCRS Facilities Tour Request at least two weeks prior to your planned visit date.
If you have any questions or concerns, please do not hesitate to contact us at: railwaysafety@utrgv.edu or by phone at (956) 665-8878.