Meet President Bailey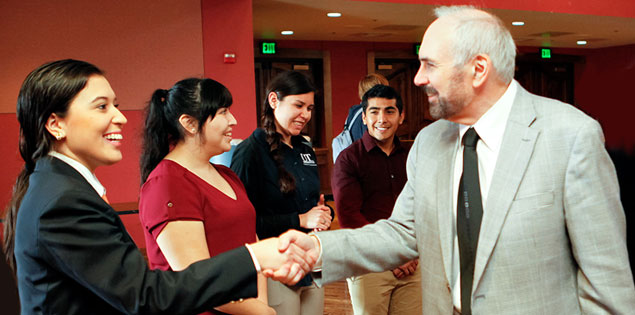 Guy Bailey, Ph.D., was named President of The University of Texas Rio Grande Valley in May 2014.
Prior to being named President of UTRGV, Bailey served as President of the University of Alabama and of Texas Tech University; Chancellor of the University of Missouri Kansas City; and Provost and Executive Vice President of The University of Texas San Antonio.
"I've done a lot of things that I'm proud of, but I've never done anything as significant as what is happening at UTRGV," Bailey said. "This is truly an exciting time for UTRGV and the entire Rio Grande Valley. Our purpose is to be a university for the entire Valley with new programs and expanded opportunities for students, faculty, and staff. We are going to change significantly as an institution as we move forward."
Under President Bailey's leadership, UTRGV has had tremendous success in multiple areas. Student retention, research expenditures and philanthropic gifts to the institution have increased dramatically. President Bailey said that is a direct result of the extraordinary work and commitment of UTRGV faculty and staff and the entire Rio Grande Valley community.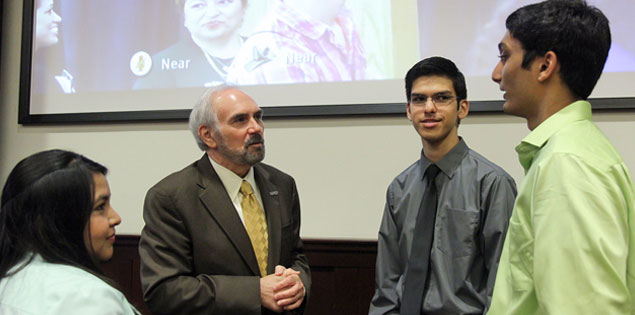 Highlights include:
The preliminary retention rate for 2015 freshmen returning as sophomores is 81.6 percent, higher than the national average of 78.6 percent, and the third highest in UT System, behind UT Austin and UT Dallas.
Philanthropy increased a staggering 435 percent, from $4.3 million in fiscal year 2015 to $23 million in fiscal year 2016, including a $15 million gift from Robert C. Vackar to the College of Business & Entrepreneurship. In fiscal year 2017, UTRGV received a $15 million gift from The Valley Baptist Legacy Foundation to create the new UTRGV Institute for Neurosciences.
Research expenditures increased more than 56 percent, from $16.4 million to $25.7 million.
Student applications are up 21 percent, from 11,030 for fall 2015 to 13,332 for fall 2016.
Forbes magazine, in its America's Top College report for 2016, ranked UTRGV third highest in the UT System – behind UT Austin and UT Dallas – based on graduation rates, student satisfaction, debt and post graduate success.
UTRGV received a $640,000 grant, funded by the Bill and Melinda Gates Foundation, to participate in a national initiative called Frontier Set, which identifies strategies to improve graduation rates, especially for low-income first-generation students of color.
"This data tells us we are doing something right," Bailey said. "So many people have worked incredibly hard to launch this new university and it is tremendously gratifying to see that hard work begin to pay off. We are committed to providing a world-class education for our students and for transforming South Texas with unlimited educational opportunities. This is only the beginning."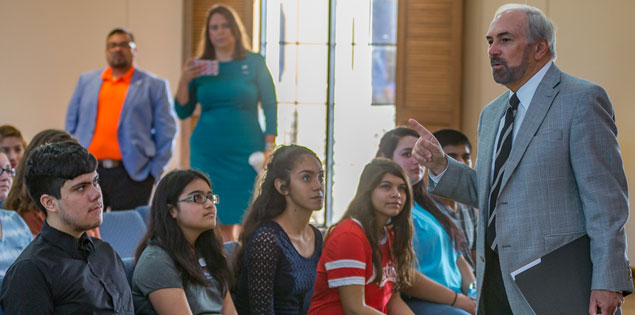 Bailey also served as Dean of Liberal Arts at the University of Nevada Las Vegas; Chair of the English Department at Oklahoma State University and the University of Memphis; and as a faculty member at Texas A&M and Emory Universities.
During his time at Texas Tech, the university met the criteria established by the Texas State Legislature for participation in the National Research University Fund; enrollment grew by 3,905 students (14%); research expenditures grew by $89.9 million (170%); and graduation rates increased by five percentage points.
During his tenure at UTSA, the university was named an emerging research university by the Texas Higher Education Coordinating Board; 16 new doctoral programs were added; external funding for research more than doubled; enrollment grew by more than 40%; and graduate enrollment grew by almost 50%.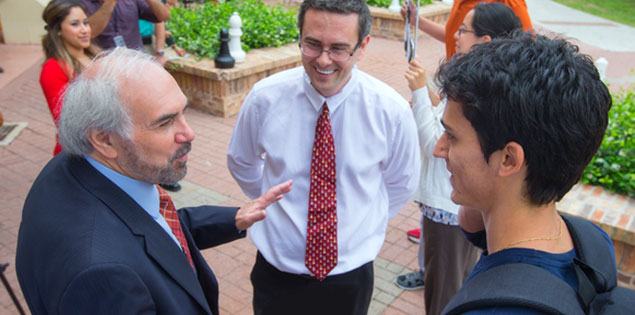 While Bailey was at UMKC, the university completed a $200 million capital campaign and oversaw $175 million in new construction. From 2010 to 2012, Bailey served on the Board of Directors of the NCAA and on the Executive Committee of the Board of Directors of the Big 12 athletic conference. He has also served on the Board of Trustees of Midwest Research Institute since 2007.
Bailey continues to do research on language change and variation. His research with his late wife, Jan, has been featured in a front-page article in the New York Times, on National Public Radio, on CNN Headline News, on BBC Radio, in Texas Monthly, and in the San Antonio Express News. Since 1984, Bailey has brought in over $1 million in external funding for his research.