Sustainability Ambassadors
---
The UTRGV Sustainability Ambassadors are comprised of students who understand and advocate for sustainability at UTRGV, the Rio Grande Valley, Texas, and the World. The Sustainability Ambassadors represent UTRGV through conducting research or developing projects surrounding sustainable development from supporting small businesses with building sustainable business models, to incorporating sustainable living practices with local school districts, and research into the environmental, social, and economic spheres of the Rio Grande Valley.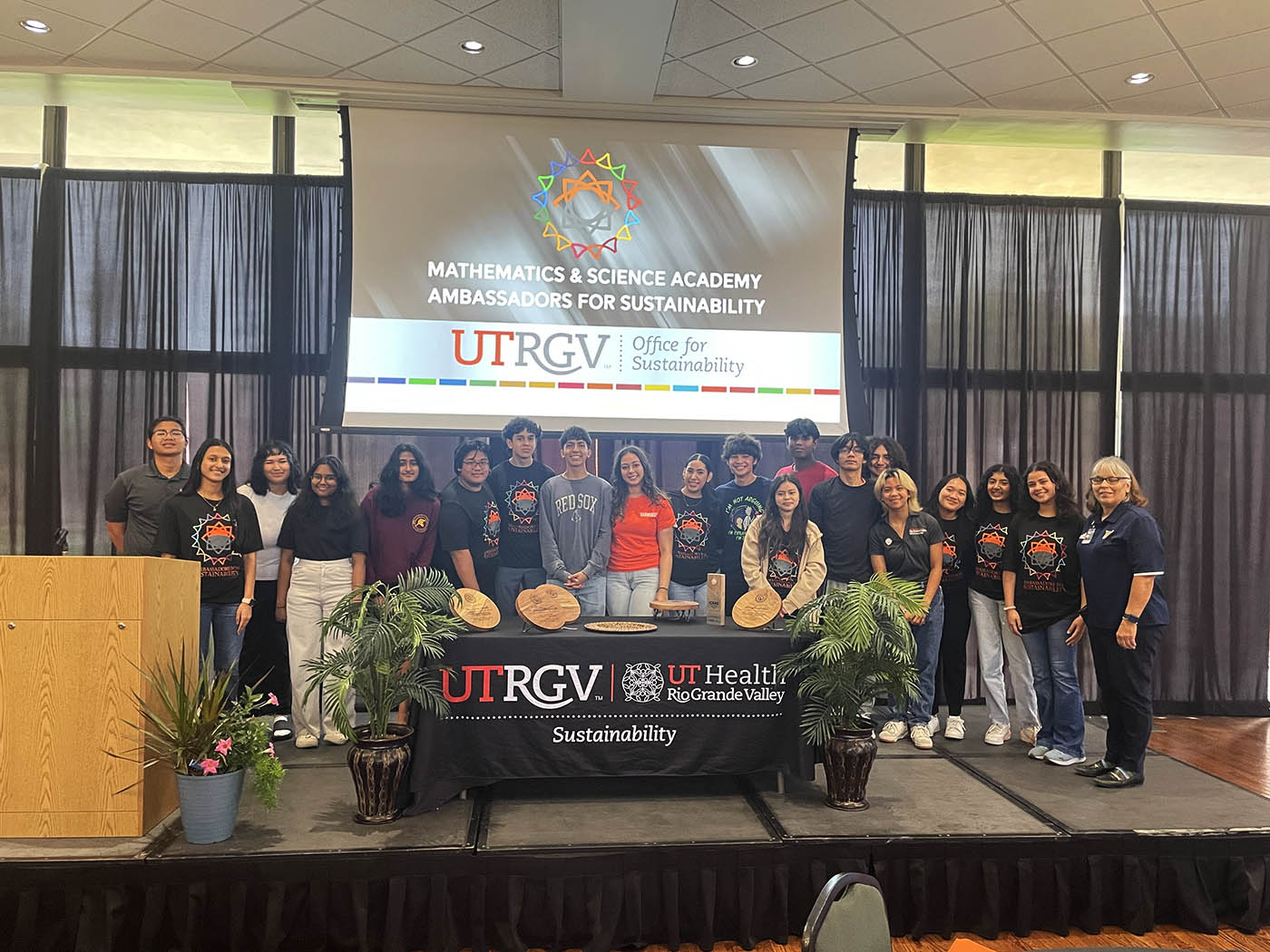 The Mathematics and Science Academy sustainability ambassadors are a group of highschool students who are dually enrolled with the University of Texas Rio Grande Valley. They have worked on two projects. The first project focused on sustainable development in the Rio Grande Valley and the ambassadors gathered data on companies, businesses, non-profit organizations, and other locations that contribute to and support their assigned United Nations 17 Sustainable Development Goal. The second project focuses on UTRGV campuses by mapping out locations, services, and etc that contribute to sustainable development.
Enactus at the University of Texas Rio Grande Valley is a student organization focused on sustainable economic growth and strong partnerships. They were recognized as one of the top 16 teams at the 2021 Enactus U.S. National Expo. Their projects included initiatives such as the annual Thanksgiving Drive, the Sustainable Opportunities for Advancement and Recruiting (SOAR) project, and a financial literacy program. Enactus fosters professional skills development and has received numerous accolades, including the UTRGV 2020-2021 Student Organization of the Year Award.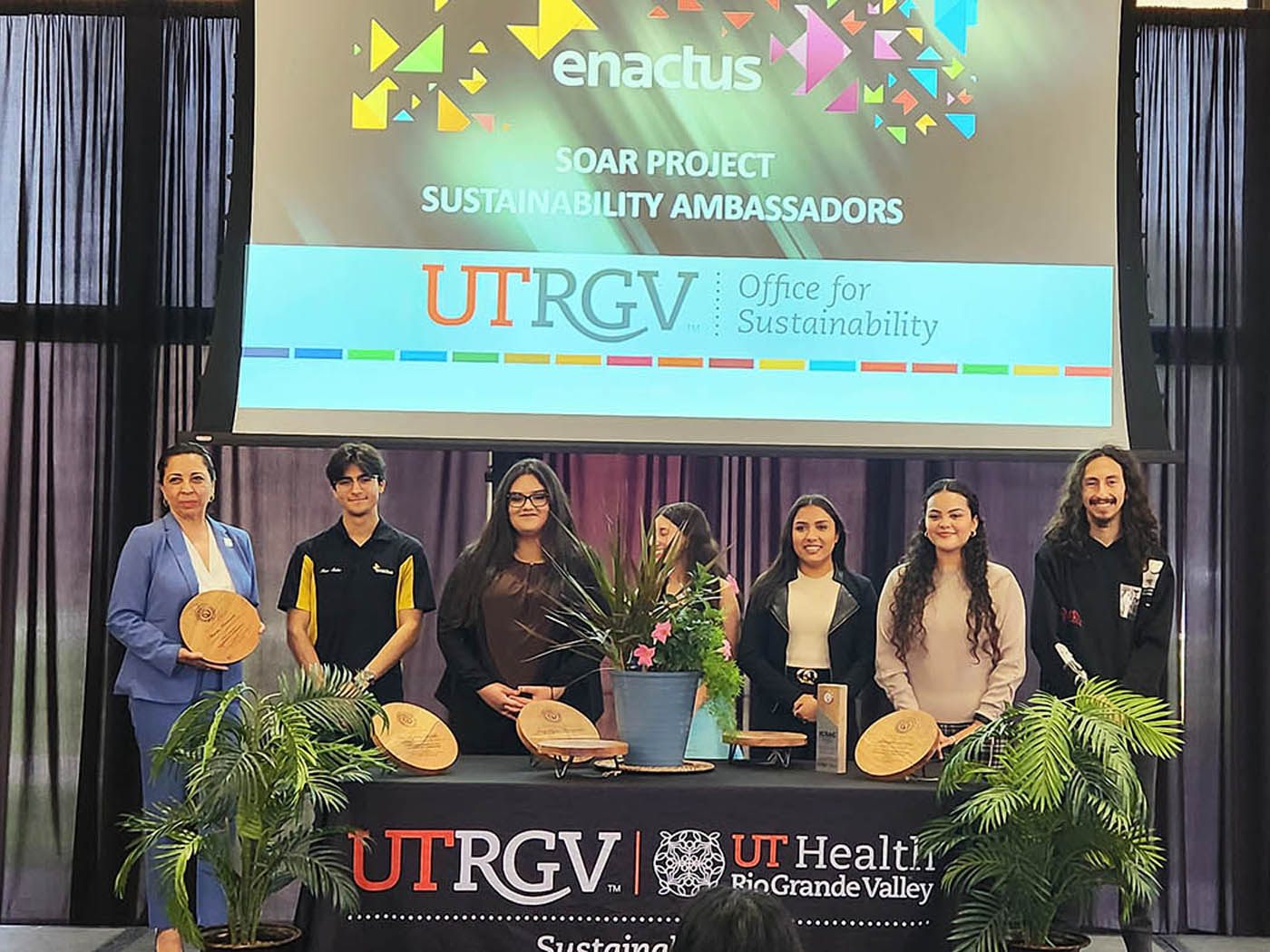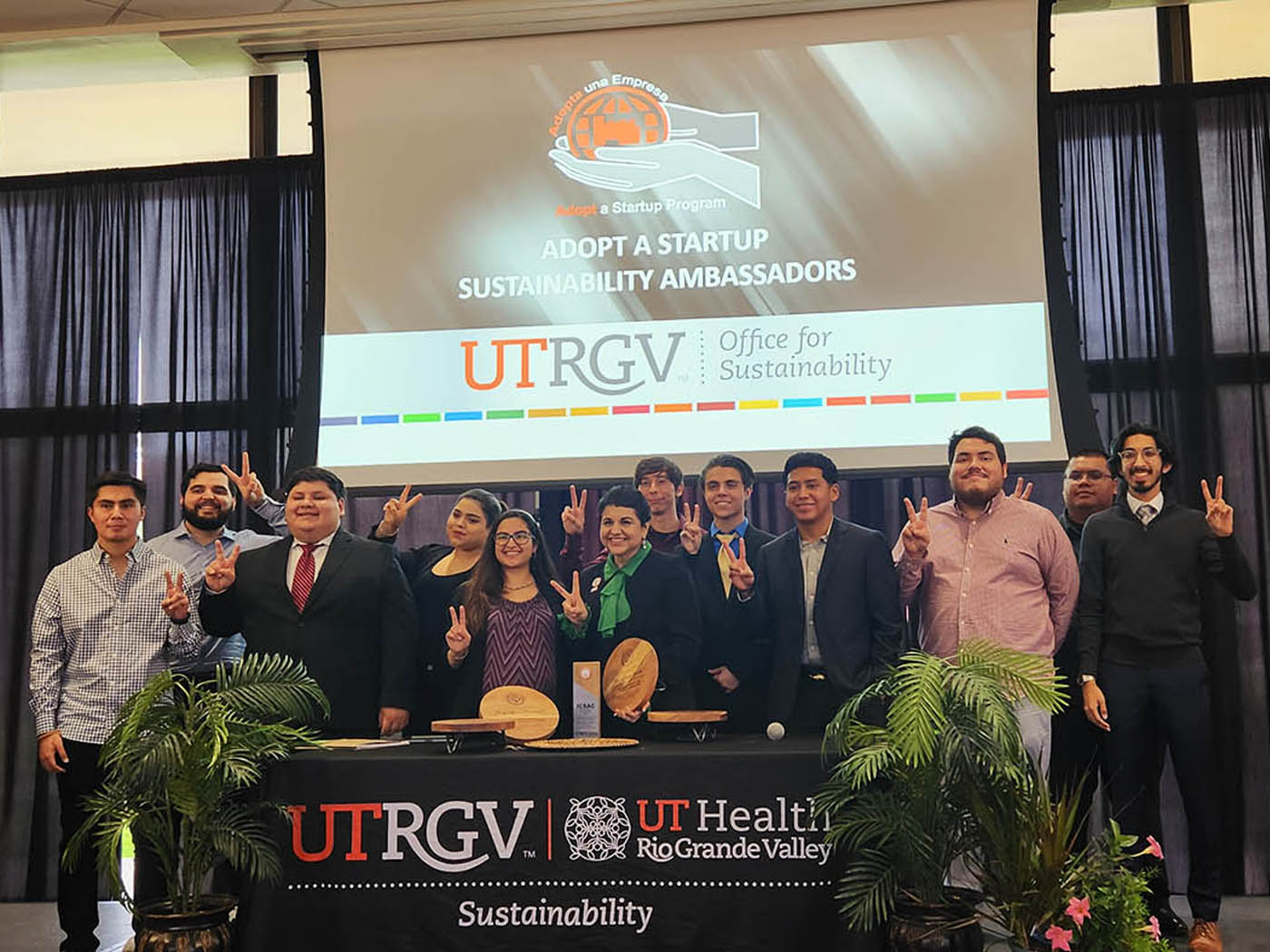 The Adopt a Startup model empowers students and entrepreneurs from underrepresented backgrounds to pursue humane, innovative, sustainable entrepreneurship. They receive training and support in creating solutions for local businesses, often with sustainability in mind. We partner with the UTRGV Entrepreneurship and Commercialization Center, eBridge Center for Business and Commercialization, the College of Engineering and Computer Science, College of Science, Engaged Scholarship & Learning, and Office for Sustainability to offer its program to students, incubator members, and engineering-agricultural teams.
The College Green Captains empower students and faculty in implementing sustainable production practices in theatre. By becoming a Green Captain, you'll become part of a supportive community that helps make your college theatre experience more sustainable and equips you with the skills to continue these practices throughout your career. Notably, UTRGV's production of "Somewhere: A Primer or the End of Days" exemplified sustainable design choices, utilizing reusable and recycled materials such as cardboard and prioritizing wood over plastic for scenic designs. The production also showcased creative props, using 350 used chip bags to craft butterfly puppets and opting to purchase used sleeping bags and backpacks.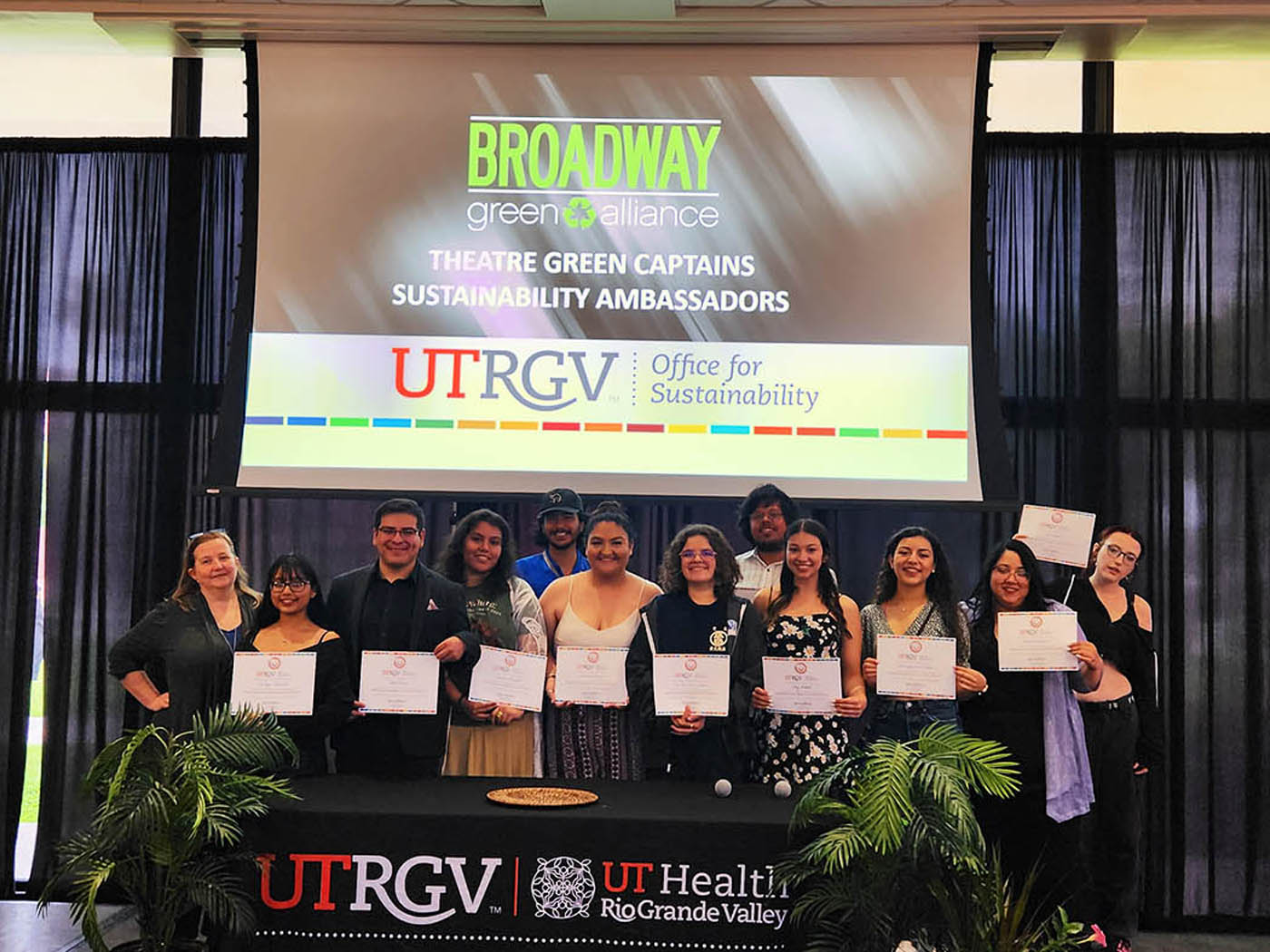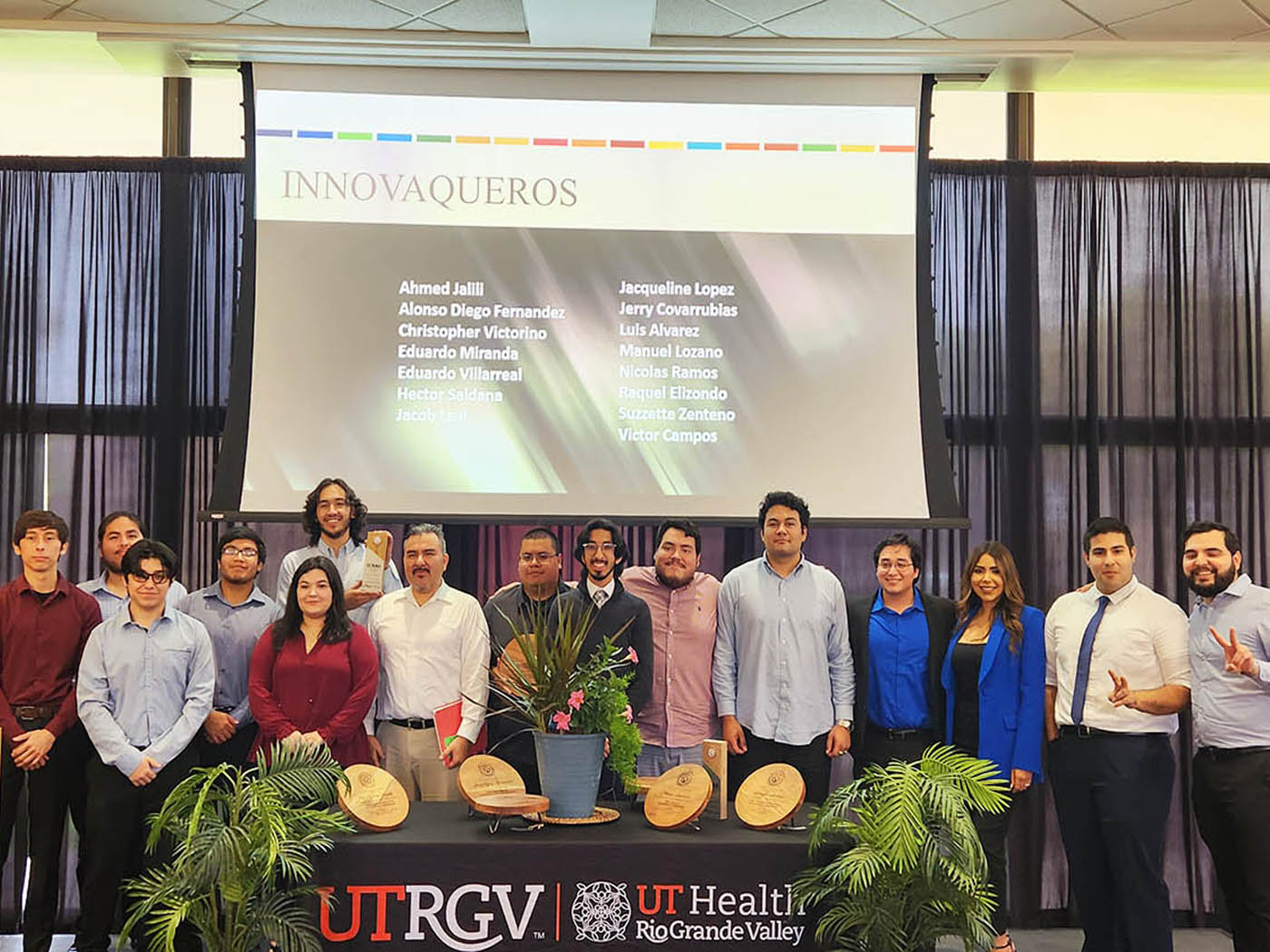 Innovaqueros are engineering students who infuse sustainability into their senior design projects showcasing innovative solutions for various challenges. Projects like "Ripple Effect," Mechanical Mesquite Bean Harvester, Shallow Oyster Farming System, and Design of a Bee Scale address global food shortages and bee keeping. These projects aim to develop affordable, maintainable solutions and empower the community to combat food scarcity while preserving sustainability efforts. Innovaqueros engineer sustainable solutions for sustainable development.
Collegiate Entrepreneurs' Organization (CEO) is a premier entrepreneurship network with chapters across North America and beyond campuses. We inform, support, and inspire students to be entrepreneurial, encouraging new venture creation. Join us for global conferences, pitch competitions, and networking opportunities. Be part of CEO to unleash your entrepreneurial potential and connect with like-minded individuals and contribute to sustainable development at UTRGV and the Rio Grande Valley.